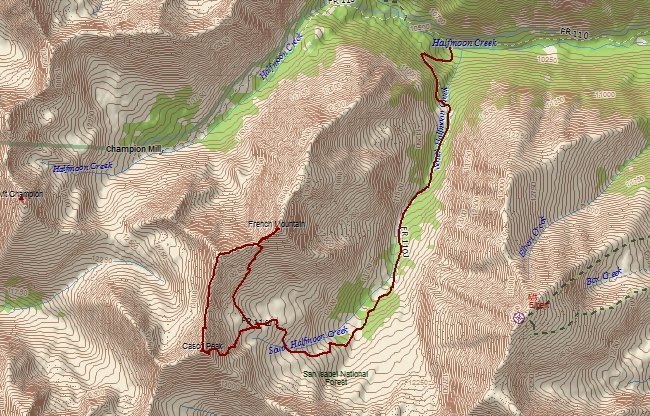 French Mountain, Frasco BM, Casco Peak: 12 miles, ~4,200 feet elevation gain
My expectations for the French-Frasco-Casco traverse had never been very high. What I had read led me to believe it would be a rather boring road-walk and ridge-line slog to knock off another couple easy summits on
Colorado's hundred highest list
--a goal I'm slowly churning away at despite now living back East. Leading up to the scheduled hike for which we had a tight two day window of opportunity, all focus was on the weather forecast and snow conditions. The Colorado summer has been unusually rainy and cool, and the ugly forecast did cause us to push our hike to the last remaining day of vacation, a wise move.
My dad was joining me on another Colorado summit bid for the first time since our
misadventures at the Apostles
, and after thousands of miles of driving we were eager to set foot on the trail. We had my 7-year old German Shorthaired Pointer Hunter along for his first Colorado hike, and he was more than ready to get going as well.
Note: Click on picture to see high resolution photograph in separate window: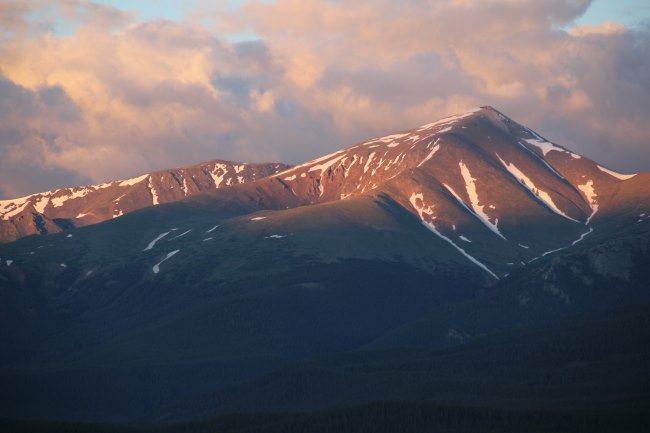 Sunrise on Mount Elbert
It did not take long to become a memorable day. The mist and fog rose with the sun, and west of Leadville the morning alpenglow illuminated Mounts Massive and Elbert, along with the rest of the surrounding Sawatch peaks. A great day was dawning.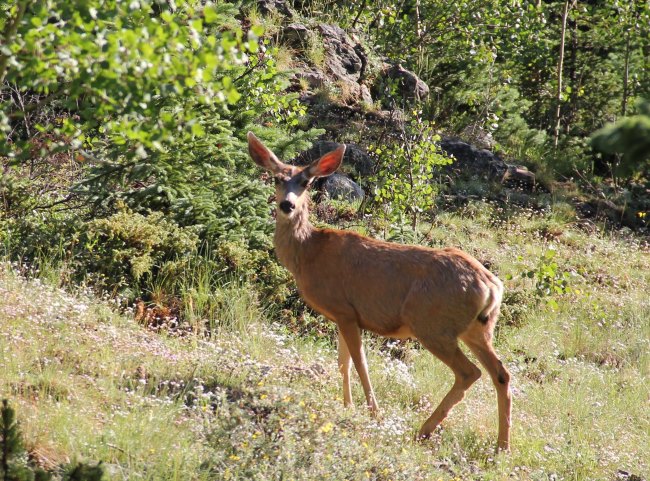 After the easy stretch of 4WD road, I opted to park my Tundra prior to the first creek crossing. We could have easily made it further but I elected to avoid the unknown and instead use the road-walking as a good warm-up. Again this turned out to be the right decision; the road made for easy walking, which was probably more enjoyable than it would have been to drive. We stopped to photograph a mule deer doe along the way, and before long I started snapping photos of wildlfowers left and right.
We were done with the first mile in no time. The second creek was deeper and white-watery, but I was able to carry Hunter across with no problem. The road beyond this was specialized-jeep territory, so I wouldn't have been able to drive any further than this anyway. The road-walking continued to be easy, and it even flatted out for a while as the valley opened up. High peaks began to reveal themselves around us, including Mount Elbert and the snowy slopes of Casco Peak. And from then on, it just kept getting better. I love, love, love hiking in Colorado!
Above timberline the wildflowers and flowing water were even more abundant. I continued snapping photos and enjoyed today's extra challenge of trying to capture the ever-moving Hunter amidst the colorful landscape.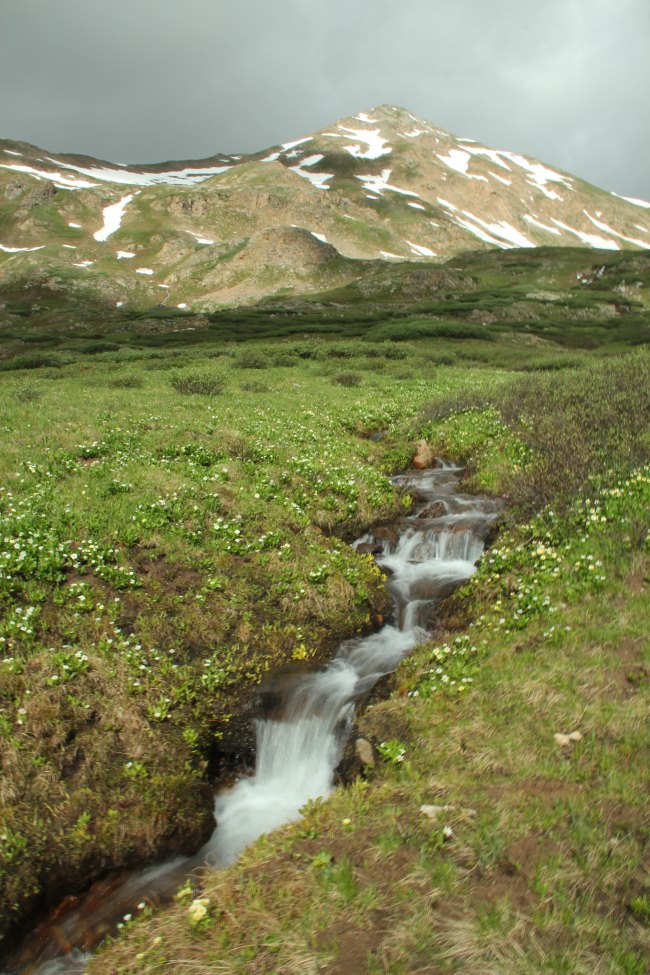 Before long we had arrived at what little remains of the Iron Mike Mine and took a short break here to survey the route ahead. There were some snow fields we were uncertain about on both the slopes of French and Casco, but none looked too foreboding.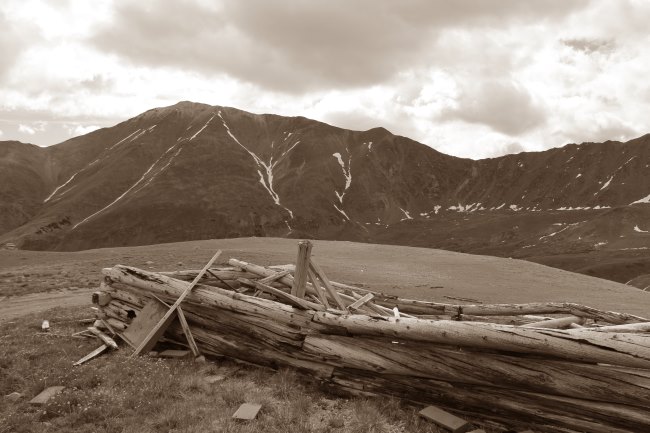 As the road faded into trail and then into no trail, we walked right over some of the snow pack and were able to avoid the steeper snow slopes altogether.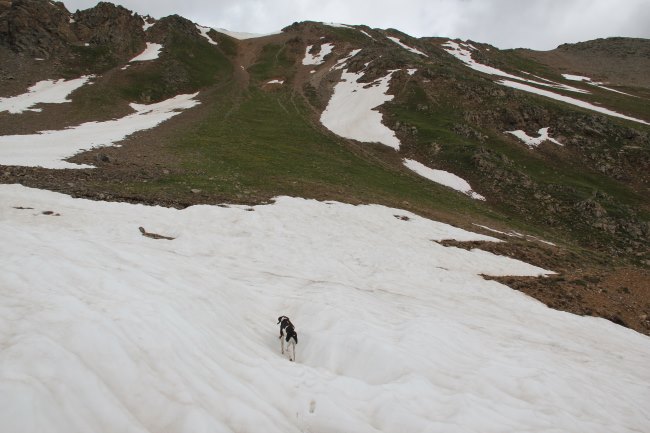 High on French's southwest slopes, we stopped at a natural rock garden with a view, for the best lunch break setting possible. The temperature was perfect, the views were opening up even more, and we didn't have far to make it to our first summit of the day.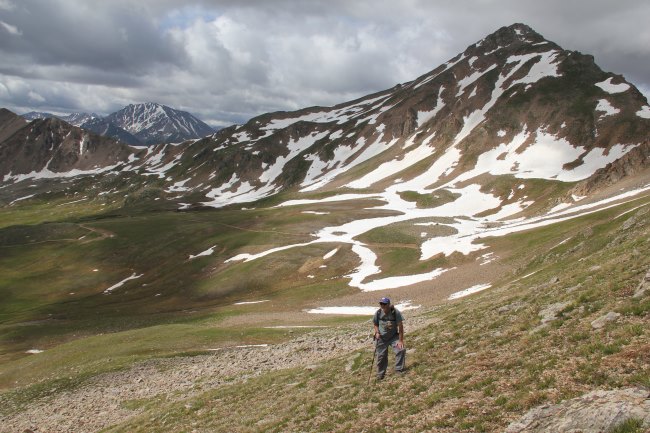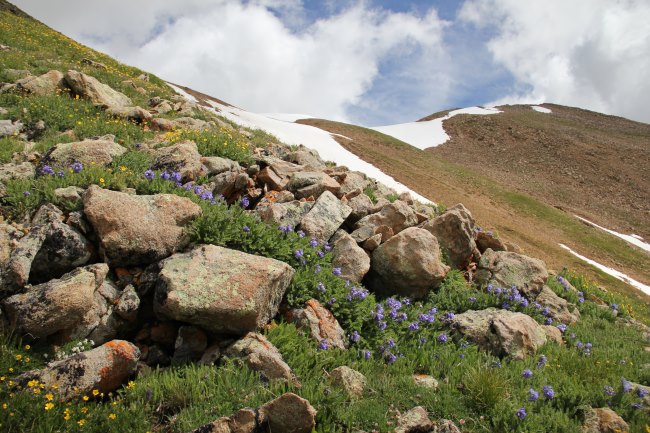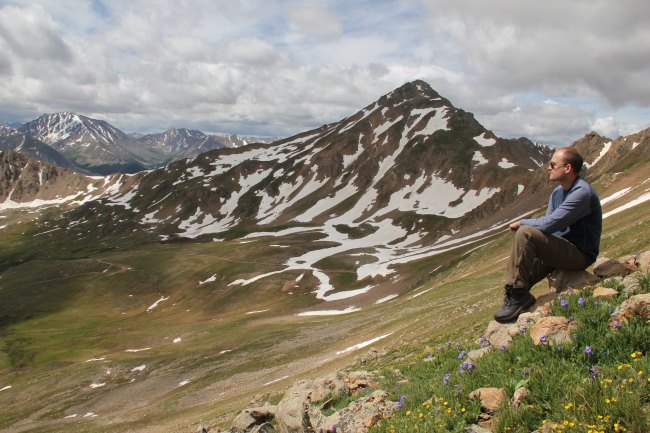 A break in the largest snow drift allowed us pleasant passage to the 'Friscol', and from there we could see the final easy slopes to the summit. Instead of the usual Colorado mound of talus, the rest of the ridge to the top consisted of smooth stable rocks and carpet-like greenery interspersed with an assortment of colorful wildflowers. Every step to the summit of French Mountain had been far better than we were expecting, and the views from the top were no exception! We could easily see through the heart of the Sawatch and into the Elks, along with many of the Tenmile/Mosquito mountains to the east.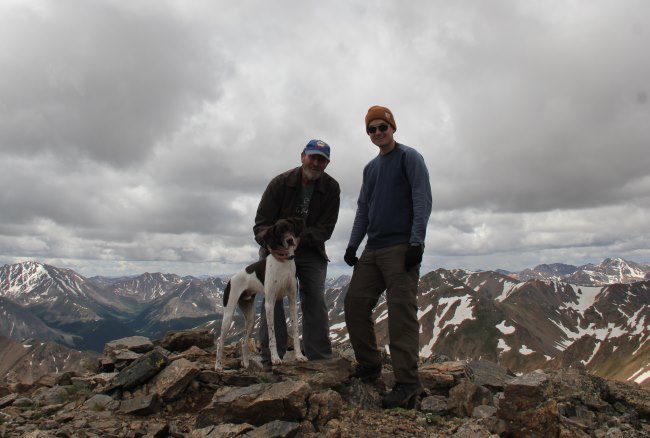 This place required a special moment of celebration. My dad has climbed numerous mountains with me and he is now in his seventies but he is in really great hiking shape. In all the places he's been and seen, he told me as he sat there that he was enjoying the most beautiful place he'd ever witnessed. Pictures do no justice whatsoever for the sweeping views we had in every direction.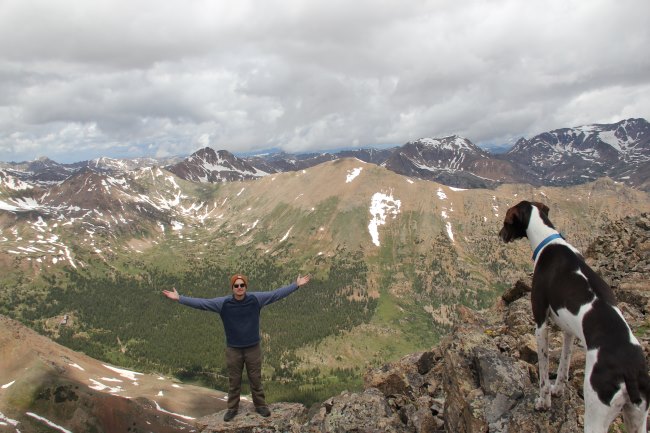 By the time we had arrived at the mountaintop at 11:40, Hunter had already summited probably three times. He too was having the time of his life, running to and fro and taking in all the sights and smells the mountain had to offer. I did some timed photos with the three of us and we sat for about half an hour to soak in the surroundings before moving on.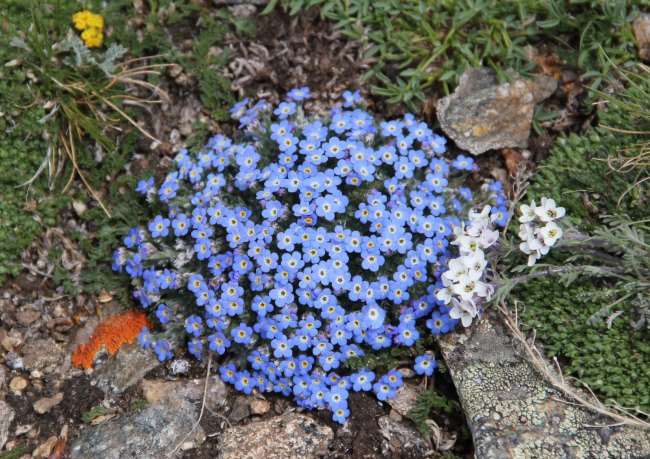 It was a quick 40 minute tromp to Frasco Benchmark, including a couple short snow crossings even on top of the ridge. This too was a neat perch with unique views, but with the crux lying ahead we did not stay long.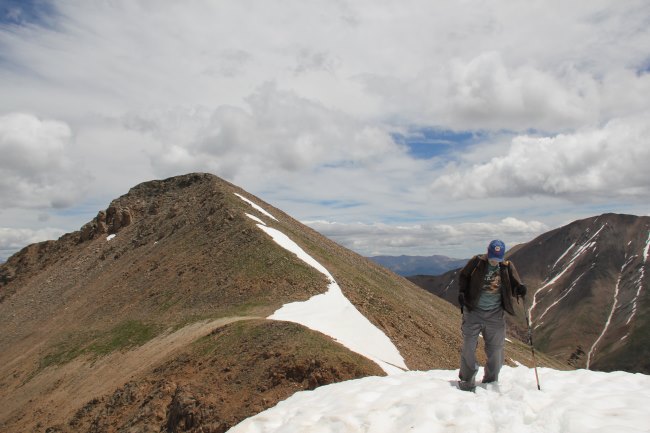 We slowed down significantly for the rest of the traverse. The descent to "Fiascol" was much more tedious than we anticipated: nothing difficult, just a lot of attention to detail was required for solid footing. Hunter did great at slowing up and waiting when he was uncertain of where to go. There were also lots of goat tracks and droppings around to keep him sniffing, though we didn't see any of the animals.
The slopes leading to the summit block of Casco Peak were easy, but steep and tiring. The final cliffs before the summit, however, required some third class moves due to steep snow blocking the easiest path. Despite his sometime goat-like rock climbing ability, we had to lift Hunter up over the hardest moves to get back to walk-able terrain.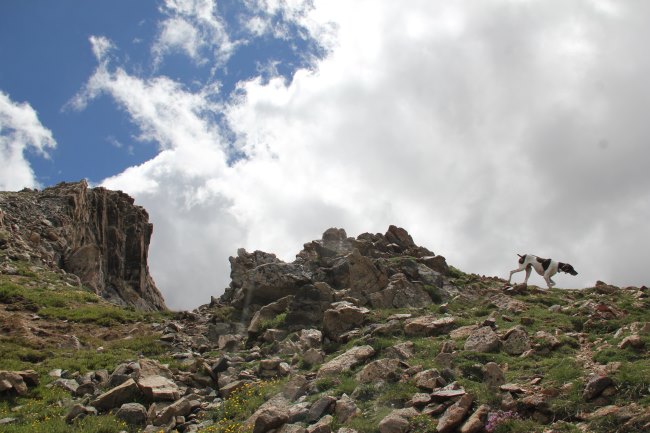 It was 2:40pm when we stepped onto the summit boulder of Casco Peak. This place was reminiscent of the
blocky summit of Windom Peak
, one of my favorite 14ers.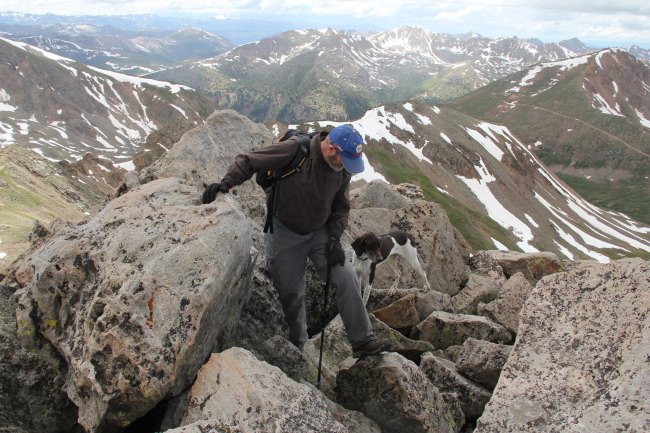 There was a distinct lack of cairns on this route, thanks I think to being below 14,000 feet, and this helped keep things interesting. Also we didn't find any summit registers. During this morning's drive we passed hoards of people parked and camping in the vicinity of the Massive and Elbert trailheads. Beyond Mount Massive's camping area though, we saw no one, and we would not see another human all day during our hike. I did enjoy
Mount Massive when I hiked there 11 years ago
, and
Mount Elbert was okay
, but today's hike blew them both away. That's part of the beauty of the "Centennial 13er" experience: high enough to get just as good a view (or in this case, better than most 14ers), and without the crowds.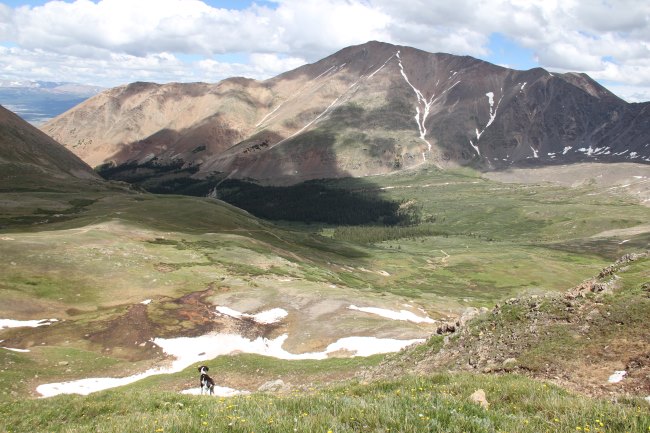 The descent of Casco turned out to be a steep stumble down grass-covered slopes. With no ice axe along we simply weaved our way down between snow fields. Hunter enjoyed this part more than us: there were numerous chirpy pikas, chipmunks and marmots living on these slopes. It took us a solid hour to make it back down to the Iron Mike road. From there it was smooth sailing along with a couple of creek crossings to get back to the truck, where we arrived safe and sound at 5:30pm--still before any of the evening storms arrived.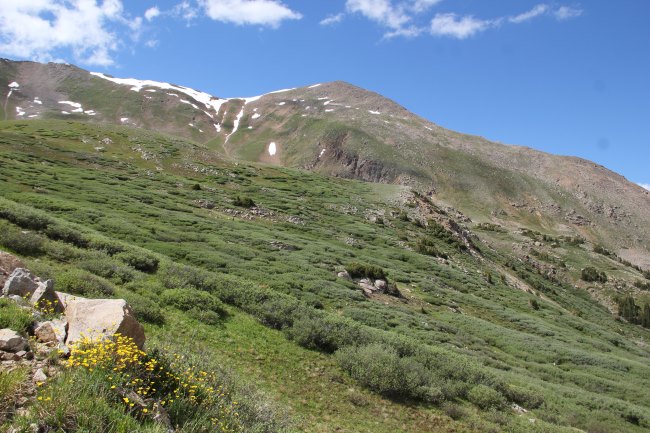 I normally don't like the term 'instant classic', but that is the best phrase I can think of to describe what this hike turned out to be for us. It was one of those special days in the mountains that really can't be explained, just experienced. But if nothing else, I can certainly share the recommendation that this Colorado gem is worth the trip--even if it takes 6,500 miles of driving!