Introduction: After completing our first hike in the San Juans, Arthur and I drove north to climb another relatively "easy" fourteener, consequently the highest in the state and second highest in the Continental United States, 670 miles from the next biggest mountain, California's Mount Whitney. We drove most of the way back the four-wheel-drive road near the South Elbert Trailhead, and set up camp just next to a creek crossing.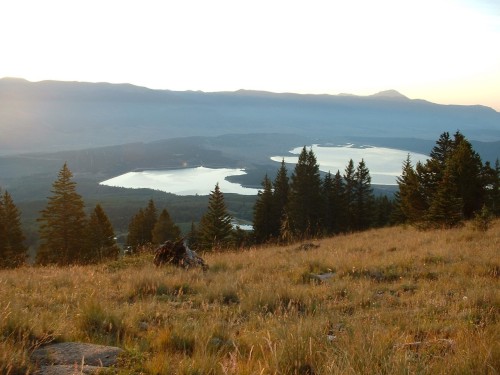 Sunrise above timberline
5:30 AM- Still quite dark and chilly and outside, Arthur and I put on our heavy clothes, packs, and headlamps to begin our upward journey. We actually still had more of the dirt road left ahead of us than we expected, but it did not take us too long to get to the actual 4WD parking area. There were a few vehicles there, but no one was stirring.
We continued back the Colorado Trail through the aspen forest for a quarter mile, where we came to the turnoff for the Mount Elbert Trail. Though a nice dirt trail, it got much steeper here, and it remained so for quite a while.
We pushed up through the beautiful aspen woods to a sort of hollow, where the trail turned up onto the beginning of the east ridge of Mount Elbert. We followed the trail uphill along several long, but fairly steep switchbacks, until we came to a kind of meadow. Here, we stopped to watch the sun rise. What a peaceful and beautiful moment!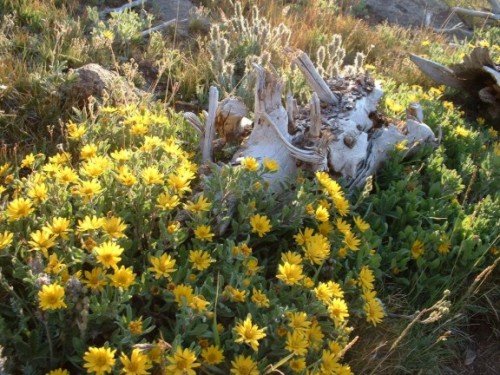 Along the trail
The alpenglow on the mountains ahead of us also made for some picturesque scenery, and as we continued uphill, South Elbert and Mount Elbert began to show themselves. One thing about this mountain is that it doesn't look all that impressive, but as you keep climbing upward, the summit seems to keep getting farther away. The ridge ahead of us seemed pretty straightforward, and as we continued above timberline, the trail was quite nice and easy to follow the whole way, but it seemed to take us forever to get anywhere.
At one point we crossed paths with a man and his dog who were going downhill. They had gone to the top of Elbert to view the sunrise. This would be the only person we would see for a while.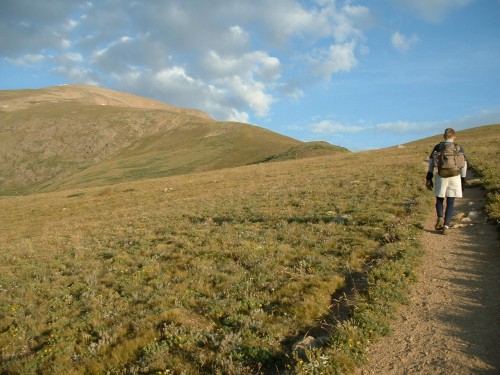 Arthur en-route
The trail kept going up through the grassy meadows, and as we continued gaining altitude, Mount Massive began to show up to the north.
Eventually we came to where the terrain turned to all talus, and it was about here a runner passed us on his way up the mountain, wearing nothing but a t-shirt, shorts, shoes and a camelback. Amazing. I was huffing and puffing my way slowly up the trail as he passed us. He would also pass us on his way down, before we ever even made it to the summit.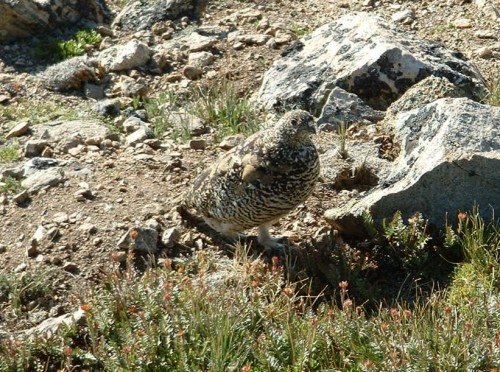 Ptarmigan
The trail steepened again as it continued along many switchbacks, and as we at last came to a level section of trail that swung around to the south side of the ridge, we were a bit surprised to find that the actual summit of Elbert was still quite high above us. All we had been seeing our entire trip so far was a false summit to the east. All that lay between us and the summit was about another half hour's worth of switchbacks through the talus.
8:56 AM- One final push to the summit led us to Colorado's highest point, at 14,440 feet above sea level! Surprisingly, on a weekend in mid-August, we had the summit all to ourselves! We enjoyed the views of Mount Massive to the north and La Plata Peak with Ellingwood Ridge to the south, Twin Lakes to the southeast; it was a beautiful spot. And, what a nice day! I have been fortunate to avoid bad weather in almost every hike I have done this summer, and I was especially glad to be able to enjoy the time sitting on Colorado's highest summit without having to worry about the weather.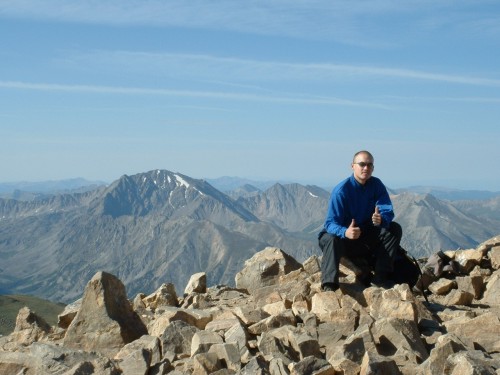 Alone on the highest point in the Rockies. La Plata Peak in distance.
Our solitude lasted about 15 minutes; that is when other hikers started to show up. We yielded the summit to them and moved over to a small wall of stacked rocks, which is typical shelter for a summit in Colorado. We downed some trail mix and Powerade, and after having spent 50 minutes on the top of Colorado, we continued on our journey.
We descended southward to the large moss-and-rock-covered saddle between Mount Elbert and its unofficial partner, South Elbert. The views of La Plata and its Ellingwood Ridge were spectacular from this area. The only reason the pictures do not show it so well is because of the day's thick haze, typical of August.

South Elbert from Mount Elbert's summit (La Plata Peak in the distance).
10:30 AM- The walk up to South Elbert was relatively short and simple, and we had been hiking a total of five hours by the time we stepped on this summit. We enjoyed the view for a short time before continued eastward.
The ridge we next descended was steep and full of talus. At one point, while Arthur was some 50 yards below me, I accidentally knocked loose a softball-sized rock, and yelled out "Rock!" to catch his attention. He looked up and saw the rock, but figuring it was not going fast enough, turned around and was about to start walking again. "It's still going!" I yelled down to him, as the rock nailed him squarely in the hip. From the looks of it, he was in a good bit of pain. I asked him where it had hit to make sure it had not hit his knee or something, but he assured me there was nothing damaged: just a big future bruise.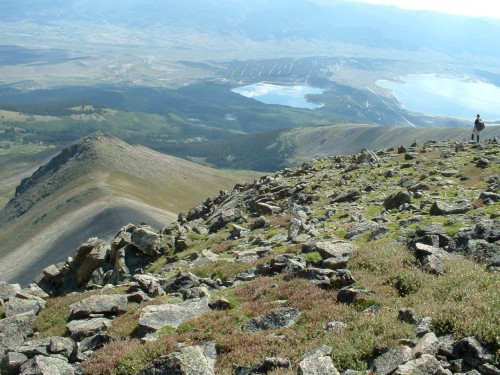 Above it all
Eventually we got to the bottom of the steep section and rested on a small saddle for a while. The ridge did not end, however. We continued downhill over semi-steep talus along the crest of the ridge for quite some time.
Finally, as timberline began to sneak up on us, we descended off the ridge into the large basin between the ridge of Mount Elbert and South Elbert. We found our way past some shrubbery and across a couple of small rushing streams, then continued down through the large spruce forest. We followed game trails for the most part, as we angled northeast toward the east ridge of Elbert, which we had ascended earlier. Finally we came to the aspen woods, but it was still a good while before we once again met the main Mount Elbert Trail, completing our loop.
12:52 PM- We continued out through the brilliant aspen woods the way we had come, out the Colorado Trail, down the dirt road and across the creek to get to my jeep to complete our weekend of hiking.
Conclusion: Mount Elbert is a relatively simple mountain, a typical bulky hill in the Sawatch Range. But this "hill" stands above all the others in the Rocky Mountains, and rules the landscape for at least 670 miles in every direction, so this bulky mass is to be respected, and enjoyed. I certainly enjoyed my time there, and would not be surprised if I someday return to this fun mountain.