Sunlight Peak (14,059 ft), Windom Peak (14,082 ft), North Eolus (14,039 ft), Mount Eolus (14,083 ft)
Round-trip distance: 45.3 miles
Elevation gain: 13,750 feet
Day 1: Purgatory to Chicago Basin
---
17 miles, 4,000 feet elevation gain
The hike from Purgatory Trailhead to Chicago Basin would not have been so bad, if only I would have packed lighter and worn some heavier duty shoes. I brought along way too many clothes, and my only footwear for the trip was my lightweight pair of approach shoes. I all but killed a couple of my toes, which made the trip a little less enjoyable from the start. I did some extra "exploring" around Purgatory Flats, adding two miles and an extra hour to an already long approach hike.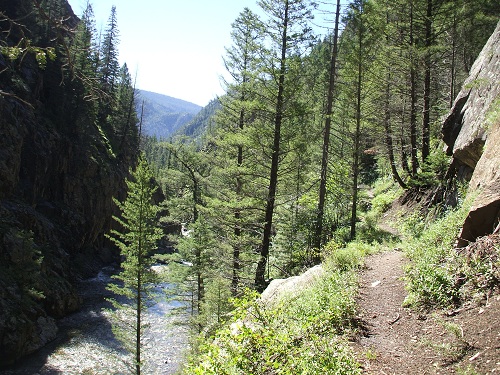 Purgatory Trail
All that being said, the downhill was easy enough, and the mostly-level walking for seven miles along the Animas River was pretty much a piece of cake. It was the remaining 5.5 miles of uphill along Needle Creek that wore me down.
Needle Creek
I arrived at 11,000 feet in lower Chicago Basin at 5:30p.m. I found a place to camp, a nice secluded spot requiring a creek crossing on unstable logs, and a trail leading to an unoccupied cave. I bypassed the cave and set up in the woods just above it. I poked my head out of my tent around sundown to see a huge mule deer doe staring at me from 50 feet.
Day 2: Sunlight Peak, Windom Peak, North Eolus
---
8 miles, 5,300 feet elevation gain
Time for some mountain climbing! I hit the trail at 4a.m., making quick progress up the switchbacks all the way to Twin Lakes at 12,500 feet, where it was just getting light enough to see. Here I met up with four others, including 14ers.com member mtnguy78. The five of us would stick together for the first two mountains today.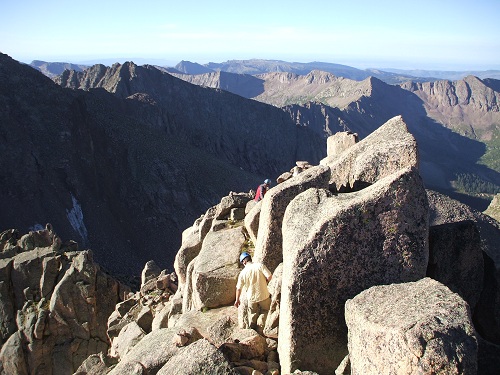 Sunlight Peak summit ridge
We made our way up the loose trail on Sunlight Peak's south face. There were plenty of options to choose from, but to the west a whole group of volunteers was busily rebuilding the trail to improve it for the environment and for future climbers. Very little scrambling was required to reach the summit ridge. The final notorious moves to gain the summit were not too bad, but the exposure while sitting on the summit block was impressive. I didn't trust my balance enough to stand.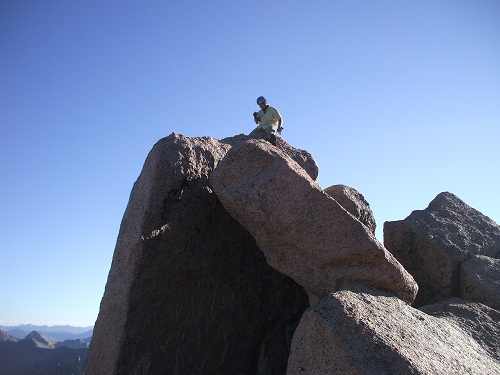 Matt on the summit.
From the summit it was a quick descent back to the high basin, then we ascended the opposite slopes to the Peak 18-Windom Peak saddle.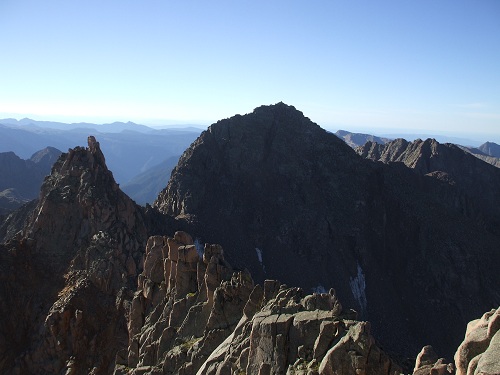 Windom Peak
There was a lot more scrambling than we expected on the west ridge of Windom Peak. It was a lot of fun!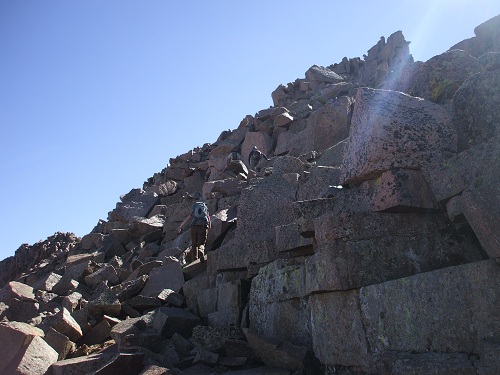 Scrambling up Windom's west ridge
And of course, the views got better the higher we went.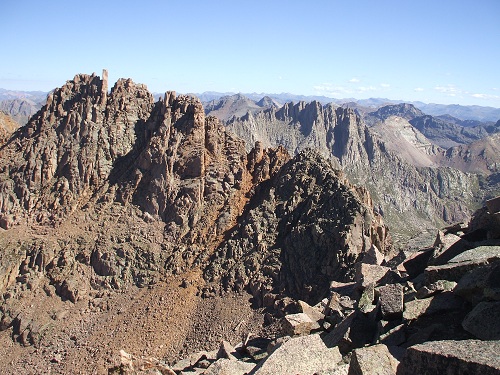 Sunlight Spire and Jagged Mountain
The unique blocky summit of Windom Peak immediately joined Sunlight as one of my all-time favorites. Here are several pics from the top: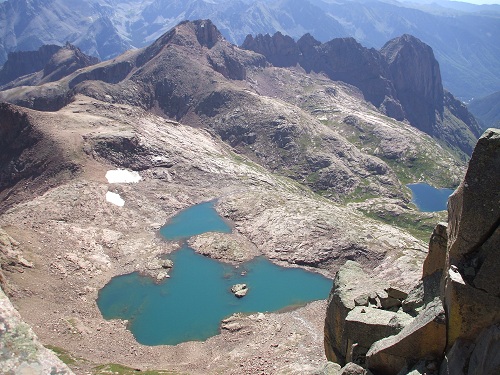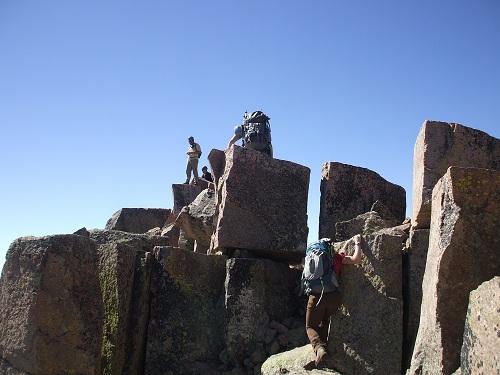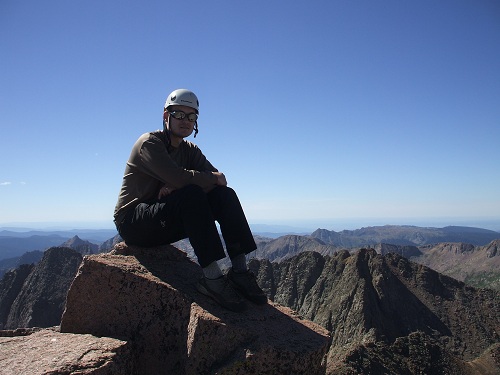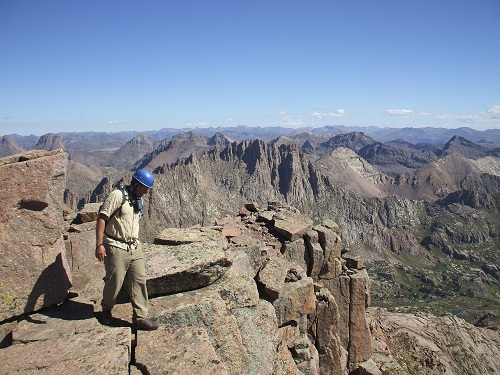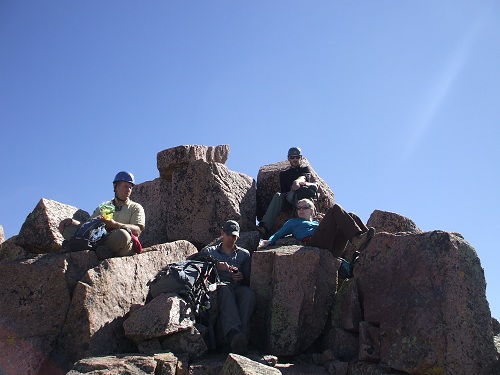 We lounged a while on the summit, but eventually I bid farewell to everyone because I still wanted to try to summit Mount Eolus today.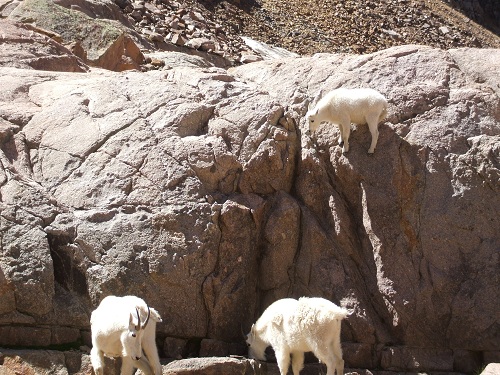 At Twin Lakes, I finally met some of the not-so-shy mountain goats.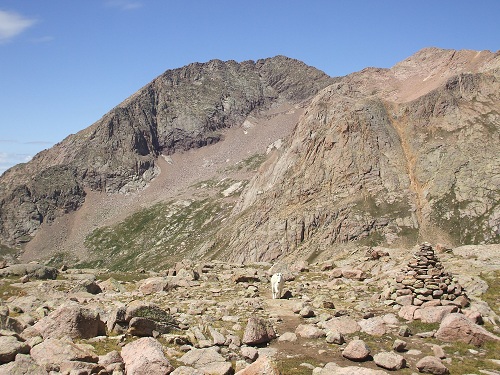 Mount Eolus
Unfortunately, as I started up the trail from Twin Lakes toward Mount Eolus, the weather and my body started to conspire against me.
Mount Eolus from the summit of North Eolus.
I ditched my pack and was able to make it to the summit of North Eolus by 2p.m., but by now I was dragging. I sat there for 15 minutes, hoping maybe the clouds would clear, but they only seemed to be building more. The route to the summit of Mount Eolus looked committing. Fresh on my mind were all the deaths on 14ers this year, and I was not willing to become a statistic due to poor decision making, so I reluctantly decided to return to camp.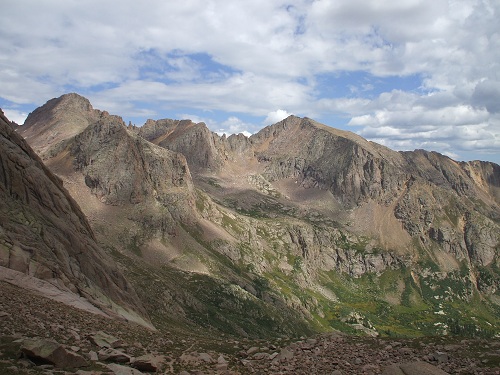 Jupiter Mountain--on my itinerary but didn't work out this trip.
Meanwhile, marmots had had their way with my backpack and its contents. My map and flashlight were gone and some other gear had been chewed. By the time I got back to camp, it was sunny again, and it never rained a drop.
Day 3: Mount Eolus
---
5.3 miles, 3,000 feet elevation gain
Today started with... more mountain goats: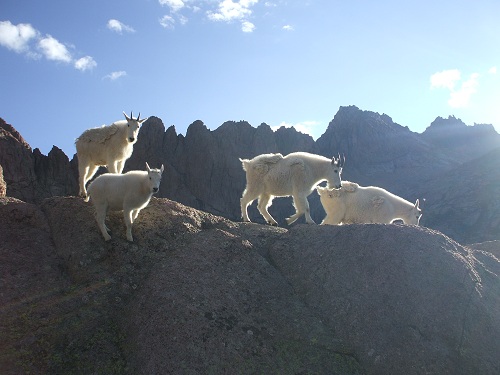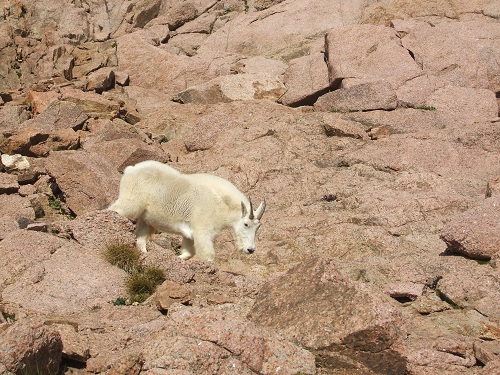 The night before, I had been physically and mentally beat. Eleven hours of sleep later, I was not 100%, but I was feeling
much
better, and ready to tackle Mount Eolus once again.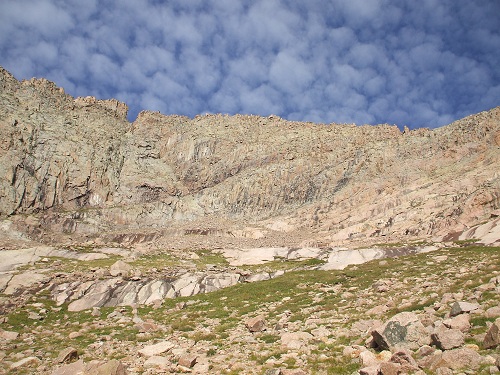 Tundra meets rock meets sky.
I repeated the switchbacks to Twin Lakes, the steep trail up to the Eolus-North Eolus saddle, and once again had the view of the route ahead of me.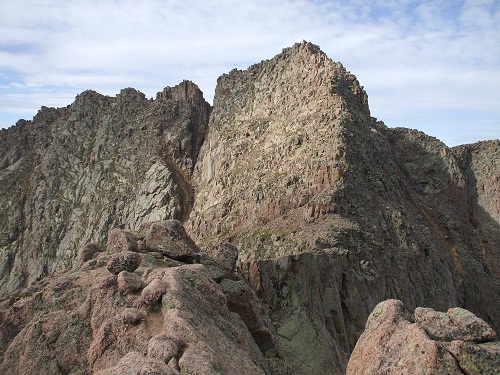 Catwalk and northeast face.
The over-hyped catwalk was over before I knew it. Then I followed the left of two trails out onto the steep and rugged northeast face. This face consisted of mostly-solid rock punctuated by grassy ledges. There were so many cairns that route-finding was more like "route-choosing."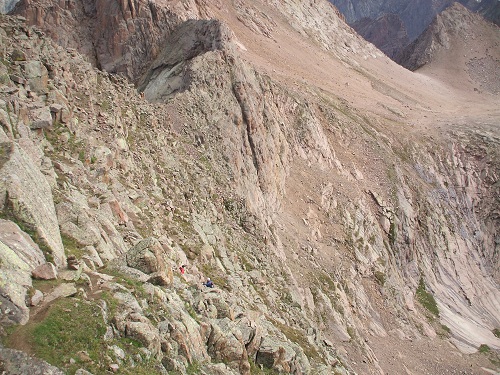 Climbers work their way up the face.
With no flashlight, my late start resulted in a summit time of 10a.m.
The views from the top were pretty great; Pigeon, Turret, Vestal, Arrow and Jagged were awe-inspiring. Another climber came up behind me and we talked as we sat on the summit.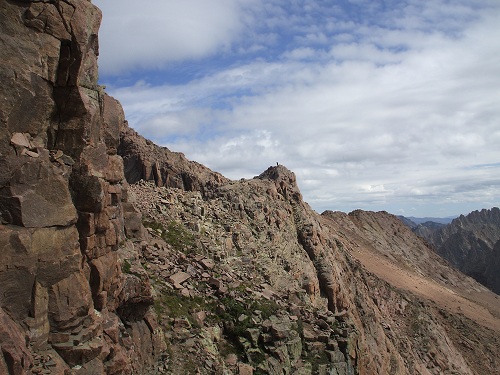 Climber atop the "hump" between Eolus and North Eolus.
During my hike down, I made it a point to take notice of all the small details of the landscape, as well as the grandeur of it on the macro scale. I love being in the wilderness.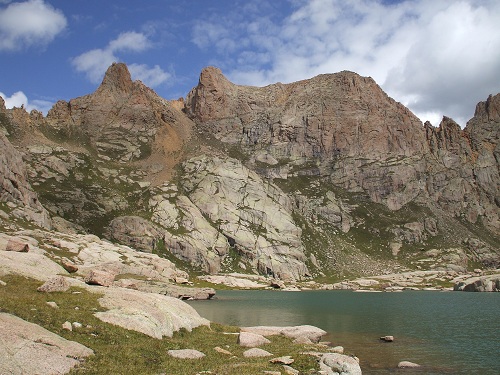 Twin Lakes
Day 4: Back to Purgatory
---
15 miles, 1,450 feet elevation gain
It rained all night, and with storms continuing at higher elevations this morning any hopes of visiting Jupiter Mountain were dashed. That will have to wait for another trip.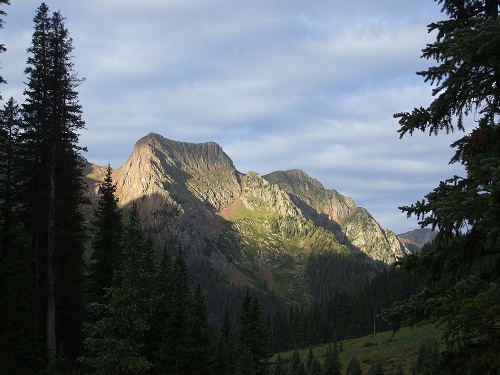 Morning view from camp.
I emerged from my tent with a break in the weather at 6:30a.m. and packed up. I got hit by some heavy rain during my journey along the Animas River, but it actually felt good on such a warm day. All in all, the long trek back to Purgatory was not so good, but not so bad either.