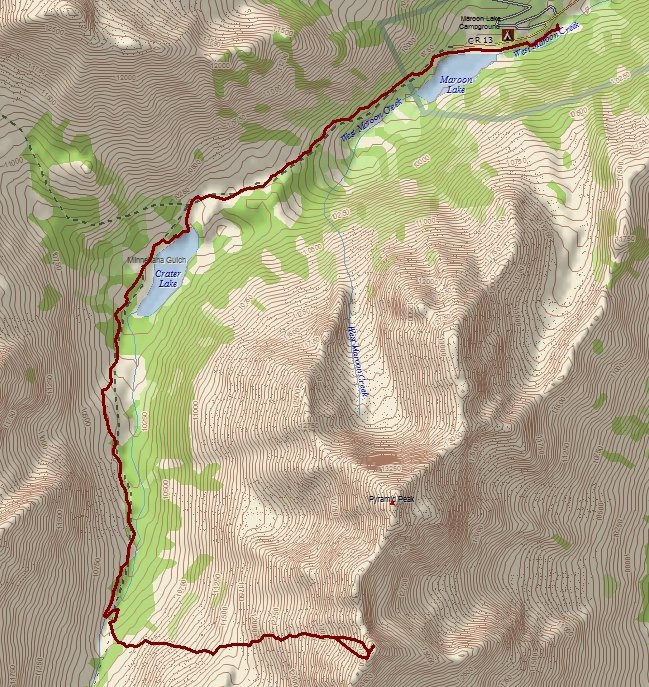 "Thunder Pyramid" (13,940'): 10.5 miles, 4,200 feet elevation gain
Note: Click on picture to see high resolution photograph in separate window:
My 4:45a.m. start for Thunder Pyramid could have been earlier. The approach was a little more involved than expected. Parts of the usual West Maroon Trail are currently underwater around Crater Lake because of the extremely heavy snow year, there were some downed evergreen trees blocking the trail at spots, and there were a couple tricky creek crossings as well. The major crossing of Maroon Creek involved going upstream to cross on a snow bridge that might not be usable much longer.
Still, I made it to the base of the true climb in a little over two hours. I took a long break to make all the necessary gear adjustments and fuel up on some energy food, then at 7:15 I started the real climb. And from 10,700 feet to the summit, there really weren't any breaks. From here 3,200 feet would be gained in about a mile, 90% of it on snow.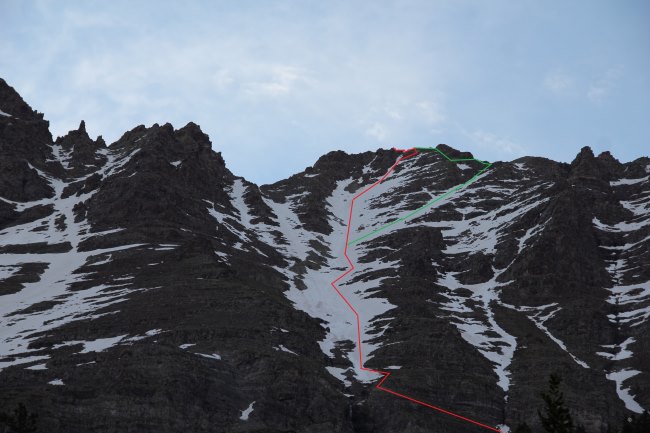 Red: Ascent, Green: Descent.
Thunder Pyramid is reclusive; it's hard to pick out the summit bump from the valley floor even when you are right under it. But I never really had any trouble finding my way to the top; it was just tedious and tiring. Yesterday's acclimating on Mount Spalding seemed to help, but I still felt very sluggish as I worked my way up the never-ending snow slopes. There was more than one initial snow-filled gully; there were several steep gullies and snow slopes to climb before even reaching Len Shoemaker Basin at 11,600 feet.
From the upper basin the grassy ledges were easy to follow to climber's left until arriving at the top of a waterfall. This was pouring from the snow-filled gully leading all the way to the summit ridge, about 2,000 feet above. My normal routine at altitude is to take 100 steps forward and pause to catch my breath; today it was more like 25 steps at a time. Slowly but surely, I made my way up the snow slope, which got steeper as I climbed.
Initially I opted for the steeper direct finish instead of the white gully, but seeing some climbable rock to my right I abandoned the very steepest snow near the top and scrambled up some loose ledges to gain the summit ridge.
I stepped onto the summit at 12:10, and spent 20 minutes there taking pictures and reorganizing my gear. I always love climbing in the Elks; the scenery was spectacular. But, I took fewer pictures than normal today as I was very focused on the route, especially on how I would descend.
The mid-June sun was bright and powerful, considerably softening the snow for my descent. Descending over to the standard white gully I found that it actually didn't have much snow in the last couple hundred feet. I "screed" my way down a short ways and then began some steep glissading, which got me all the way back down to the waterfall. As I headed back over into Shoemaker Basin, thunder started rumbling, hail started hitting me and coyotes loudly howled from somewhere nearby--the mountains were suddenly getting very animated.
By the time I finished my final glissade before regaining the trail, the first storm had passed by. Just as I got to the creek crossing, however, the skies grew black, a fierce wind whipped up and sharp raindrops began pelting me. Already soaked from all the wet snow glissading and wanting to get to the shelter of the big spruce trees just across the creek, I opted for not wasting time to get up the snow bridge. Instead I plunged right into the cold water, where the trail normally crosses. The water, though not deep, had a surprisingly strong current to it. I nearly lost it twice; not that I would have been swept away or anything, but I very nearly got myself (and all my camera gear) fully submerged. Ultimately I made it to the shelter of the spruce trees unscathed, where I took a deserved break and waited out the worst of the storm.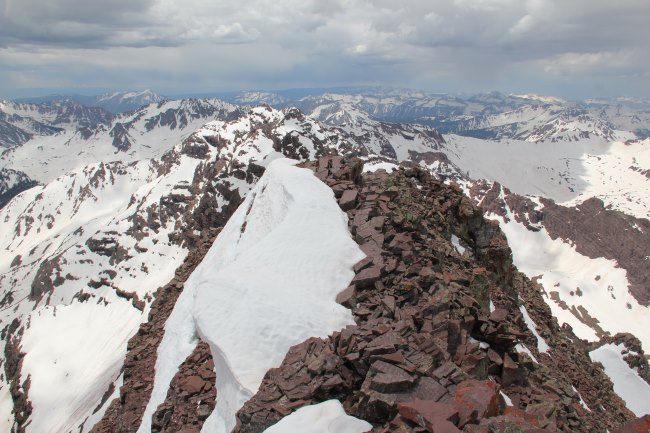 I made it back out to my rental vehicle at 4:15, where it was starting to rain for a third time this afternoon. After the 11 1/2 hours, I was drenched and tired, but relieved to be safely done with Thunder Pyramid.