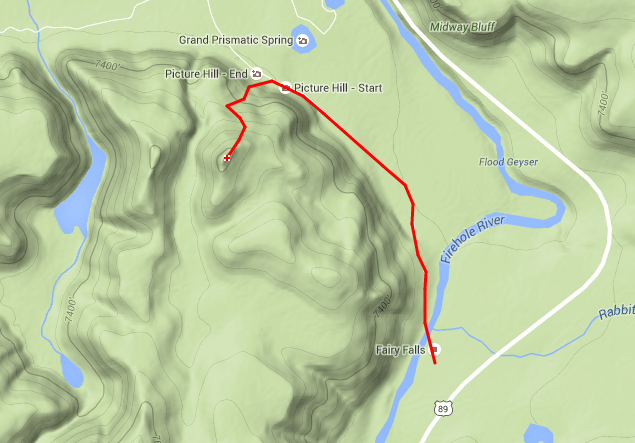 Point 7,622--Grand Prismatic Spring Overlook: 2 miles, 400 feet elevation gain
We had one last to-do on our Yellowstone itinerary: the Grand Prismatic Spring. We had first visited the Midway Geyser Basin in 2011, almost as an afterthought, and the Grand Prismatic Spring quickly became one of our favorite sights in the whole park. Our goal this time was to view it from above, from the steep hill rising behind the basin.
Note: Click on picture to see high resolution photograph in separate window: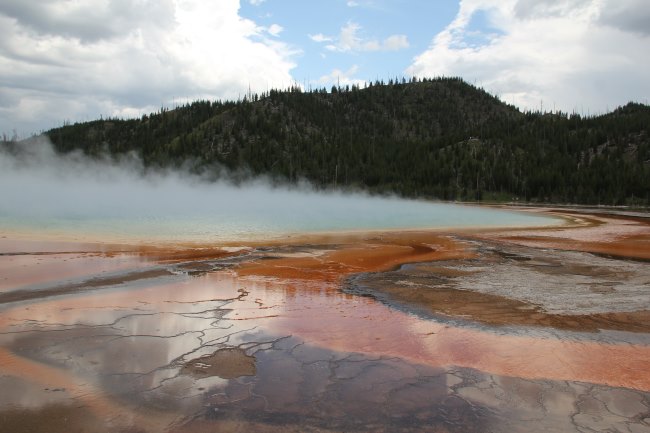 First we had to find parking: after a traffic backup due to bison and another backup due to an RV being towed out of a ditch, we still had to deal with an overflowing parking lot (this was the norm on this trip, and we later found out the summer of 2015 held a new record for crowds at Yellowstone). Storms were rolling through nearby, but we avoided the raindrops with just a chilly wind and cloud cover as we started up the boardwalk to view the spring. Unfortunately the cool air caused a lot of steam, and while still impressive, the colors of the giant pool were not nearly as visible or impressive as last time. Also the narrow boardwalk was quite crowded, and many people did not have a concept of courtesy as they were taking up the whole boardwalk to snap 5-minute long family photographs. Still, the place was an impressive, unearthly anomaly to behold.
After a brief boardwalk tour, we left that crowded parking lot to find another one. The trailhead was for the Fairy Falls Trail, but our destination was the overlook of the Grand Prismatic Spring. We thought there were elevated platforms from which to view the springs, but instead we followed a flat trail behind the pool for about half a mile. Then we followed the crowd up a steep, non-park-maintained pathway going straight up to the right of Point 7,622. We helped Mom up the steep pathway, and passed several others coming down the hill. By the time we made it to the top of the ridge, we had it all to ourselves, and a great view of the spring.
But there were still higher vantage points around us. Holly joined me in a steep climb up to the summit of Point 7,622--where the views of the spring and basin--though still not entirely unimpeded--were even better. It was definitely worth the trip, even though I was only wearing flip-flops. We hiked back out the way we had entered, and took some pictures of the other side pools and Firehole River on our way out.