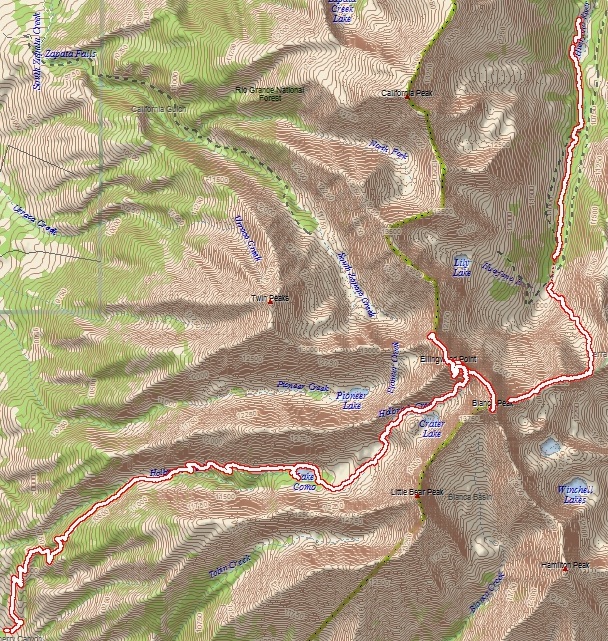 Blanca Peak (14,345'), Ellingwood Point (14,042')
Point-to-point distance: 14 miles,
Elevation Gain: 5,100 feet

Huerfano Valley was as serene and beautiful as I remembered from when I had climbed Mount Lindsey five years earlier. My wife dropped me off at the Upper Huerfano Trailhead, amidst plentiful wildlife in the predawn light, including velvet-racked mule deer, elk, and jackrabbits. Twenty-four hours earlier I had been at home on the east coast; now I was breathing in the thin, crisp air of Colorado at 10,600 feet. A thick frost clung to all the flora of the valley, but the sun was already illuminating Blanca Peak's stunning north face as I started walking along the Lily Lake Trail.
Note: Click on picture to see high resolution photograph in separate window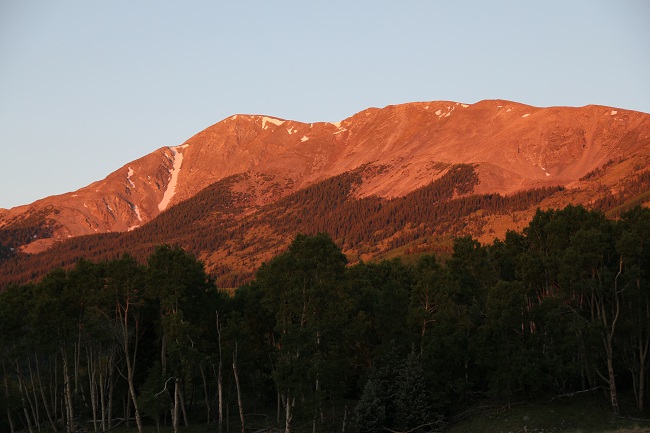 California Peak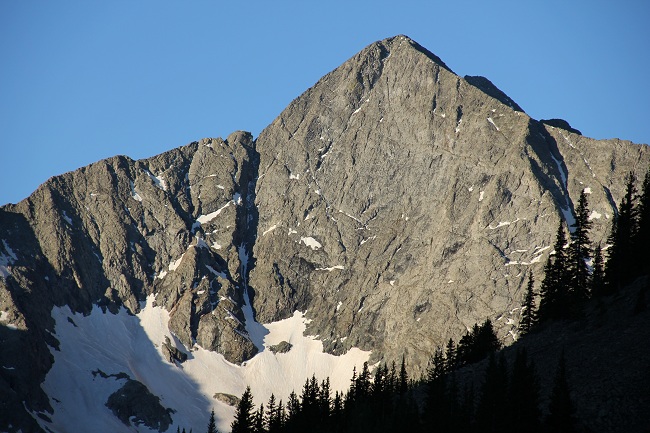 Blanca Peak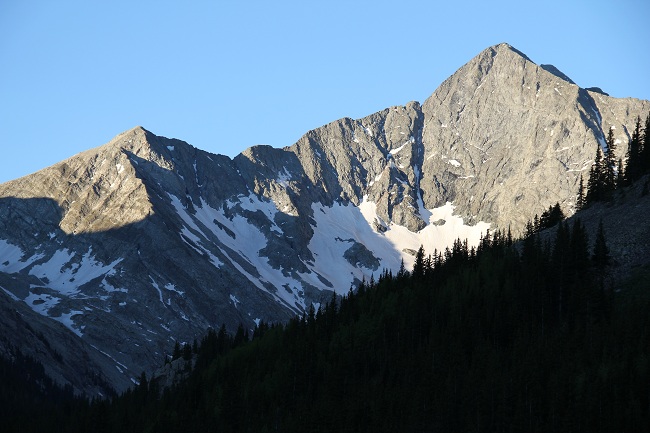 Gash Ridge and Blanca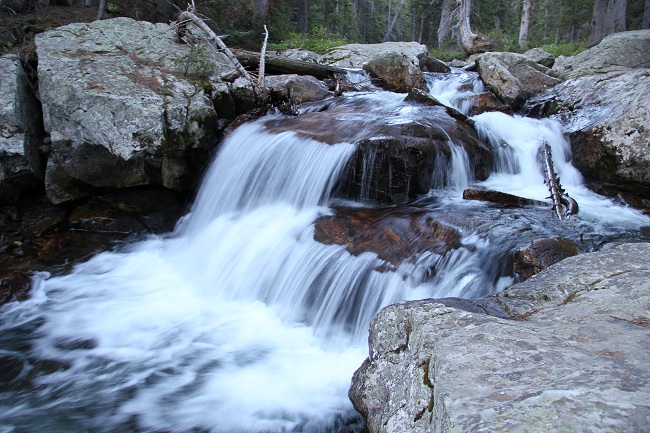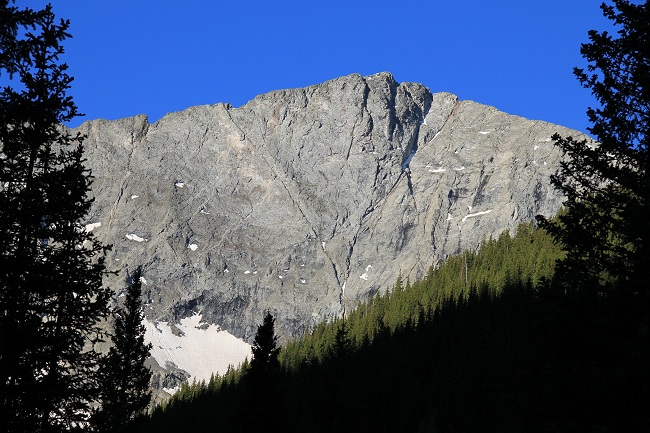 Ellingwood Point
I followed the gradually-rising valley until the trees ended and nothing but air was left between me and Blanca Peak. I turned left and hiked steeply up the basin allowing access to Gash Ridge. There were several solid snow fields but they posed no real obstacle. It was already 9a.m. when I finally stepped onto the ridge, into a notch overlooking Winchell Lakes.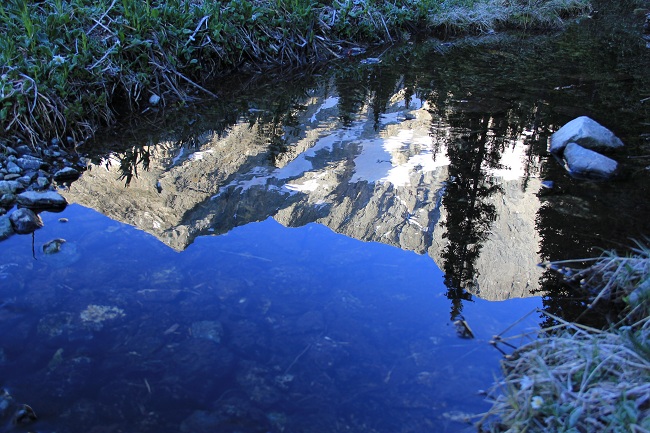 I had been taking my time and snapping plenty of pictures, as there was not a cloud in the sky, but I was also sluggish because of the altitude, which had been abnormally affecting me since I had set foot on the trail. My altitude sickness would only get worse as I worked my way up the ridge, but the weather held and I took my time.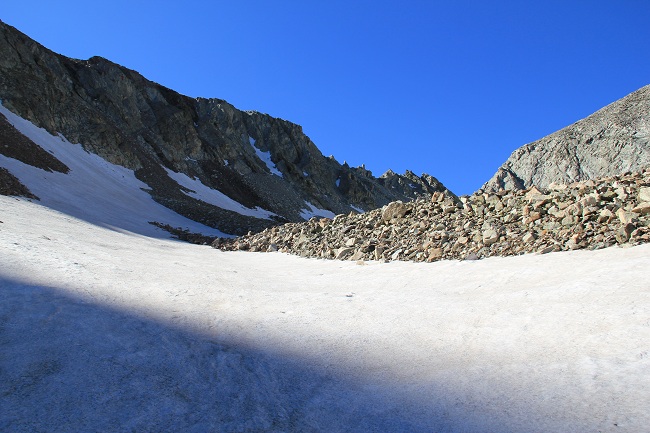 Access to Gash Ridge
The climbing began immediately, which surprised me. There was some loose rock and a 5th class move which may have been avoidable, but I didn't see any other obvious options. However after that short pitch the ridge mellowed to allow for some easy talus hiking.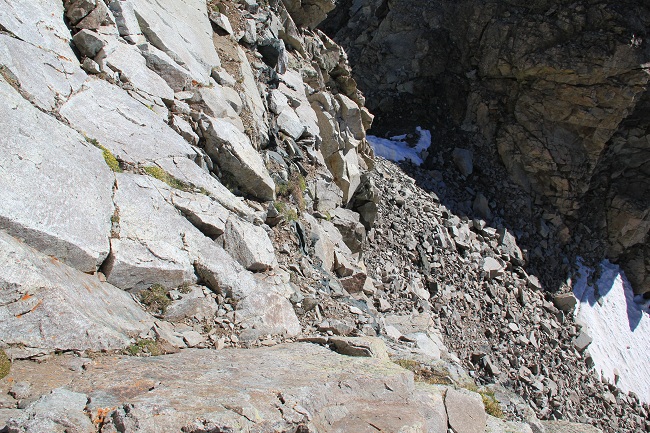 First climbing above initial notch
Topping out on the first bump in the ridge, it became obvious that the hiking was behind me. The ridge scrambling from this point on was a lot of fun, often narrow and exposed with small knife-edge sections, rarely exceeding Class 3 for a while.
Because the ridge wasn't really gaining altitude at this point, I avoided the next bump along the ridge by following some easy class 2 to 3 ledges and contouring to the next dip in the ridge. There was a cairn leading to these ledges--the only cairn I saw on the route. It's the obscurity of these kinds of routes that I so enjoy, despite the popularity of the mountain I was climbing.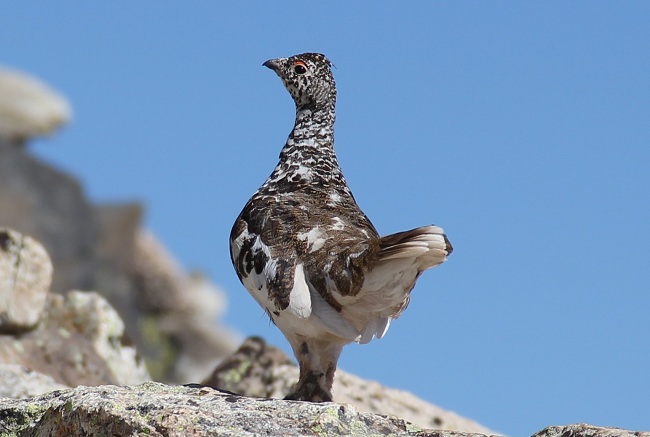 Ptargmigan at 13,000 feet
That was the only time I left the spine of the ridge. The scrambling continued, sometimes steeply, and twice I was fooled by mini gashes before I finally arrived at the real thing. I wasn't even sure I was there until I came upon the rappel anchors. The Gash turned out to be very anticlimactic, with an easy couple of moves down a ramp to the bottom.
The climb up the other side of the Gash appeared the most intimidating of the route, but it turned out to be great fun. I did not like the loose rock immediately above the Gash, but as I climbed higher it seemed to become more solid. The crack along the low angle slab midway from the Gash to the summit of Blanca could be considered the crux of the route, maybe 5.0, but it was solid and therefore much preferred to the looser rock below.
The ridge led me directly to Blanca's summit. I was exhausted and not happy to see that it was 12:30 already, but after a 15-minute break and heavy duty food and water refueling, I seemed to catch my second wind. The traverse from Blanca to Ellingwood Point was a breeze. I arrived at the summit at 1:35pm, just behind the only other person I would see today, Bulldog (Michael Bodine), a disabled gentleman in his 60s who is featured in chapter 8 of Bob Obmascik's "Halfway to Heaven." As of the book's encounter in 2007, he had climbed a handful of the 14ers, but today he told me he has completed 40 of them now--despite his disability and the fact that he lives in Kansas! While we stood talking on the summit, a golden eagle flew by below us.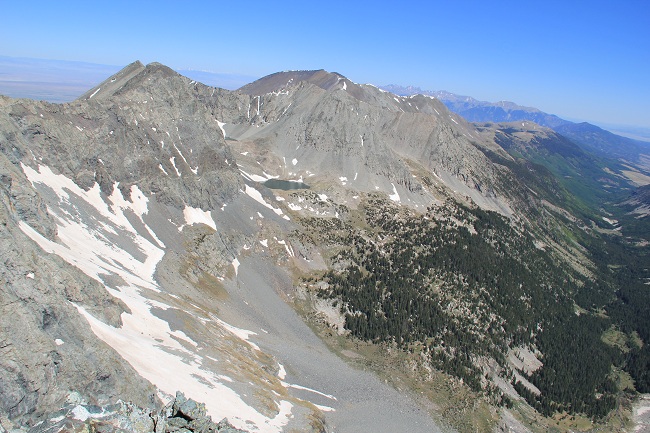 California Peak, Lily Lake and the Huerfano River Valley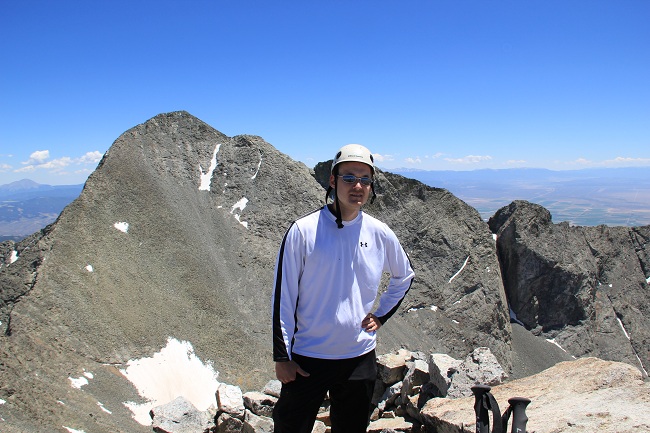 Atop Ellingwood Point, Blanca Peak behind
As Bulldog headed down the trail toward Lake Como, I stuck with my planned itinerary and began scrambling down Ellingwood's North Ridge--hoping to complete the traverse all the way to California Peak. It was fun Class 3 scrambling at first, then the ridge eased onto some walk-able talus slopes. It remained this way down to where the spur dividing Zapata and Pioneer Canyons splits from the ridge. Below this, the ridge I was on turned into cliffs, and it took some route-finding before I finally decided on a 4th to 5th class chimney to descend. Below this, things got sketchy. The only way I could see to go any further was down a near-vertical gulley. What had been relatively solid rock to this point turned to choss that fell off in my hands and crumbled under my feet, and the terrain was becoming more and more technical. I made a few careful moves down this gulley, only to realize that the quality of the rock was only getting worse.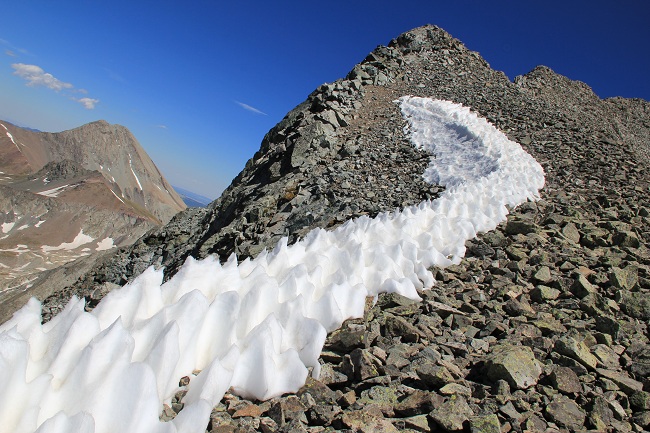 The easy part of Ellingwood Point's North Ridge
At 13,400 feet, I was closing in on the Ellingwood-Point 13,618 saddle, but it was no-fall territory and my options were becoming limited. Besides continuing down the rotten gulley, the only other option I could see was to find a wide detour into Zapata Basin to climb the slopes of Point 13,660. Without a rope or partner, and weary of the altitude, I did not like either option. Besides, I still couldn't discern for sure what kind of rock I would be encountering on the ridge traverse ahead. Instead, I called my awesome wife, who was in Fort Garland, and told her to pick me up on the Lake Como Road.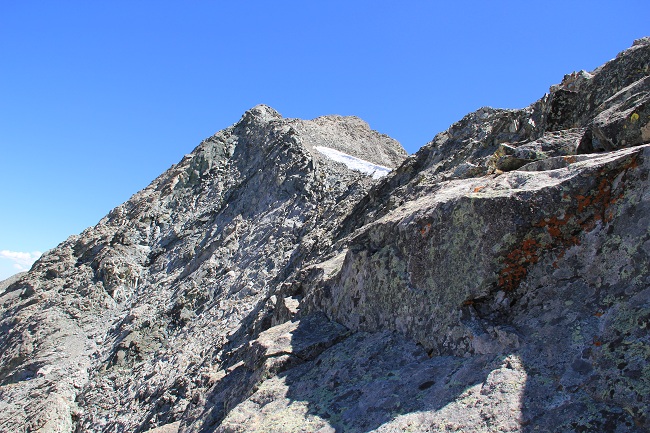 Ellingwood Point's North Ridge, around 13,500 feet
So, with visions of "Blanca-fornia" behind me, I scrambled the 600 feet back up Ellingwood Point's North Ridge to the summit, then followed the switch-backing trail down into Lake Como Basin.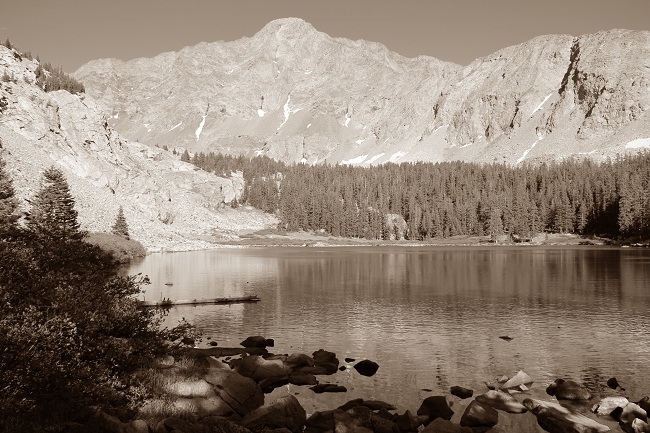 One final look at Lake Como and Little Bear Peak
I met up with Bulldog again shortly after coming onto the infamous Lake Como Road. He was gracious enough to allow me to use his filter to fill up on water at his camping spot next to the lake. Then I bid him farewell and the long trudge down the rocky Lake Como Road began. Miles later and thousands of feet lower, I met my wife along the road. I was grateful for the car shuttle, which allowed me to bail on a sketchy traverse. Though a little disappointed I didn't make the Blanca-fornia circuit, I did enjoy the visit to Huerfano Valley and the solitude and climbing on Blanca's Gash Ridge. Meeting up with Bulldog was also an inspiring experience; hopefully I too will be able to keep doing this hiking and climbing thing for a while.