"Sundog" (13,432 ft), Sunshine Peak (14,006 ft), Redcloud Peak (14,037 ft), Point 13,811, Point 13,832
Round-trip distance: 16 miles
Elevation gain: 6,475 feet
I must admit I've never been too excited about climbing the 14ers I would visit today. The climb to the summit of 13er "Sundog" was taxing, as was the slog up the backside of Sunshine Peak. Somehow though, my day was awesome in every way after that. I met 14ers.com member "ATOMEMT" and his dog, then I passed several other hikers as I was en route to the brilliantly-colored Redcloud Peak. Topping out on my third mountain of the day and 53rd 14er, I rested and considered my future.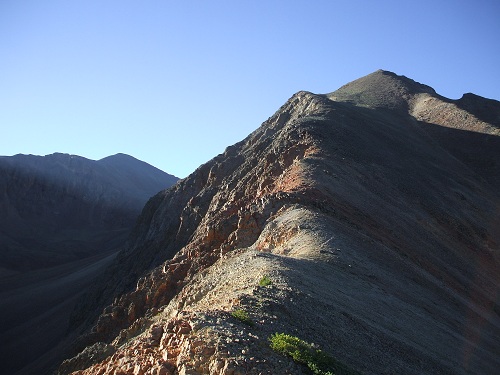 Sunshine on Sunshine (left), and the ridge leading to "Sundog" (right).
It was 10:15 now, and the hike over to the two centennials Point 13,832 and Point 13,811 looked daunting. But there were only puffs of clouds high in the sky, and I was feeling good, so I made the switchback descent to the saddle beyond Redcloud, and kept going.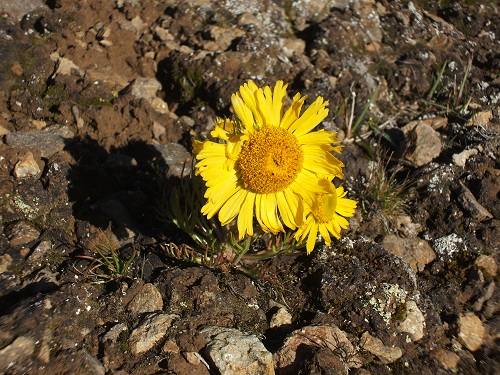 Life at 13,200 feet.
Points 13,832 and 13,811 were covered in a layer of white I thought was snow from yesterday's storms. When I started out the trail leading to Point 13,832, I found the coating on the ground to be hail. It was now melting from the slopes in the midday sun, but it stuck stubbornly where it had consolidated on the trail. At least it made the trail easy to see.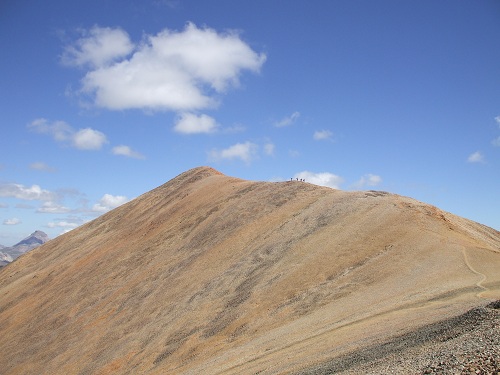 Hikers on Redcloud Peak.
I bypassed Point 13,561 and contoured around the grassy slopes of Point 13,832. After also traversing around Point 13,632, I got my first real view of the route to Point 13,811. Even now, the mountain still looked perversely far away.
I swear these mountains were only a couple inches apart on the map!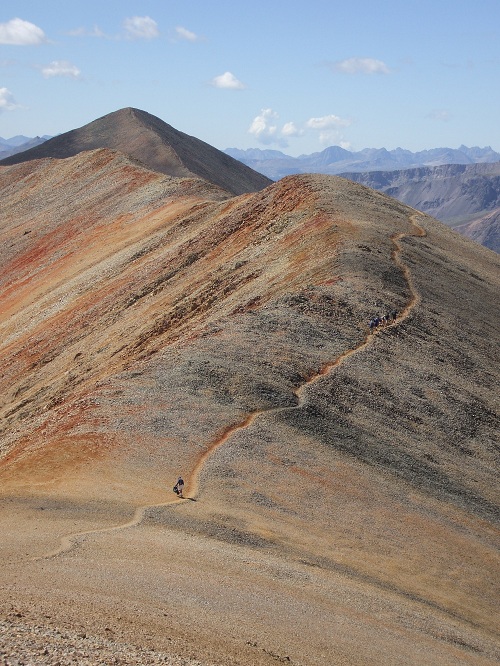 Sunshine Peak (left) and the ridge leading to Redcloud Peak.
Though I was growing tired, I had been in complete solitude since leaving the 14ers and this high ridge-walk above 13,000 feet held the essence of what I love about being in the mountains.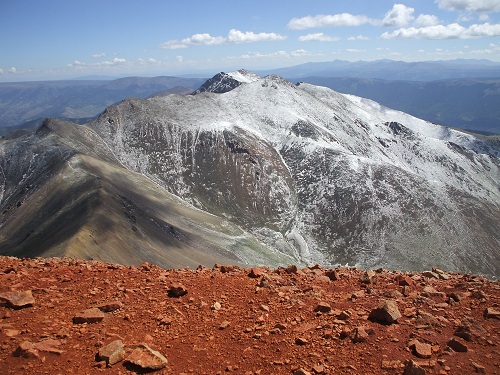 Mars-like view from Redcloud summit of hail-covered Point 13,832 and Point 13,811.
I made my way steadily up the gentle slopes leading to the talus-strewn summit of Point 13,811, arriving at 1:15. From the bee activity, there appeared to be a nest within the summit cairn. I signed the summit register and scarcely got away without being stung by the angry insects. What were they doing way up here, anyway?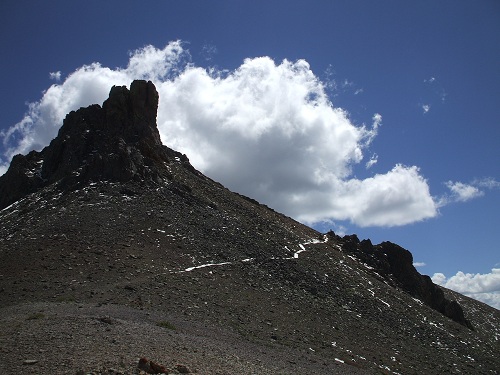 The hail-covered trail around Point 13,832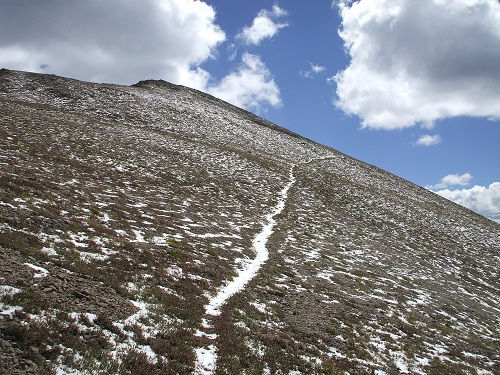 Clouds were building now, so I retraced my steps along the trail leading to Point 13,832, with an added sense of urgency. Near the trail's highpoint at 13,700 feet, I abandoned it and hiked up to the summit perch amidst a sea of mountains. Having been an hour since my previous summit, the skies were now relenting temporarily, so I relished this 5th and final summit of the day.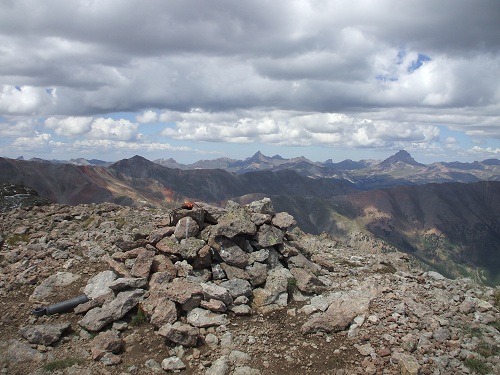 Summit of Point 13,811, with Wetterhorn and Uncompahgre behind.
From there it was an easy trail hike back to the Redcloud saddle, and I continued down the Silver Creek Trail, dropping below 13,000 feet for the first time in many hours.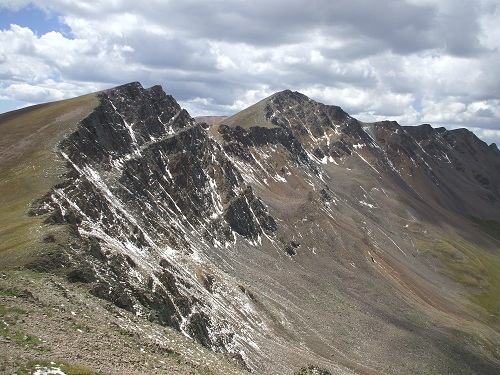 Point 13,832
Along the trail, I met a couple originally from New Jersey who now guide white water rafting here in Colorado. Then I met up with a Texan named Salty, and we walked and talked the last couple miles out to the trailhead, where we went our separate ways.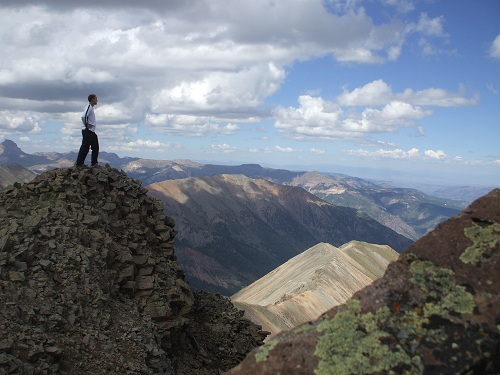 Enjoying the view. Below: Point 13,811 from the summit of Point 13,832.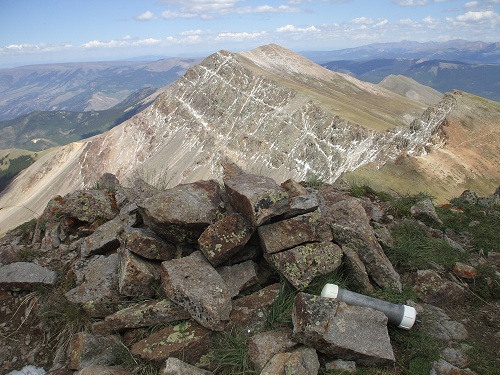 It was now 4:30p.m. and some storms were finally rolling through the area. I drove up the rough dirt road the rest of the way up to American Basin, where I have a great evening view of the gray cliffs forming "American Peak" and Point 13,744. After such an involved hike today, I feel I can cut myself some slack and do a short hike up Handies Peak to conclude my stay in Colorado tomorrow. This is, after all, vacation!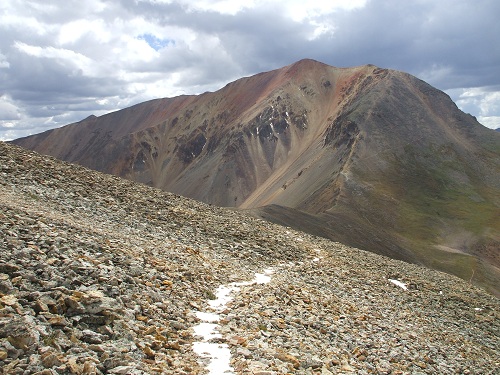 One last look at Redcloud Peak. The summit of Sunshine is barely visible to the left.