... to Tuscarora's summit
Big Mountain (2,458')
Car-to-car distance: 22.5 miles
Elevation gain: 2,500+ feet
The Tuscarora Trail, at one time propositioned to be a part of the Appalachian Trail, stretches for 252 miles through four states. Much of the trail follows ridge-tops and valleys through state forests and game lands, and sees more traffic from wildlife than humans. It is such solitude and natural beauty that draws me to this often-overlooked trail, specifically in southern Pennsylvania. Just north of the Mason-Dixon Line, Tuscarora Mountain emerges from the forests and climbs to a ridge-line that runs for dozens of miles northeastward before eventually ending at the Juniata River. The Tuscarora Trail follows the first 20 miles of this ridge crest, which includes the ridge's summit—a rock outcropping atop Big Mountain.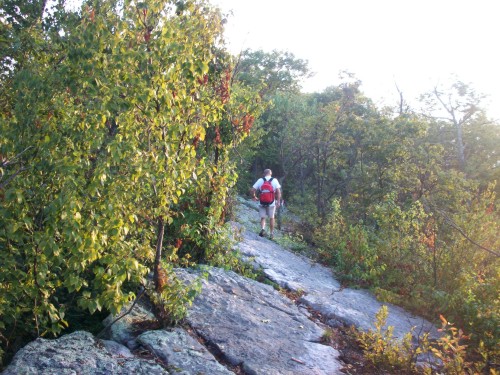 On the ridge-line
My Uncle John has run five marathons and I have done a fair amount of climbing and backpacking, but neither of us had ever hiked more than 21 miles in a day. The 22.5 mile hike along the Tuscarora Trail from Fort Davis Road to Cowans Gap would provide the perfect challenge to push our limits a little further while allowing us a grand tour of Tuscarora's Ridge, including Big Mountain's summit. It would also be a great introduction to section-hiking the entire Tuscarora Trail.
We started hiking from Fort Davis Road at 6 o'clock, completing the 1,000 foot ascent to the ridge-top in 37 minutes. After a short break, we turned north to begin walking the ridge-top. As the sun rose, the valleys on both sides of us filled with a thick sea of fog. There were several openings in the trees that allowed good photo opportunities, especially at the dip in the ridge we nicknamed the "Grassy Saddle."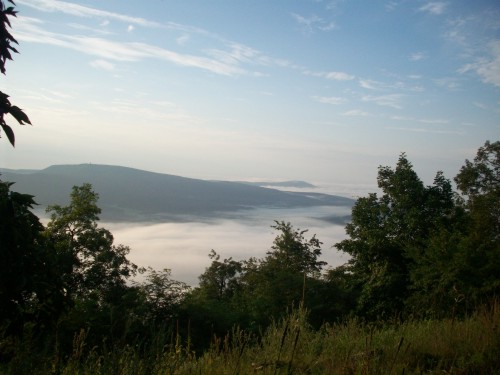 From the Grassy Saddle.
My dog Hunter flushed birds everywhere we went, including small birds, a turkey, and multiple grouse. He was having the time of his life pointing and chasing them around. He also spooked a deer as we rounded a rocky ledge, and probably more wildlife that we never even came close to seeing.
The ridge was rocky and rugged in places, but we made good time through the first several miles. With ease, we passed by the tops of the Yellow Trail, Hell's Hill Trail, and the unnamed trail with red blazes ("Red Trail"). Then trail conditions began to deteriorate. Because the trail does not see many human visitors, we had already encountered places that were overgrown with weeds. Now we began to run into blackberry brier patches. Not only did they shred our legs, several times Uncle John got his feet caught in low-lying vines, causing him to trip. Another place, his foot slid off a rock and into a hole, wresting his shin against another rock. Because of rain the previous day and the plentiful lichen-covered rocks along the trail, these sorts of problems were expected, but we weren't yet halfway and he already getting pretty banged up.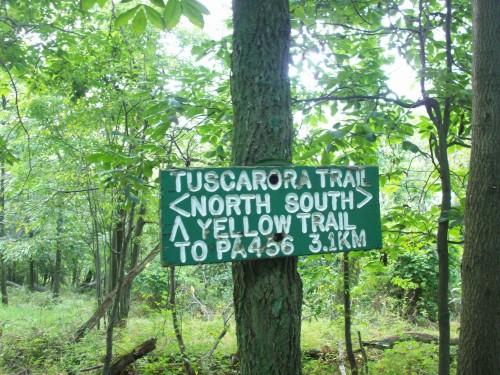 Just south of the Alice Trail, we stopped to read and sign the trail register. The previous signature was six weeks old, and we found wisdom in the words "Next time I'll wear pants!"
We were half done with our hiking, and thankfully the worst was now behind us. North of the Alice Trail, there were only a few brier patches, and no rockiness to speak of. The ridge-line became more of a fern-covered plateau, all the way to the descent and crossing of Route 16. Also, thanks to Hurricane Bill in the Atlantic, clouds moved over us and cooled things down slightly.
Then the trail became even nicer, more of an ATV road along the upper border of Buchanan State Forest. After a short break to hydrate and apply bug spray, we crossed a pipeline. Uncle John stated matter-of-factly that the trail was so nice he was going to begin jogging. Because of his earlier difficulties I figured he was joking, but then he took off! For the next mile and a quarter we jogged along the trail, Hunter leading both of us effortlessly with his four legs.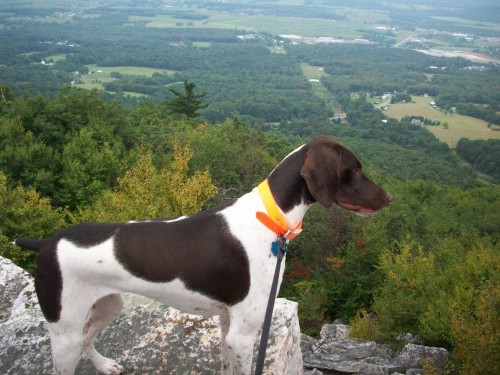 After this the trail narrowed again, but it was still nice for walking. We stopped at a vista overlooking Fulton County, then passed the hang-gliding launch point and arrived at Route 30 and The Mountain House Bar & Grill. We had not seen a human all day, and this place was a culture shock. The outdoor deck was packed with bikers, and cars and trucks and bikes rumbled along the busy highway.
We arranged by cell phone for my dad to meet us where the Tuscarora Trail crosses Augwick Road. We had not taken a significant break for some time and were famished, so as soon as my dad joined us we had to stop for a bite to eat. Then we were hiking again, this time to the summit. All of this was open walking, sometimes rocky, and always through sourgum and huckleberry forest. It was scenic and pleasant, and a welcome relief from the pesky briers.
Here are some summit pics from previous hikes, since I didn't get any good ones this time around: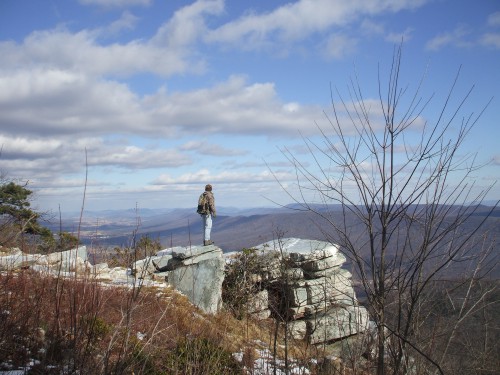 Views from the summit, to the north...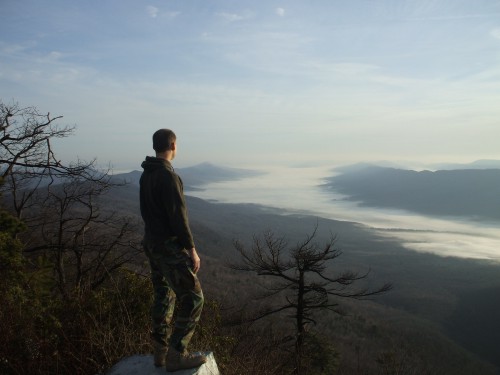 ... and to the south: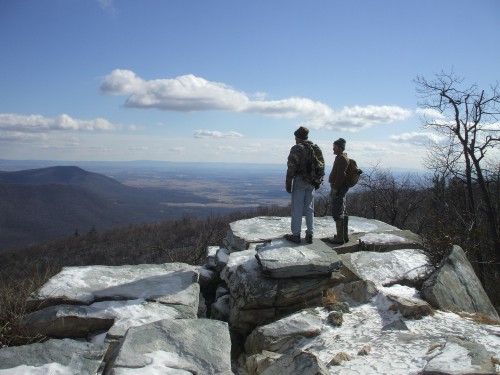 By the time we reached the summit of Big Mountain, my legs were tiring. The view was good but the skies were hazy and threatening rain. No one was there when we arrived, but then a ranger walked up from the road and talked to us for a few moments and a couple of other people pulled up in a car.
By this time we were looking forward to the finish, so we did not stay long. As soon as we left we were back in the solitude of the trail, where we would not see a single hiker all day. After descending the rocky trail north from the summit, we had a nice grassy logging road to walk on for the next couple miles, past the Richmond Trail, Log Slide Trail and Geyer Trail. During this stretch, we saw some groves of sourgums with their leaves already turning brilliant red.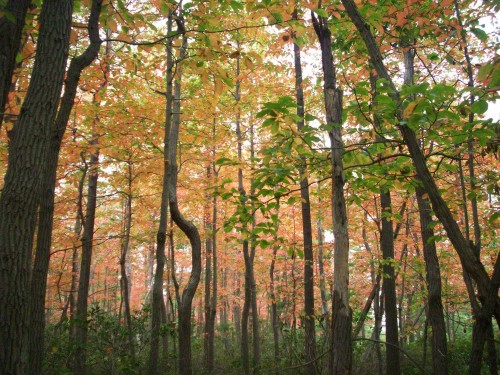 Then the skies let loose. It began as a drizzle, then the rain came down steadily, then it poured. The bugs went away and we finally had relief from the heat, so we considered getting soaked to be a good trade.
As we entered Cowans Gap State Park, the trail became a mess of rocks. With great care we picked our way along the path through the rain.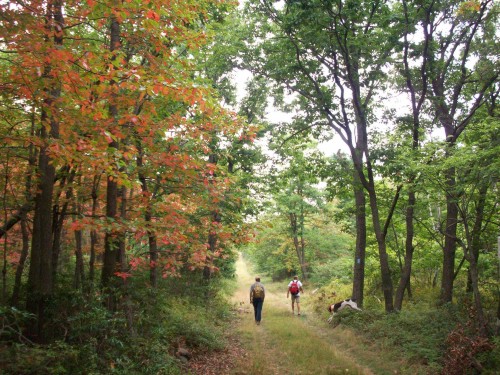 The forest became colorful here, with green oaks and pines, red sourgums and huckleberries, and yellowing birch leaves, but we had our minds only on one thing now—making it back to the car. We walked numerous switch-backs downward until at last the trail leveled out next to Cowans Gap Road. At this point we were walking in puddles, but it no longer mattered. Uncle John commented jokingly that we were finally nearing the end of his sixth marathon.
It was still raining hard as we wound through a picnic area, across the road and onto a grassy knoll between Cowans Gap Lake and the destination parking lot. There was no thunder, so swimmers were still enjoying the water in the midst of the downpour. I was half-tempted to join them as I was already drenched, but I was more-so looking forward to getting dried off and eating a real meal. After ten full hours, our 'Tour de Tuscarora' was complete!