Pole Steeple (1,250')
Car-to-car distance: 14.2 miles
Elevation gain: 1,000 feet
My Uncle John has taken to section hiking the Appalachian Trail. In early August he and my dad had hiked and scrambled up the Sunset Rocks Trail in addition to the mid-point section of the A.T. Today the three of us parked next to the actual furnace of Pine Grove Furnace State Park to begin another section of trail, including some detours, for a total of 14.5 miles of hiking. First we hiked west to meet the northern Sunset Rocks Trail junction, then we returned to our starting point to top off the first 3 miles of hiking.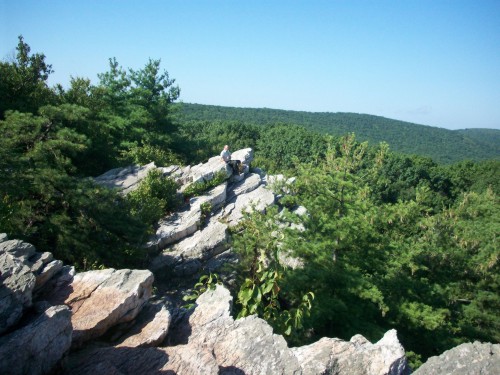 Dad, atop Pole Steeple.
The trail east of here was paved, passing by Fuller Lake and following an old railroad bed along Mountain Creek. Our pace slowed only slightly as the Appalachian Trail left the railroad bed and climbed the north slopes of Piney Mountain. Once atop Piney Mountain, the trail follows more or less along the ridgeline. Eventually we came to the clearly-signed junction with the Pole Steeple Trail. It took only five minutes of easy walking from the A.T. to arrive at Pole Steeple, the rocky summit overlooking Laurel Forge Pond (A.K.A. Laurel Lake). This is a fun place to scramble around jutting rocks atop impressive cliffs with a good view of the valley. We took our longest break of the day for some lunch and photographs, but we still had a lot of hiking ahead.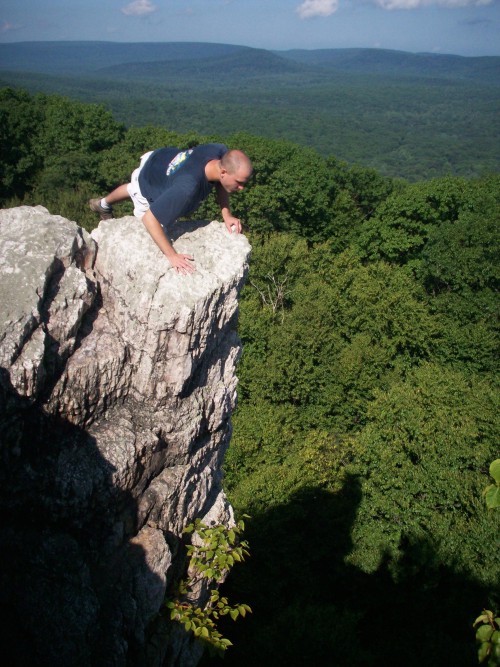 Looking down "The Nose."
After returning to the A.T., we followed the trail east along Piney Mountain, then turned northeast to descend to Tagg Run and Pine Grove Road. Almost all of the trail involved pleasant walking through monotonous Michaux State Forest, with only the occasional rocky section. After Pine Grove Road we crossed the railroad tracks. Next the A.T. follows the narrow section of trees and meadow between the railroad and busy PA-34, for the most unremarkable hiking imaginable.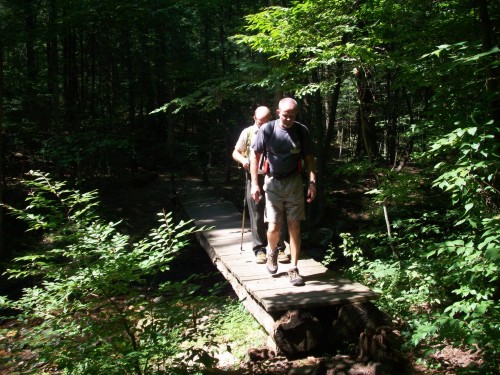 Crossing Tagg Run.
After crossing PA-34, we hiked another 2 miles of trail to our other jeep, which was parked along PA-94 at the northern terminus of Michaux State Forest. The entire hike took us six hours.