---
A funny thing happened when I reached the summit of El Diente. The sunshine I had enjoyed all morning was suddenly usurped by a thick fog which rose from the next valley to the south. This was bad news, as I was planning to complete the traverse to Mount Wilson, and now could see none of the ridge except for fleeting glimpses.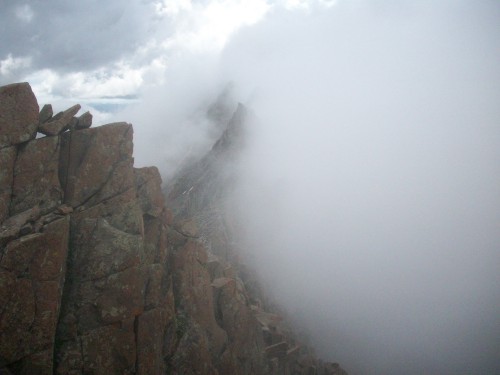 Fog obscures the traverse to Mount Wilson.
Meanwhile a couple came up from the standard route of El Diente, cursing the route and saying they were fearful for their lives for their upcoming descent. To me, the traverse to Mount Wilson sounded like a better idea than descending that awfulness.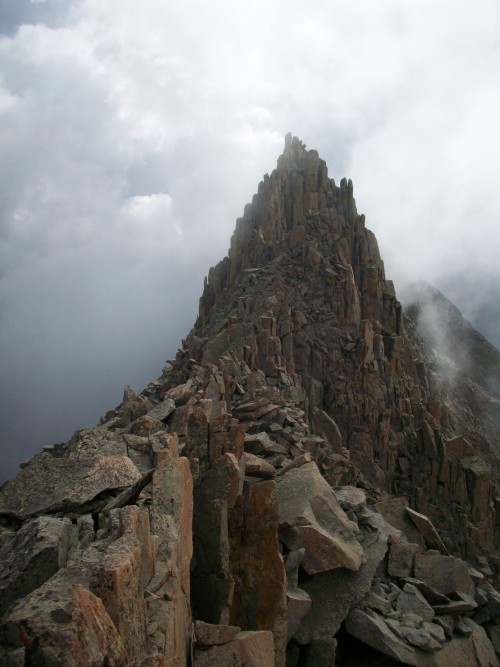 Spires along the ridge.
I followed cairns easily enough for a while around cliffs, but after this I lost the route completely in the fog. I walked along talus slopes for a while, then climbed to the ridge-line, then hiked even lower to walk along more boring talus. I could not tell where the towers were except for cliff bands I would encounter and find a way around. Eventually I saw footsteps ahead and below me through some snow slopes, and I knew these belonged to a father-daughter pair I had talked to the day before who had taken a much lower route than the standard traverse. I did not want to go this way and preferred to do more of the ridge-climbing.
At this point I knew I had to be nearing the third-class climb to the ridge-line, and sure enough I eventually located a cairned ledge and zigzagged my way up to a rappel anchor and ridge-proper. From here I followed the narrow coxcomb, somehow missing an easy escape, causing me to have to do some difficult 4th class down-climbing to reach the next saddle.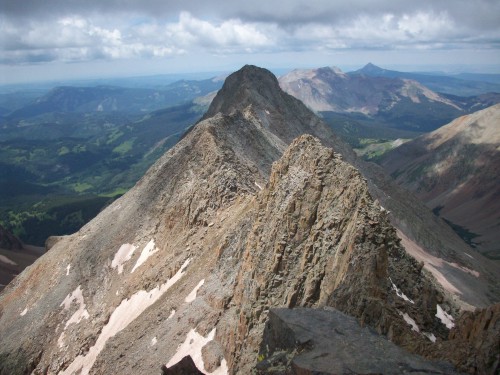 Looking back to the traverse.
At last the fog began to clear and Mount Wilson came into view, just ahead. I saw where the footprints came up out of the snow, and followed them up some dirt ledges to a steep, loose, exposed 4th class climb directly up the south face to the summit. This is not at all the standard route, and I realized this by the time I reached the summit register. The traverse had taken me three hours, an hour longer than I had anticipated due to my route-finding issues, and the dark clouds were beginning to thicken in every direction.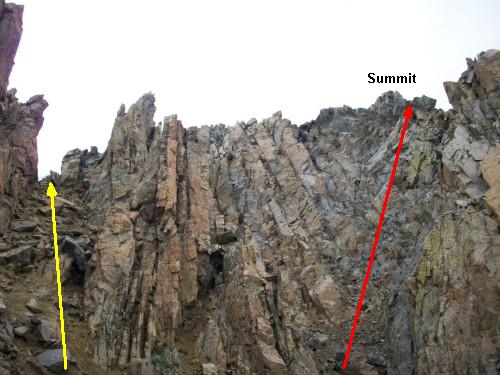 Yellow: Correct access gully to Mount Wilson's ridge / Red: My route to summit.
Wanting to avoid what I had just climbed, I easily down-climbed the more solid and obvious standard summit ridge to the saddle. However, I had left my pack around the corner at the next saddle, so I had to go retrieve that. Now I just had to get back to camp.