Goliath Peak: 12,216 feet
Round-trip distance: 7.5 miles
Elevation gain: 1,650 feet
Bad weather, more bad weather, and a useless attempt at an icy and snow-drifted I-70 ultimately prevented me from achieving this week's summit goal of Mount Buckskin. Tom, who was gracious enough to attempt to drive us to the trailhead, agreed that Buckskin was going to win this round. We were in Georgetown now, contemplating our future as ferocious winds made even the 5-second walk from the car to the gas station feel brutal.
One thing was for sure, we were going to climb something. I-70 was a no-go, but Tom felt confident the road from Idaho Springs to Echo Lake would be passable with his Civic. Goliath Peak was first on his list of peaks in the area he had wanted to get to under winter conditions. I had heard little of it, but the name sounded cool enough to give it a try.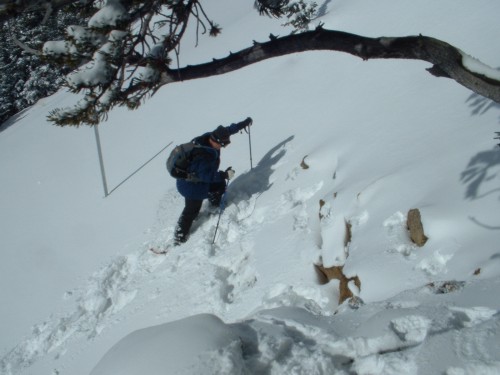 Tom climbing the route's crux
All in all the hike would be something like seven miles round-trip with 1,600 feet in elevation gain. Today's "X" factor, as somewhat expected, turned out to be the wind. It numbed our fingers as soon as we stepped out of Tom's car, and it was clear that today was going to be one of those days where no skin survived uncovered.
The first half of the hike was a pretty boring slog up the snow-drifted Mount Evans Road. As we approached timberline we could see some nasty cornices up ahead, and a wind-loaded slope coming down to the road that would be best-avoided. I later learned a hiker had been killed by an avalanche on this same slope just last month!
To avoid the avalanche danger, Tom and I took on a bit of scrambling up slippery snow-covered rocks into an alcove of pines protected from the wind. Here we added some layers before venturing out onto the wind-scoured north-facing slopes.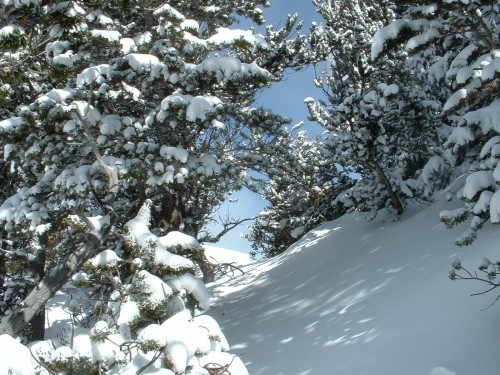 Snow tunnel through the pines
Despite the brutal winds, this place was the highlight of the hike for me. Tom had told me of the ancient bristlecone pines in the area. These scraggly phenomenons are touted as being "among the oldest living things on earth," some as old as 2,500 years! In this particular area, many of the trees were above normal timberline, and had evidently been struck by lightning numerous times. They were not very tall, maybe around ten feet, and they were all by anyone's normal calculations... ugly. However, they had a mystique about them that really drew me in, and I could not stop taking pictures of the fascinating things. It is just hard to imagine how something would want to survive for multiple millennia in such a harsh environment.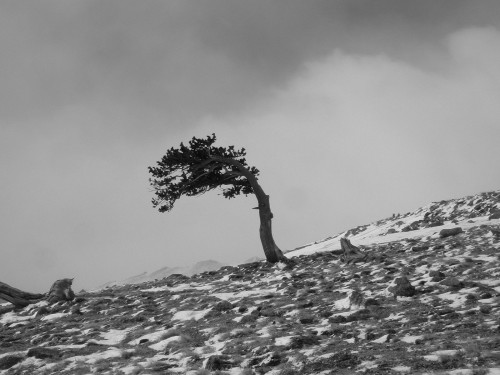 Of course, standing around and taking pictures is not the best way to stay warm in said environment. Tom and I continued up the grassy-to-rocky slopes and my focus slowly shifted from the trees to the view. Once again, I remembered why I like to do this; my mind sifted through all my previous hikes and climbs and the memorable scenery I will always cherish. This scene was not the grandest of them by any means, but it was another chapter to add to the story.
The view of the Mount Evans massif from the summit of Goliath was definitely worth the trip. We arrived at the 12,216-foot summit around eleven A.M., and quickly found wind-sheltering rocks to sit behind and relax.

Mount Evans Massif and the descent of Goliath Peak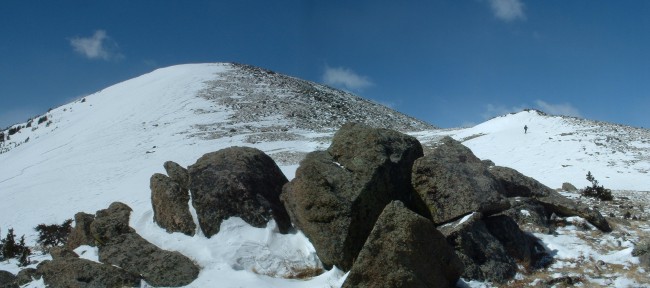 To leave the mountain, we dropped down the north slopes directly into the woods. The drifts of powdery snow were very deep, and we made our way down through them at a slow pace. But before long, we came to one of the switchbacks of the Mount Evans Road, and it was easy going for a while. We enjoyed the warm sunshine as we talked the rest of the way down to the road junction. The final half mile along Echo Lake proved to be surprisingly cumbersome, as we were walking into the strong wind the whole way back to the car.
In Idaho Springs we stopped at Tommynocker's for some grub and relaxation, just happy to have made it out to the mountains for the day.