Day 1: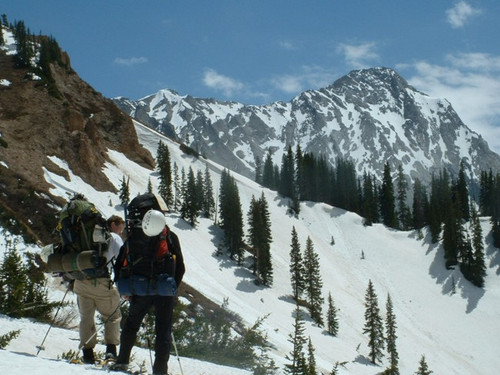 This is it. The hardest fourteener in Colorado. This has been a high snow year, and the area is still drowning in the white stuff, or so I've heard. The route itself is hard and long, but avalanche danger should add an extra twist of danger, and who knows what the weather has to offer.
At least Day 1 has gone well. In fact, so far everything has gone much better than I anticipated. Six of us met at seven this morning, at the Harleywood Café in the town of Snowmass. All members of SummitPost.org, we represent five states: Kevin Donovan (SP: km_donovan) from Texas; Scott Patterson from Craig, Colorado; Mark (PellucidWombat) from Utah; Joel (photo61guy) from Minnesota; Casey (bc44caesar) from New Mexico, and myself.
After a good breakfast, we all stopped at the lower trailhead and car-pooled the rest of the way up the relatively rough dirt road to the Capitol Creek Trailhead. The road was bare the whole way, and it appeared there was no snow for the first couple miles of the Capitol Creek Drainage. The sun was out, the aspens were greening, and that first view of Capitol Peak, some eight miles away, was breathtaking.
We did not have everything together and begin hiking until 9:40, but we were in no rush as long as the weather cooperated. We followed the alternate, longer but leveler trail along the west side of the valley, enjoying fantastic views of Capitol Peak the whole way.
We crossed Capitol Creek on a singular log, then continued up the trail along the east side of the creek the rest of the way. We began encountering more snow almost as soon as we crossed the creek. After passing some swamps and avalanche chutes, we found ourselves in an evergreen forest with deep snow. Most of it was hard and consolidated, but the occasional posthole was enough motivation for us all to stop and put our snowshoes on. We were a little over halfway mileage-wise, but we still had a lot of elevation to gain, and we would keep the snowshoes on the rest of the way.
We came across some fantastic avalanche debris fields, some only a few days old. We were thankful for the timing of this trip, because it appears all the snow is now solid and we were able to walk across all of it without fear of more avalanches. The crux of our approach came at a large head-wall of snow, just after one of these avalanche debris fields. We had to gain several hundred feet on this steep and slippery slope, and we conquered it with our snowshoes on, kick-stepping the whole way to the top. It was a tiring endeavor, and we all stopped for a photo op at the top. Capitol Peak was getting closer!
From there, we had a couple more miles of gentle uphill through a snow-covered forest. Reaching timberline, we could see the final expanse of snow leading up toward the sheer north face of Capitol Peak. We continued trudging on, eventually gaining another steep slope to finally arrive at Capitol Lake, our destination for today.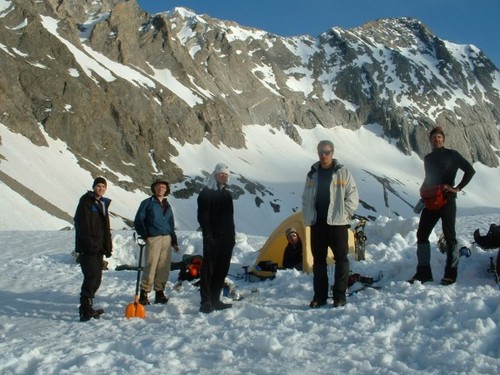 This serene alpine lake was still completely frozen over, and the view of Capitol Peak's north face was simply too much for our cameras to accurately capture. It is a fantastic place, and we spent a couple hours just sitting there, talking and enjoying the view.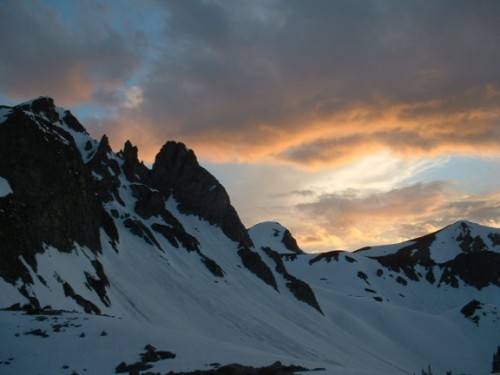 We had arrived at 4:00, and took our time digging out snow walls and setting up our tents and bivy sacks, at about 11,700 feet. The rest of the evening, we talked, cooked some dinner and boiled more water, and took a lot of pictures of all the surrounding peaks, and a beautiful sunset.
The air is calm, my sleeping bag is comfortable, and we all have high hopes for tomorrow.
Day 2:
It had been a relatively sleepless night for most of us, but not because of the weather. There had been practically no wind. The sky had been clear all night, so it was a chilly morning. Just as everything had gone better than expected yesterday, however, today things went wrong from the outset.
We didn't end up leaving camp until about five this morning, a full hour later than we had planned. The thousand-foot snow slope reaching 45+ degrees to the K2-Daly saddle was a lot of fun climbing. We all had donned our helmets, head-lamps, crampons and ice axes, and the hard snow made for a nice hour-long ascent to the saddle. However, my crampons kept coming loose, thanks to my somewhat flimsy shoes, I found. This was quite an annoyance, and near the top I took them off and scrambled up the dry slopes of scree to meet everyone at the saddle. There, I reattached my crampons, because we had a lot of snow ahead of us.
We had previously decided to stick to the standard route to get to K2, the sub-summit of Capitol Peak. This involved dropping onto the east-facing snow slopes and contouring the slopes instead of taking on the ridge directly, which would be at least class 4. This we tried to do, but we ended up cutting back up to the ridge too soon. After contouring the slopes, beneath a icicled and nasty looking cornice, we made our way up a steep and loose rock gully, involving some third and fourth class moves to make it to the top of the narrow ridge.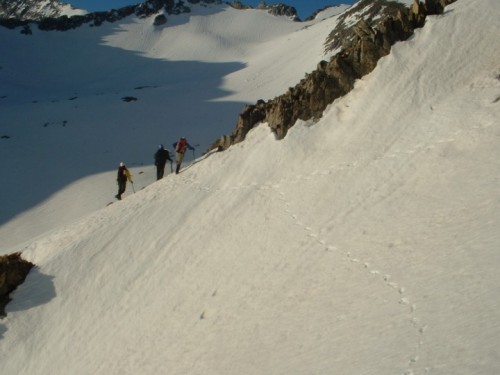 Once on the ridge, it did not take long to realize our mistake. Mark and Casey moved ahead to investigate possible route options, and I stayed back with the others and looked at the map. We had definitely cut to the ridge too quickly. Now nearing an elevation of 13,000 feet, we all came to the agreement that we had to descend the tricky gully we had just climbed. It was not a particularly safe endeavor, but it was the best option we had, as opposed to getting ourselves more trapped in unsafe territory.
This descent was tedious and took loads of time. We went individually at first, so as not to knock any of the loose rocks down on our companions, then Mark scouted out a second gully we could down-climb. Eventually all of us made it back down to the snow slopes. Mark, Scott and Kevin continued contouring the slopes to find the proper ascent toward K2. As I started following them, Casey called over to me and said that he and Joel were heading back. We had wasted two hours while off-route, and in that time the hot sun had softened the snow considerably. The annoying wet slush simply was not worth it for them, and they bid us farewell.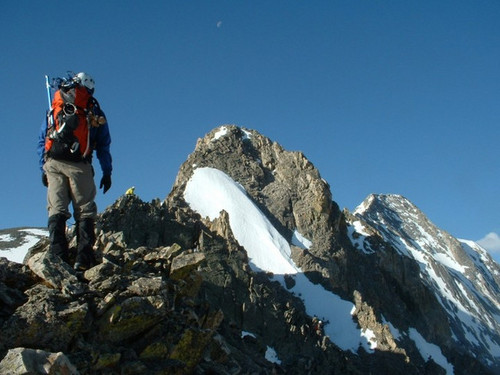 As the four of us continued around the slopes into the large basin below K2, our potential for summiting began to look bleak as well. A huge, steep head-wall of snow rose hundreds of feet above us, and that slope would be the easiest way to the ridge. In summer, that section probably consists of numerous switch-backs up to the ridge-line, but not today. Kevin also pointed out a fault line, where a slab avalanche had apparently been triggered before, right around the middle of that head-wall. Though it was now only 8:30, the snow was already becoming wet and sloppy thanks to the scorching sun. Right there and then, we agreed it was an unsmart, and possibly unsafe proposition to continue, so we too turned back.
The dangerous-looking cornice was fresh on our minds, so I tried to find a route back over to the ridge line, so we could go across above the cornice. As I was doing so, we watched part of the cornice in question break loose. I looked down to see Casey and Joel, working their way across. They had not been in the path of the falling snow, fortunately, but they did tell us later that they had heard the cornice break loose, and they rushed across that section as hurriedly as they could.
Meanwhile, the other four of us did find a better way along the ridge, above the cornice. We made our way the rest of the way down to the saddle, and arrived there about the same time as Joel and Casey. A couple of us had talked of trying Mount Daly, but now we all decided instead to head back to camp.
Now for the fun part! While the eastern slopes had been pounded by the morning sunlight, the snow slopes we had ascended to the saddle were still solid, thanks to their west-facing profile. Casey made the first glissade, and I watched him as he sailed most of the way down to camp in a brief moment. I was a little nervous, as I had never glissaded on such hard and steep snow, but as I followed, I found it to be an exhilarating experience. I used my ice ax a good bit, as it was tough not to go too fast on the hard snow. In fact, the snow was so hard and I was moving so fast that I could feel my legs getting hot. Some of the others ended up burning holes in their pants! We all had a fun time with that, and then returned to camp to eat some more and pack everything up. We were all dumbfounded, but thankful, that we were able to have this incredible place to ourselves for the Memorial Day weekend.
The first of us left camp at 11 o'clock, and everyone else followed shortly. Instead of following the mostly-gentle slopes we had ascended yesterday, Casey led us to a steep snow slope west of there, which he proceeded to glissade down with his snowshoes and full pack on. His initial slip had been somewhat accidental, but once he start sliding he just decided to go with it.
I tried to follow, but I too slipped before I had intended to. This snow was softer than the hard stuff we had glissaded down earlier, so I rammed my trekking poles into the slope to try to slow down so I could at least gain control. My main fear was going head over heels with that heavy and bulky pack on my back. In fighting to gain control, I dug my left arm and both hands into the icy slush. I had only my T-shirt and no gloves on, so I felt a great deal of pain as I did this, but at least I gained control, and I was able to slide the rest of the way down without incident.
When I stood up at the bottom, however, I found blood coming from most of my knuckles, and my arm. A two-by-six inch patch of skin had been taken right off my left arm, burned by the friction between my arm and the ice.
The rest of our long trip out was mostly uneventful. There was one more short glissade, where I was sure to put on a jacket and gloves before sliding. Otherwise, we snowshoed our way back down the trail. At the creek crossing, everyone took off their snowshoes and Casey pumped some water from the stream.
The last several miles, it felt like summer, with the sun shining and green all around us. Kevin, Mark and I encountered a single deer as well. We made it back to the trailhead at 2:30. Besides my glissade wounds, Casey had a horrendous blister on his heel, which he had first acquired on a climb of Castle and Conundrum Peaks two days ago. Also, most of us had some degree of sunburn, despite using lots of sunscreen. We just kept sweating it off, and the sun had been relentless.

As we looked at the mountains now, however, the sun was being replaced by storm clouds, and it appeared that Capitol Peak was about to be overtaken by some lightning snow. Even as we stood there, some raindrops started hitting us, and it would get much stormier throughout the day. It wasn't such a bad thing that we didn't make the summit, after all. I do know one thing: this mountain is such a spectacular place that
I will surely return
. This having been the first trip to Capitol for everyone else in the party, I'm sure they would agree.