I must admit, I was a little skeptical. Each of our previous two adventures together, Georg and I fell short of our goal, and this would be the most ambitious undertaking yet. With nearly six thousand feet elevation gain, 16 miles round-trip, a difficult mountain, and a high camp in the dead of winter, this would be my most challenging undertaking thus far in Colorado. So, despite my cynicism, I couldn't help but feel a twinge of excitement as we started from the Copeland Lake Trailhead at 0610.
The Sandbeach Lake Trail, though long, had been well-trodden, and the packed snow was easy to walk on top of. In fact, we did not wear snowshoes our entire four mile trek along the trail. We turned off the trail about a tenth of a mile shy of Sandbeach Lake, and there we donned our snowshoes.
Turning north into the snowy timber, we followed old snowshoe prints for a short ways, until they continued toward the Dragon Tail Couloir on Mount Meeker, of which we had excellent views. Turning northwest, we bushwhacked through the heavy timber, south of Hunters Creek. The snow was somewhat powdery, but with snowshoes the going was not too rough. My legs felt fine, but I had trouble keeping up my speed because of my pack, the heaviest load I had ever carried. So, Georg blazed almost the entire trail, and I followed gratefully in his footsteps.
At about 11,000 feet in elevation, some five and a half miles into our journey, we crossed Hunters Creek, which was entirely snow-covered. We continued up the opposite bank for a while, passing an unnamed lake at 11,200 feet. One hundred feet above this, atop a steep slope overlooking the valley, we set up camp. Georg had been using his new GPS with topo software, and this led us straight to this superb back-country camping spot. With his shovel, Georg dug out and flattened a space for my tent, which I proceeded to set up as he prepared a place for his stove. We threw our pots and pans and sleeping bags in the tent, lightening our loads somewhat. However, when I put the pack back on my shoulders, I was not at all impressed with its lightness. Now noon, we went north, passed timberline, and continued into the high basin below Pagoda Mountain, Longs Peak, and Mount Meeker. It was low on Mount Meeker's south ridge that I spotted a herd of about a dozen bighorn sheep, who went straight up cliff ledges like they were floating on clouds. That was quite a sight.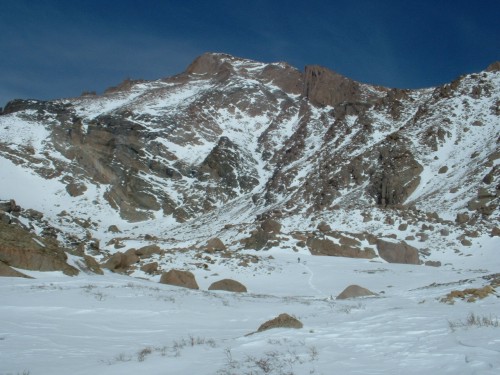 Georg approaches the base of Keplinger's Couloir, high in Wild Basin.
We passed through some annoying snow-covered willows, and then continued upward, eyeing Keplinger's Couloir on Longs Peak. To this point, we still had not decided whether we were going to try Pagoda Mountain via its northeast ridge, or the more difficult Longs Peak via Keplinger's Couloir. We wanted to see what the snow conditions were like before making our decision. Now, as we previewed the couloir, we were in agreement we needed to try to get up Longs Peak. The couloir did not even look to be holding much snow, and we figured we still had plenty of daylight left to work with.
I recently purchased new hiking boots, and this was the first time I had attempted to wear snowshoes with them. The snowshoe straps did not fit all the way around my extra-large soles, so they kept coming off frequently. Finally, as we approached the base of the couloir, I stashed the snowshoes, and Georg did so with his shortly thereafter.
It was 1300 by the time we finally reached 12,000 feet, and the base of Keplinger's Couloir. We found the snow in the lower part of the couloir to be rather soft. Since we were now devoid of snowshoes, we skirted the snow and instead scrambled up the rocks along the edges of the chute.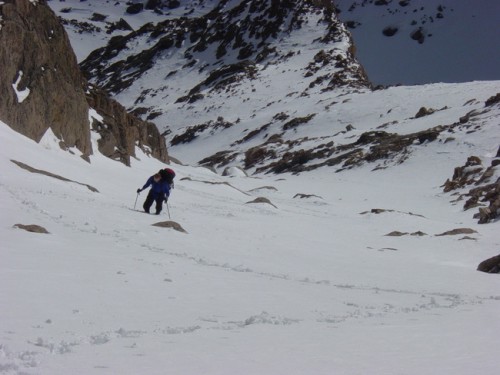 Making my way up the couloir.
We moved slowly, but steadily, averaging about 600 vertical feet per hour. The final several feet of the couloir we spent in the snow, switch-backing our way uphill. We also wore crampons for this section, as we found an icy layer underneath the snow. In the couloir, the slope never angled more than 45 degrees.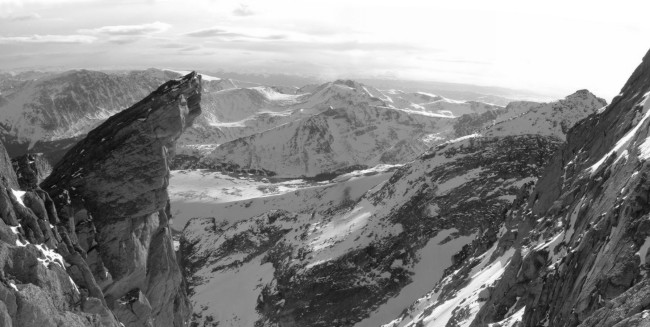 View from the top of Keplinger's Couloir
At the top of the couloir, at 13,600 feet, we came to the impressive Palisades, and the Notch. Turning left and uphill, we attempted to join the Keyhole Route and the Homestretch toward the summit. However, all we could see was snow--steep snow! We climbed this snow slope all the way up to where the snow met solid rock ledges and cliffs. Georg said we needed to find the ledge leading to the Homestretch, so we started climbing up the rock.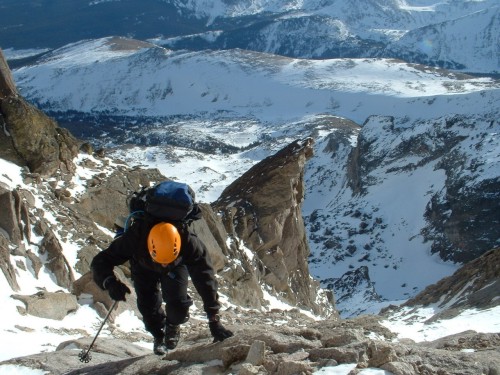 Georg near the top of the couloir.
This was not the first time I've ended up in a place where I cannot comfortably move upward or downward, and every time I wonder how it happens. It's just that you can't see the results of these decisions until you are actually there, grasping for a handhold, with bulky gloves on your shivering hands and your calves and quads cramping up at the same time. In this case, ice covered much of the rock I was gripping, adding an extra element of insanity to the whole situation. If that wasn't enough, the dropoff below me was extreme, and I did not expect to survive the fall should my already-meager grip give way. It was, in a word, scary.
My ice ax, which I had not secured well enough to my pack, fell, narrowly missing Georg, and stuck in the snow below him. Georg, seeing my situation, proceeded to tempt fate and put his crampons back on, while clinging to the very steep snow slope. He would later measure this slope at 53 degrees.
I clung to my position on the cliff, thoughts and prayers now on survival and not the summit, as Georg climbed past me and made it to an ice-covered ledge above me, wide enough to sit on. Finally, putting my faith in God and the one slippery handhold I had above me, I grabbed the knob and lunged upward. I sighed with relief as I was able to bring my left boot up to the high foothold I had been eyeing, and simultaneously grabbed onto a crack above me. After just a few more simple moves, I was able to join Georg on the crowded ledge.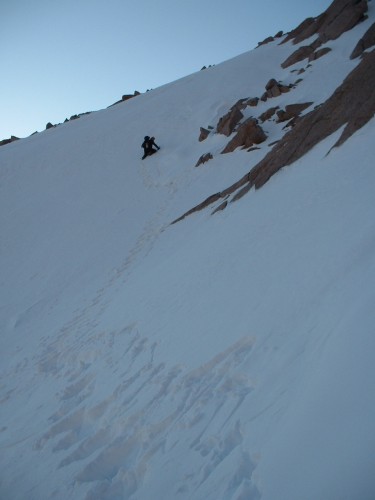 From here, it was easy to realize we had made a huge mistake. There was nothing but more cliff above us, all technical in nature, and the Homestretch was nowhere to be found. Immediately, Georg hatched a plan. Since we obviously had to get back down to the snow slope, he would down-climb the icy rock and retrieve my ice ax, while I put on my crampons. Down-climbing what I had just climbed was still sketchy, but with crampons, I was much more confident in my ability to grip the rock. Indeed, while I may have been cursing these boots for their incompatibility with snowshoes, they were completely necessary for the crampons, which had become a real life-saver on this climb. Georg had left my ax at the base of the rock and continued up the snow slope. Retrieving the ax, I followed in his footsteps. With crampons back on and ice axes in hand, we both felt much more comfortable from here on up.
Georg had an instrument along with which he measured the slope angles, and the next snow slope he climbed straight up was exactly 50 degrees. I followed behind him, and once at the top, he announced the Homestretch lay just above us. Indeed, I could see footprints in the icy snow above, and red and yellow painted bullseyes, marking the final section of the Keyhole Route. The Homestretch at last! So recently, I had been questioning our very survival. Now, seeing this trail only strengthened my resolve. We would make it to the top!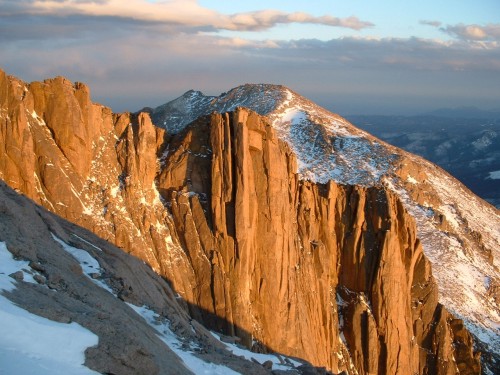 The Homestretch was steep and icy, but it was nothing worse than what we had just encountered. Still, the exposure was impressive, but I spent more time looking up than I did looking down. I also took a lot of pictures, as the sun was beginning to set, casting a beautiful glow on the Palisades and Mount Meeker. I watched Georg above me, who was resting every several steps. I did likewise. My legs were not tired, but my lungs screamed at me, demanding to know why I was working them so hard. They would not let me go for more than 30 steps at a time, after which I would have to stop to catch my breath.
It was 1810, exactly twelve hours from when we had left my jeep, when I crested the final pitch and joined Georg on the summit plateau. The sun had almost completely set at this point, but I was able to snap a couple pictures before daylight faded into oblivion. I gave Georg an enthusiastic high-five, and sat on the summit block for a few minutes, admiring the view. To this point, I had failed to mention how beautiful the weather was this whole day.
There was barely a breath of wind as we stood atop Colorado's 15th highest point, but it was quickly getting colder as darkness set in. We started putting on layers as I grabbed a bite to eat and signed in for both of us in the summit register. We were the fifth and sixth of the day to summit, but no one else had signed in the previous week, and there was no sign of anyone having summitted via Keplinger's Couloir in recent times. In fact, because of it's length and the required bushwhacking, this route is rarely done even in summer! Georg had summitted Longs Peak once before via the standard Keyhole in summer conditions, but having done this obscure climb in the winter, and being able to view the sunset from such a lofty perch, added a special element to this unforgettable day.
However, the day was not yet over. What goes up. . . must come down. After relishing twenty minutes on the summit, we still had the harrowing trip down, 3,000 vertical feet and some two miles to camp, and we would do it all in the cover of darkness. Headlamps on, we downclimbed the snow-slopes like ladders, making sure to kick our steps extra deep, so we would not lose our footing and go into a death-slide. I didn't realize till afterwards how much mental energy was expended on these slopes, as all I did was focus intensely on what I was doing. This whole day was 100% physical and 100% mental, a measure of my capabilities, and an exact explanation of why I so love the extreme sport of mountaineering!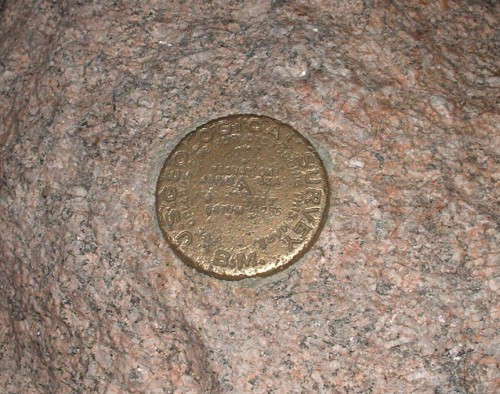 At least on the way down, we knew to avoid the cliffs we had so foolishly attempted to climb on our ascent. However, we did have some steep and icy rocks to deal with at the top of the couloir, which were a little more difficult descending in the dark than they had been to climb in the daylight a couple hours earlier. Finally below these annoying cruxes, we had smooth sailing the rest of the way down the couloir. We were able to walk forward and at a good pace. The headlamps shining down on the snow and then deeper into utter oblivion made for a surreal experience the whole trip down. At one point, we just stopped and sat in the couloir, looking up at the billions of stars, and marveling at what an awesome day this had been.
Finally at the base of Keplinger's Couloir, Georg retrieved his snowshoes, then we continued through the basin and picked up my snowshoes. After a final wrestle with the willows, we made our way downhill into the trees, and arrived at one of the most welcoming sights I've ever laid eyes on: our campsite. It was now 2110, no less than 15 hours from when we had left my jeep this morning, and three hours from when we had summitted. What a day!
Eagerly throwing off our packs, Georg and I retired to 'the dining room,' where he had dug a kind of bench out of the snow, where we could sit and cook our food. He set up his little propane stove and we both had some stew and hot chocolate before getting ready for bed. My drinks had all frozen by this point, but I had drunk a lot throughout the day, and was wellhydrated. Now, well-fed as well, we jumped into our zero-degree and negative-ten-degree rated sleeping bags. It was about eleven o'clock, and I had been up since 0330. It was time for some rest!
Longs Peak, Day 2: Sore All Over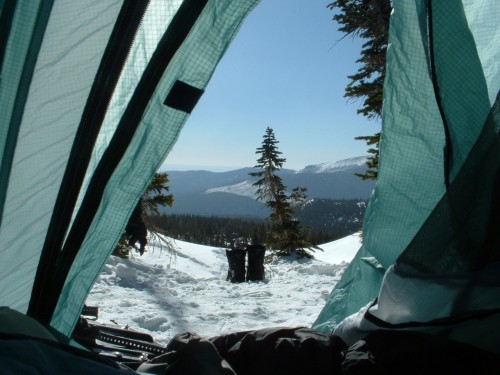 Though a little cold at times, I stayed mostly comfortable through the night. The wind picked up early this morning, and I nuzzled deeper into my sleeping bag as I felt the tent shake from the strong gusts. Georg had his watch-thermometer laying in the corner of the tent, and he told me it was about twenty degrees, but I'm sure it was much colder outside, especially with the wind chill. In any case, I was awake off and on throughout the night, but in the end I got some good sleep, especially for spending the night at 11,300 feet in early March.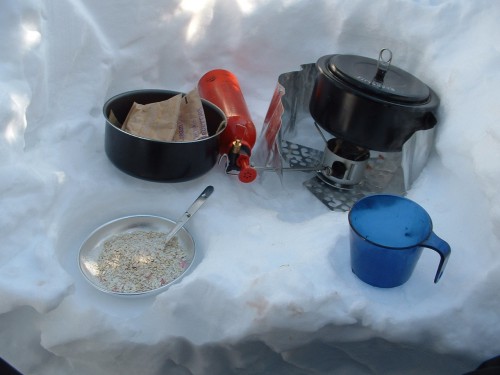 Our breakfast table.
Georg and I had previously discussed plans for possibly attempting one peak the first day and another peak on this day, but last night we had pretty much concurred Pagoda Mountain could wait for another day. This morning, when we awoke with the sun shining and the wind still not abating, we knew we had made the right decision.
We did not step out of the tent until about 0845. Looking up at Pagoda Mountain, we could see snow swirling in the wind off its ridges, and small puffy clouds flew by overhead at an unbelievable rate. Putting the mountains aside, I had one thing on my mind: breakfast. Georg cranked up the stove again and we made some oatmeal, which warmed me up just right.

View from camp: Pagoda Mountain, Longs Peak, Mount Meeker.
By 1022, we were all packed up, and it was time to begin our descent. In our bushwhacking, we took a slightly different path than what we had done the day before, this time sticking more to Hunters Creek, which turned out to only make our bushwhacking descent longer. At one point, as I was snowshoeing down a rather steep hill, I wiped out, then got on my feet, only to notice I had completely snapped one of my trekking poles. That will have to be replaced.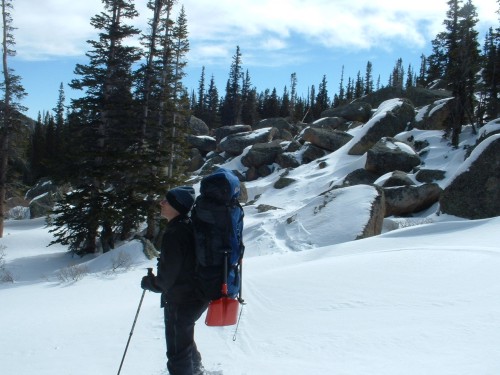 Route-finding.
Altogether, it was about six miles and another 3,000 feet of elevation loss from our camp back to my jeep. The bushwhacking section behind us, we packed up our snowshoes and made good time on the remaining four miles of trail. We passed two couples on the way, none of them wearing packs and obviously out for a Sunday stroll.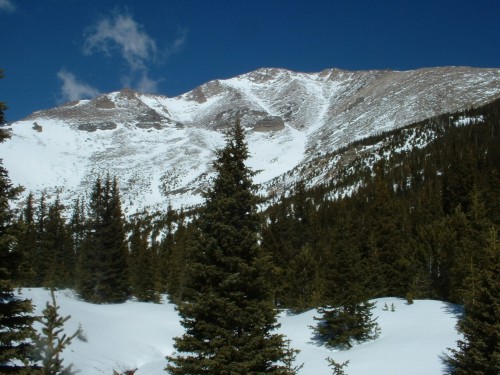 Dragon's Tail on Mount Meeker.
As yesterday, I had trouble keeping up with Georg, but I resolved to keep up the entire last mile. At 1348, we arrived at my jeep, our feet back on solid dirt for the first time in over 30 hours, and our backs finally free of those packs! You know what though? It was worth it!