Introduction: The story of this hike really begins with the drive from Boulder the previous day. Arthur and I had all weekend free for adventure, so we decided on a trip to the San Juans. We were looking for some easier hikes, and neither of us had ever been to the San Juans. On top of that, solitude is always the order of the day, so what better place to go than San Luis Peak?
On our journey southwest, we stopped in Gunnison to eat at a pleasant home-run restaurant with very good food, Katie's Cookery. Then we drove west by the Blue Mesa Reservoir and Dillon Pinnacle to the Black Canyon of the Gunnison. As Arthur is somewhat of a rock climbing fanatic, it was neat to see part of this famous canyon, though we didn't travel too far along its north rim before deciding we should turn around and continue on to our destination.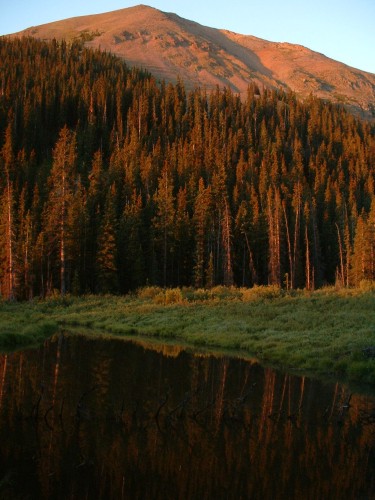 Alpenglow
After driving south through Lake City, we eventually came to the dirt road turnoff we were looking for. Forty miles, two hours of dirt road, and two herds of cattle later, we finally came to the Stewart Creek Trailhead. Several other vehicles were there, but we would be starting early and hopefully beat the crowds.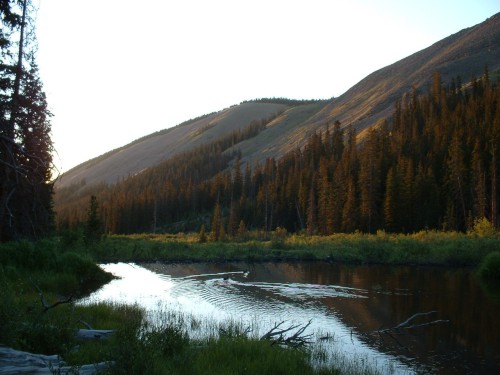 Wilderness
5:30 AM- As is our usual custom, we awoke at 5:00 and began our hike a half hour later, following the pleasant and easy-to-walk Stewart Creek Trail through the La Garita Wilderness. We kept a good pace, and took a couple breaks once the sun started to rise for some photographs. Also, we stopped to watch a beaver dive in and out of the water and slap the water with its tail, in one of the many ponds along the way. There were a number of ponds containing beaver dams all along Stewart Creek. One nice thing about the ponds is that with the calm morning air I was able to capture some reflections of the trees and hills in the water.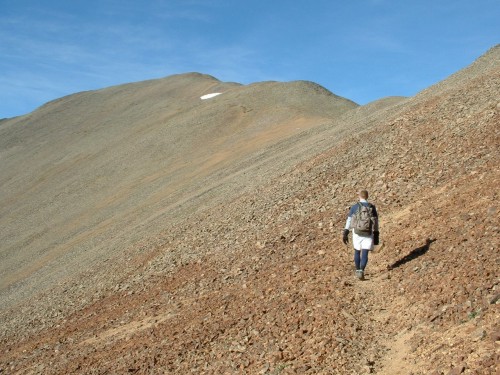 Nearing the summit.
About an hour into the woods, we walked past a father and his two boys who were just tearing down camp and getting ready to hike on up the trail. Another half hour later, we were at timberline, with a clear view of what we thought was San Luis Peak ahead of us. As it turns out, this was just the front of a ridge leading around to the still-hidden San Luis.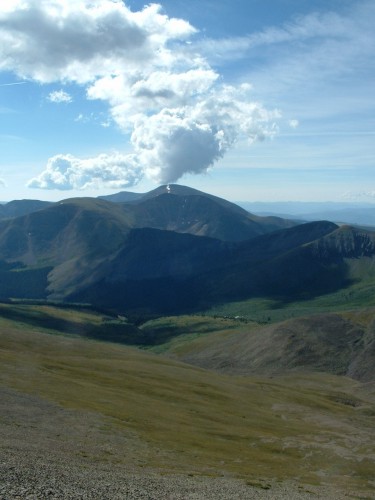 Volcanic apparition.
We continued up through the green valley along a pretty wildflower-laden creek. At one point I saw several deer running across from us, far away on the other side of the valley. The trail continued on a gradual uphill for a long time, and eventually it took a sharper uphill turn to the left (south) toward the saddle between Organ Mountain and the ridge leading to San Luis. We followed the easy switchbacks all the way to the saddle, where we got our first view of the actual San Luis Peak.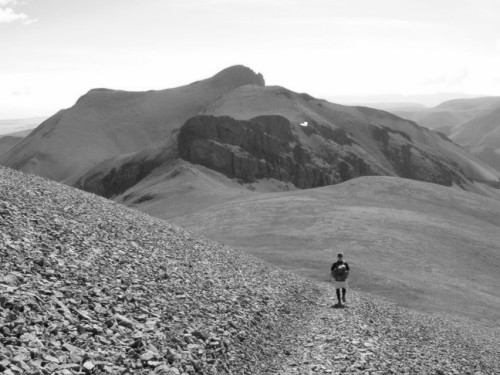 Setting our sites on Organ Mountain.
I never really knew there was such a thing as solid scree, but that is what the trail consisted of the rest of the way around several small humps to the summit. It was all easywalking and just a gradual ascent, very nice for walking.
8:36 AM- Arthur and I came to the summit of San Luis Peak, at 14,019 feet: the 51st-highest peak in Colorado and one of the farthest fourteeners from civilization. Indeed, we had the summit all to ourselves for the 55 minutes we stayed there, taking in the view.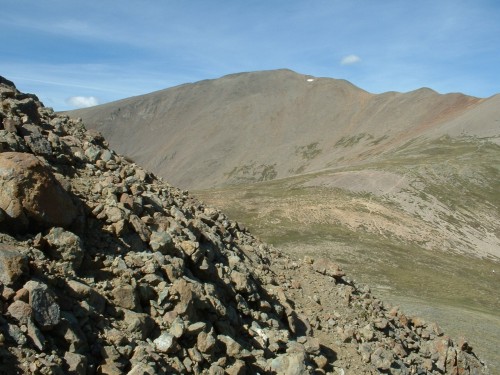 San Luis Peak.
The 13,801-foot high Organ Mountain rose impressively to the east, and that is where we decided to head to next. As we went back down the trail we had just come up, the father and two sons passed us, and within minutes they were up on the summit. Shortly thereafter, we passed another pair of hikers, and as we reached the saddle again, several more people were just arriving there on their way to San Luis. A busy day for such a remote mountain, but that is to be expected on a Saturday in mid-August I suppose.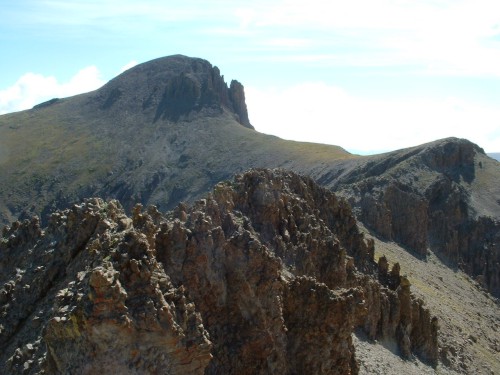 Rugged Ridge to Organ.
The weather was beautiful and we still had plenty of time, so Arthur and I headed upward on the east side of the saddle and hiked around the cliff faces in front of us. I should have consulted a more thorough map or guidebook before continuing, but it looked like we had a solid path to Organ Mountain, so we pressed on.
We walked up along a fairly steep, grassy slope, and when we came to the top of this, we saw a long, jagged saddle of rock between us and the final slope up to Organ's summit. So, we began picking our way across this, making our way slowly past several small but steep towers of rotten rock.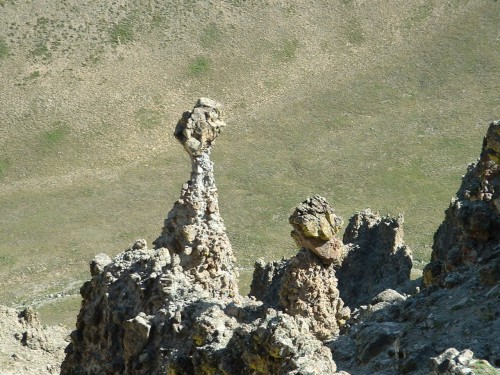 Strange rock formations were everywhere.
Eventually we got past what we thought was the worst of it, and the final grassy slopes lay just ahead of us. But suddenly, I was surprised to come to a notch that seemed impassable. Arthur joined me in looking down this "chasm" as he called it, and we realized we were "oh so close, but oh so far" from the summit. Not wanting to traverse back across the jagged saddle we had just encountered, we found a way to descend into this "chasm," which ended up being the top of a couloir, complete with steep cliffs on both sides. The problem now was, we could find no way up onto the other side. I started down the steep north-facing side of the couloir, and before long came to a partially-exposed natural "ramp" up onto the east side. This seemed like a promising way onto the east side of the ridge.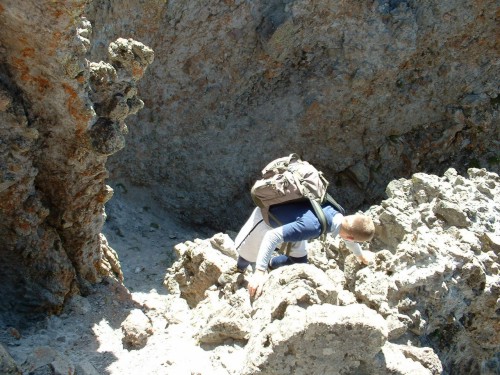 Descending into the abyss.
I carefully made my way up this slippery section out of the couloir, and Arthur followed. I did not expect what I saw next: we were not on the nice gentle side of the ridge we had been expecting; rather, we were on the side of a steep slope of rotten rock, which seemed to get only steeper in every direction. We were, for lack of a better word, on the side of a cliff. I climbed upward in search of a clear path to safer ground, and found myself on some even steeper rock, clinging on for dear life and making every move very carefully. I could see no clear path to a safer place, so Arthur and I decided it would be best to go back down the sort of ramp we had just come up.

Wildlife laughs at us from above.
The problem was, I was now in a dangerous and precarious position, and getting back down to where I had been looked about as impossible as going any farther up. It was becoming ever-more apparent to me how rotten and dangerous this rock was (handholds would break right off at places), and we both made every move purposefully and carefully.
Finally though, we did make it back down to the couloir. While on somewhat safer ground at this point, we certainly were not in the clear yet. We continued our descent in the couloir, down the loose and steep dirt and scree, and it stretched on for a long time.
Eventually we got to the bottom of the actual couloir, but we still had a lot of steep downhill along clumpy grass and occasional rocks. Time was moving on, and we decided it would be best to just continue out of the mountain. Organ Mountain could wait for another day.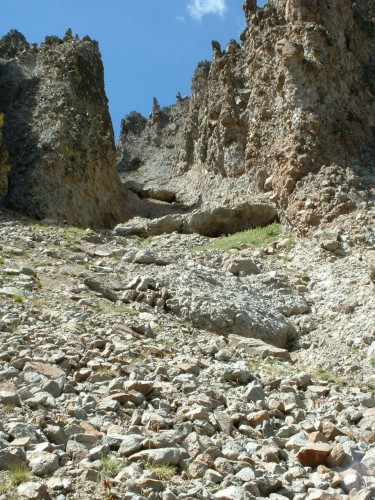 Looking back up our escape chute.
Above us, on the grassy slope next to the summit of Organ that we had been trying to get to, a herd of half a dozen or so mule deer materialized, grazing happily as we continued downhill away from them. Also, we saw another three or four deer moving up along the next ridge.
After much bush-whacking and a simple creek-crossing, we were back on the Stewart Creek Trail and headed out the valley. In a matter of a few minutes we were back at timberline, and it would only take us an hour to get out from there. We did a good bit of trail-running, and made good time, surpassing all the other hikers and enjoying the experience.
1:30 PM- Our legs were pretty tired from the running though, once we got back to the jeep, completing our 12 to 13-mile hike in eight hours.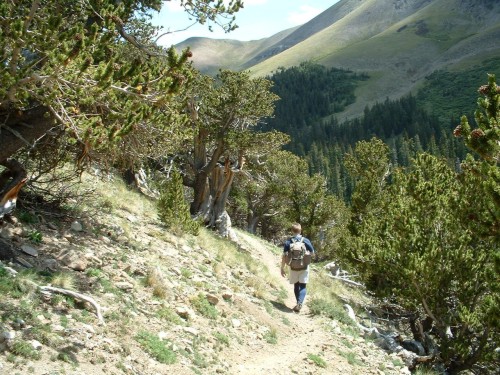 Entering the bristlecones.
Conclusion: The hike up to San Luis Peak was an enjoyable experience, and the easiest of the fourteeners I have done so far. I had read there was a high likelihood of seeing elk or moose in this wilderness, of which we saw neither. But we did see a beaver and a number of deer, which is more wildlife than I have seen on a lot of the mountains I have climbed. The weather was beautiful as always, which certainly made it more fun. However, ending up on the rotten cliffs east of Organ Mountain should not have happened; that was due to my lack of planning and bad judgment, which I will do my best to refrain from in the future.
It was another two hour drive out the dirt roads. We stopped at Lake City to try to find something to eat, but nothing was open yet, so we continued on up to Gunnison and once again enjoyed a meal at Katie's Cookery. Then, our journey took us north to the South Elbert Trailhead. We took the four-wheel drive road back to a creek crossing and parked there, where I set up my tent for the first time and Arthur and I crashed around 9 o'clock.