A while back I was told by a more seasoned hiker that I should hike Torreys Peak on a full moon-lit night and watch the sunrise. Today was my opportunity to do so, and I was eager to finally get to hike Torreys Peak. Logan had not hiked a fourteener before, so he wanted to try his turn at it as well. Having a full moon and being on the same shift for the first time in who-knows how long, with a three day weekend besides, we headed out after midnight to the Stevens Gulch Trailhead, to begin our eight mile hike.
Unlike the
Grays Peak trip in November
, I was able to drive all the way up to the actual trailhead, where a number of other cars were already parked. There were a good many people camping there, apparently for the holiday weekend.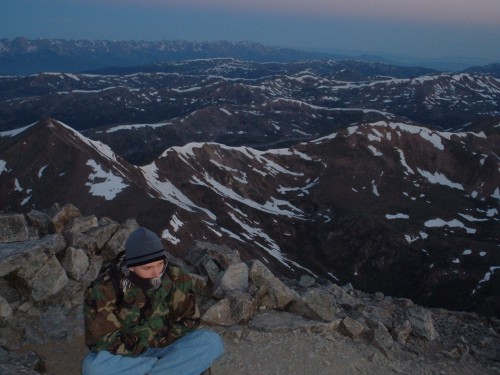 Waiting for sunrise: "why am I here?"
1:53 AM- Logan and I began our hike in the cool, calm air. We had flashlights along, but would not need them for the entirety of our hike, thanks to the promised full moon and clear skies. Partway up our ascent toward Kelso Ridge, we passed a few hikers with headlamps on who were headed down already, at only 2:15 AM! Then we continued on alone around Kelso Ridge and up the well-worn class one trail toward the ridge leading to Grays Peak.
We stopped for our first long break at the first cairn, and enjoyed the moon-brightened scenery and early-morning silence. Sitting still for any amount of time made us realize how chilly the air was, and that got us moving again, up around the top of that spur.
The moonlit views of Torreys Peak were spectacular, but of course no camera could do the views justice, so we continued moving on. We encountered a few small stretches of ice along this section of trail, but it was easily avoidable, unlike in my November hike.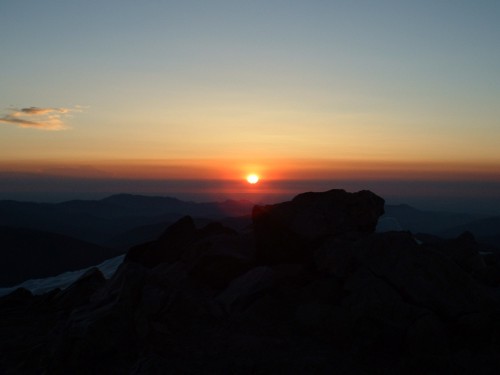 As the eastern skies were beginning to lighten, somewhere around 4:30 AM, we made our way to the turnoff of the trail to the Grays/Torreys saddle. Here we encountered a large mass of snow, which had a well-defined trail running through the center of it to the saddle. This was a bit slippery however, because the footprints had frozen into ice, and we had to watch our footing on this section of trail.
It was an easy descent to the actual saddle (at 13,707 feet), and then it was all uphill to the top. This trail is rated class two because of its steepness, but even with the abundant switchbacks, it was one of the best and most well-marked trails to the top I have seen yet on a mountain in Colorado.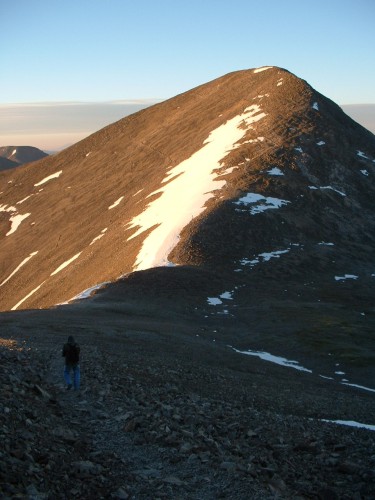 Saddle and Grays Peak
5:08 AM- I reached the summit of the second highest point on the Continental Divide, Torreys Peak, at 14,267 feet above sea level. I had scurried slightly ahead of Logan to make sure I could catch the sunrise with my camera, but Logan was right behind.
In fact, the sun had not yet risen, though the skies were getting brighter by the minute. We sat next to the small rock wall on the summit, trying to keep warm in the harsh, but not horrible wind. In a matter of minutes the sun was rising and I was taking a lot of pictures–something I would be doing the rest of the hike today. It was a pretty sunset, but not spectacular, because there weren't many clouds on the horizon. Still, it was indeed a memorable scene.
5:40 AM- We left the summit and headed back down the same trail we had traversed upward earlier, only this time with the aid of daylight and a great view. We were both amazed at how green the valley below us was, thanks to the spring rains and snow-melt having made its mark. I got several good pictures of the valley, as well as Kelso Ridge, Mount Edwards, Grays Peak, and Torreys itself.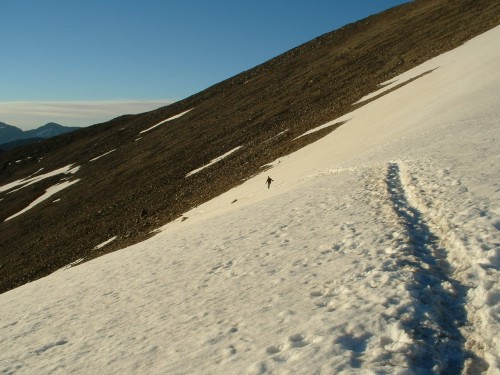 Snow slope traverse
Heading down the icy snow above the saddle turned out to be a little more difficult and slippery than it had been going up, but we made it without incident, and continued down the rocky slope of Gray's east ridge.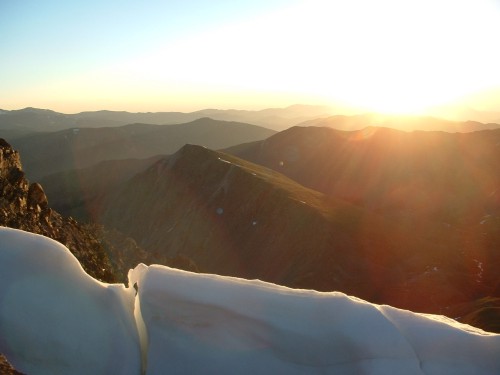 Kelso Ridge between 'fire and ice'
It was a little while later we saw the first couple of people approaching from below. We watched from high above as they spooked a number of mountain goats from the trail in their journeys. These two people (and their dog) would be the first we would see in the daylight, but far from the last. In fact, we started counting, and by the time we reached the trailhead, we passed no less than 143 people, along with a number of dogs! Glad we beat the rush!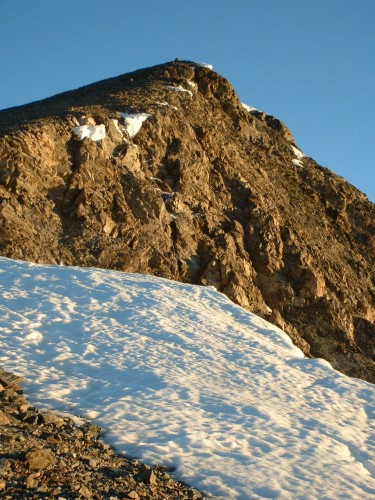 Torreys Peak
The wild-flowers in Stevens Gulch appeared to be in full bloom, and I enjoyed photographing the colors, especially with the backdrop of some of the large mountains in the area. Also, we saw yet another mountain goat plodding its way up one of the class-3 'human' trails atop the Kelso-Torreys ridge-line.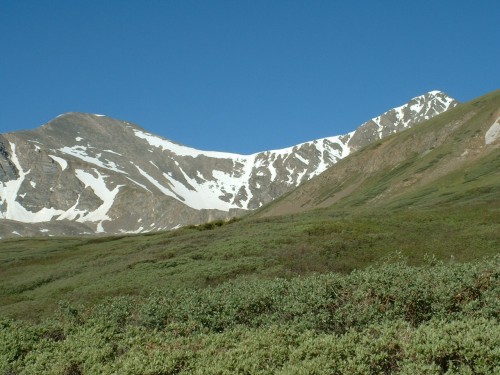 Grays and Torreys from Stevens Gulch
And that's what it was pretty much the rest of the way: pictures and people, pictures and people. All along the horizon, groups of two or three or more would be appearing like clockwork. They surely would be sharing a crowded summit.
8:03 AM- We reached my jeep, one of an endless number of SUVs parked all around us, on the parking lot and along the dirt road. Everywhere! I counted another 20 people just starting up the trail as we drove out. Then on our way out, we passed numerous vehicles and other hikers heading up the dirt road. Of course, for a lot of people, their day was just beginning.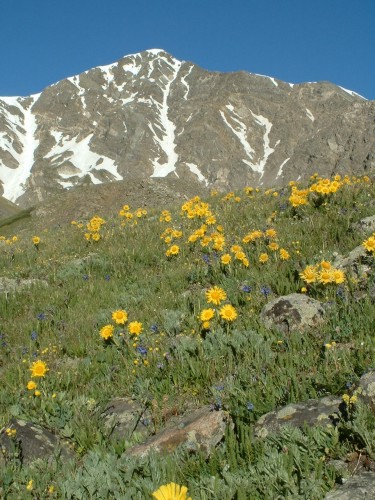 Wild-flowers in front of Torreys Peak
This hike provided a good workout, great scenes (from a sunrise to wild-flowers), and, ironically, a solitude-alternative to an otherwise crowded mountain, especially on Saturday, July 3rd.