Noise. Motor running. Suddenly I'm awake, sitting up to see what is going on. I am in the back of my jeep, almost frozen, and it sounds like my motor is running. Looking out the frosted front windshield, my consciousness slowly begins to make sense of things. It is not my jeep's motor that is running, it is the truck sitting just outside. Apparently someone is dropping off a hiker. Right away I turn the key in the ignition, put the heat on high, and snuggle back into my sleeping bag. I am at the Four-wheel drive parking area above Fourmile Creek, and in a matter of moments I will be hiking again, making a second attempt at Mount Sherman.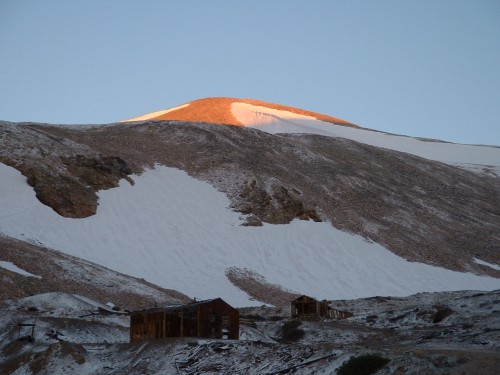 Sunrise on Sheridan, above the mines
Just as I get comfortable in my sleeping bag, my alarm clock goes off, which I had set for 5:20. I force myself out of my comfortable sleeping arrangement and put my pack together (and my extra layers of clothes on) to head up into the mountain.
5:30- I began hiking, enjoying the cold but calm air and the colors of the early-morning eastern sky. The rays of the sun were beginning to filter in on the landscape in front of me, reflecting brilliantly off the fresh layer of snow which fell in yesterday's storms. Today's weather could not be more opposite–from yesterday or Memorial Day for that matter, when I last attempted this very hike. There was not a single breath of wind in the air; it looked to be a beautiful day.
About ten minutes into my hike, I came to the first of the mines, where I met up with the hiker who had been dropped off by his wife. I walked with him then for quite some time. His name was Matt, a native of Texas who actually owned a hunting outfitter business down that way at one time. He once visited Colorado and fell in love with it, though he could never afford to live here. This was to be his 18th fourteener, in another of his many Colorado vacations.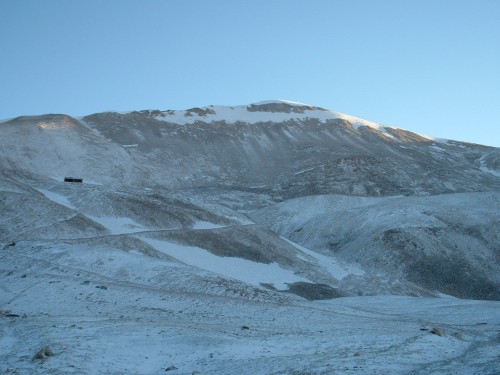 Mount Sherman
Our problems started after we made it to the Hilltop Mine and took a right on one of the logging roads. We should have taken a left, though neither of us had hiked up this route before and that was not clear to us. Last time I tried this hike, I went to far to the left (south), this time the two of us ended up doing the exact opposite, and found ourselves hiking steeply up the snowy scree slope of Mount Sherman's east ridge. Matt had a small thermometer with him that showed the temperature at 30 degrees even after the sun had started to rise, so we had a chilly start, but we kept plenty warm trying to traverse this steep incline.
At last, at one of our many breaks so we could continue breathing, Matt announced he was not going to continue uphill, but was instead going to cut north and hope for a break in the terrain. I advised him the main trail was right on the top of the ridge and we didn't have long to go that way, but he instead started to the north. I decided to go uphill from here and before long I was well above Matt. In fact, the last I saw of him he was angling back down, and because I had a few of Mount Sherman's summit the rest of the day, I am pretty sure he never made it to the top.
I angled uphill to a big patch of snow, climbed around that, and just like that I was on the top of the spur, and on the trail. Here I felt the first breath of wind, and there would be a little more when I got to the top, but it did not take long for the wind to simply disappear altogether and turn into a totally calm, sunny and beautiful day.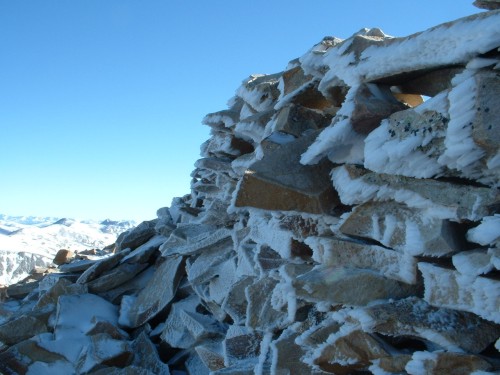 Mount Sherman summit
7:53- I crested the summit of Mount Sherman, at 14,036 feet, of course the first person there for the day, but not the last. I took about a 15 minute break at the top, enjoying the scenery, then I trudged through several fresh inches of snow down the north side of the ridge onto the wide, flat saddle between that mountain and Gemini Peaks.
They were my next goal, actually only the northeast one of the two peaks, because that is the true summit of Gemini Peak, at 13,951 feet. It is basically just a big, though impressive, pile of rocks. I started up the southwest side of it, basically scrambling my way up without the aid of any kind of trail.
8:37- I was on the summit of Gemini Peak before I even knew it, and was greeted by some great views of the High Plains to the east, the rest of the Mosquito/Ten Mile Range of mountains to my north, and slews of 14ers to the west, including the prominent Mounts Elbert and Massive, the two highest mountains in the state.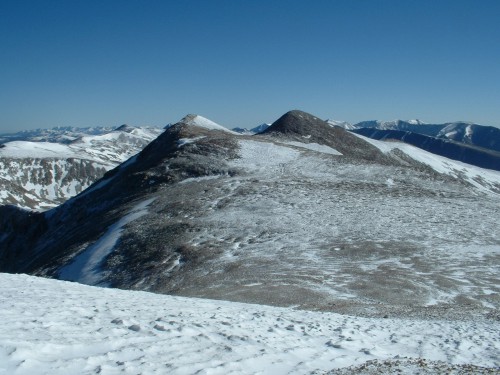 Gemini Peaks
It was in this western view I had my sights set on yet another mountain to climb. This was not in my planned itinerary, but it was such a great day with no sign whatsoever of harmful weather to come, and I was feeling great. According to the 14er book by Gerry Roach that I had with me, this peak was Dyer Mountain. It looked like another good challenge, so off I went.
First I stumbled my way down the pile of rocks from Gemini Peak and found my way down a trail heading toward the very long but narrow saddle separating me from Dyer Mountain. This descent took a good bit longer than I expected, and it was not the last time today I would be deceived by the distances in these vast areas above tree-line.
Finally down to the saddle, it was a nice, though rather long traverse along that section of trail. It wasn't quite as narrow and intimidating as it looked from afar, but most of the way along the saddle I was able to see straight down the slopes on both sides of me, which made for some impressive scenery.
I went underneath a large powerline which crossed the saddle just next to the beginning of the steeper ascent up Dyer Mountain. I always amazed at these large steel or wooden structures supporting huge cables that seem to go on forever. No, they are not grand or impressive as the natural beauty of the Colorado mountains, but they are a technological marvel nonetheless. I certainly wouldn't want to be the one to have to put them up there.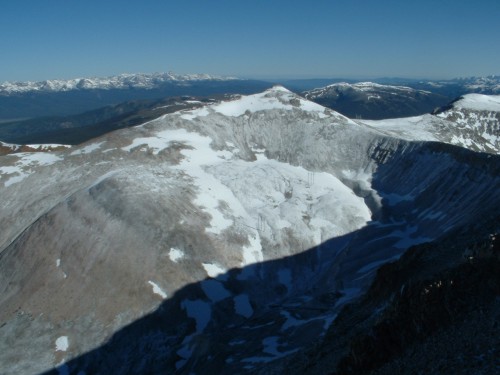 Dyer Mountain
Another technological marvel which was especially apparent on this hike are the many mines that were constructed in the 1800s above tree line, including the mines above tree-line which I had hiked past earlier this day. Some of them, like a huge mine shaft I heard about that is in the face of Horseshoe Mountain, are in places where you wonder how someone could possibly have built them there (especially when they were to be abandoned just a few years later when the gold or whatever precious metal they were after disappeared).
Anyway, I would try to see that spectacle on Horseshoe a bit later; for now I had my eyes set on the east ridge of Dyer Mountain. So up Dyer Mountain I went. This was a fun little hike over snow-fields and gentle rocky slopes.
9:42- At the summit of Dyer Mountain, 13,855 feet above sea level, I was able to find the first register with which to sign-in today. Someone had hiked to here yesterday, which I definitely did not envy, seeing as how the first day of summer turned out to be a snowstorm in this part of Colorado. Nevertheless, the second day of summer was turning out to be quite warm. I was now ready to strip down to my short-sleeve shirt, after having started out in a heavy winter jacket with three layers on. Also I snapped some more pictures, as I had my best view yet of the Massive/Elbert ridge to the west.
Up to this point in my hike, I felt great and ready to tackle whatever other mountains I could find to climb. Horseshoe Mountain was next on my list, but I had a long walk back up the saddle between Gemini Peaks and then I had to climb Mount Sherman again before that would be possible.
It was this ascent back up toward Gemini Peak that started to tire me out. I stopped at one point and just enjoyed the silence and the vastness of the picturesque view before me, as I let my breathing slow to normal. Looking up to the summit of Mount Sherman, I could see a couple people had summitted. I was eager to get up there before they left, especially to see if one of them might be my earlier companion, Matt.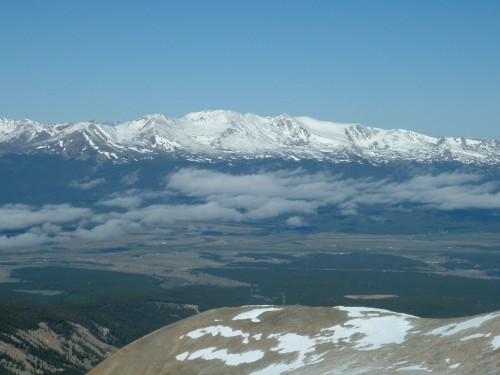 Mount Massive, above the clouds
Still, I could not seem to make myself go much faster as I headed up the longer and longer ascent between the peaks of Gemini. Finally I got through them and made my way briskly across the Sherman/Gemini saddle, only to start ascending again, this time up the steeper north side of Mount Sherman.
Again I took a pretty long break and ate a good bit of trail mix, always a great food for the tired hiker. This seemed to energize me a good bit and before I knew it I was walking along the flat, broad summit toward the people I had seen earlier.
11:15- I found myself at the summit of Mount Sherman for the second time today. I guess that makes up for not making it there on my windy Memorial Day hike. The people I had seen earlier actually entailed a group of four hikers, two men, a boy, and a girl. One of the men, Steve, has made it to the summit of 41 14ers (55 altogether including his duplicate hikes–he said he hiked this one four times), while the kids were enjoying the view from their first 14er. I am beginning to find myself as the part of some weird Colorado Cult as I find myself counting how many 14ers I have done. . . but hey, it's fun.
Anyway, I was glad to sit and rest for about half an hour and talk with them. They were a very friendly bunch, and we had a great time eating trail mix and grapes and talking and laughing and just enjoying the day, at 14,036 feet–away from the cares and concerns of our industrialized, "civilized" society. "Away from it all."
11:45- We started back down the eastern spur of Mount Sherman. I hiked with them all the way to the saddle, continuing to exchange stories and information about other hikes, etc. We passed a group of five guys and then a speed-walking couple on their way up while we were on our way down. No one had seen Matt. I guess he had headed out early and called his wife to pick him up. I hoped he was all right, but figured he was since he apparently got out of the mountain with no problem.
12:30- Now at the saddle, I was tired out but decided to go ahead and try for Horseshoe Mountain as well. Steve showed me the route down toward the Hilltop Mine that they were about to take, and I finally was able to see the route I had missed twice before to get up Mount Sherman. The reason I had never assumed that was the way was because it goes directly over a rather steep bank of snow, which looks untraversable until you try it, apparently. I wouldn't know, because I was continuing south across the saddle toward Mount Sheridan. I bid farewell to the foursome and was on my way.
From Peerless: Sheridan, Dyer and Sherman
1:10- Having made it to the 13,354-foot summit of the mediocre mountain of scree, Peerless Mountain, I was still aghast looking ahead of me at the ridge called Horseshoe Mountain. Finally I got struck with some common sense and said to myself, "No way." I probably could have pushed myself to do that final peak, but I know I wouldn't have enjoyed it at all. My legs and shoulders especially would have been a bit impartial toward me had I made them complete that journey, and I don't like it when my legs and shoulders are mad at me. So, I headed down. And down, and down, and down.
The "down" didn't seem to stop. Ever. I walked and jogged and even ran some so I could cover some of the nicer territory faster, and eventually I made it down to the top of the steep slope above the mines I had passed early this morning. Working my way down that slope, I finally made it back to the dirt road on which I was parked several hundred yards below. I caught up with the four again on the way down this road, and offered to help them with their flat tire they had to fix before heading out. They declined my help and once again we parted ways, this time quite possibly forever, but then you never know.
2:00- I made it back to my car after a good eight and a half hours, numerous miles, four peaks (the highest one of them twice!) and who-knows how many feet of loss and gained elevation. And most of all I had a great time and enjoyed the beauty of God's creation. Yes, this most definitely made up for my Memorial Day hike!