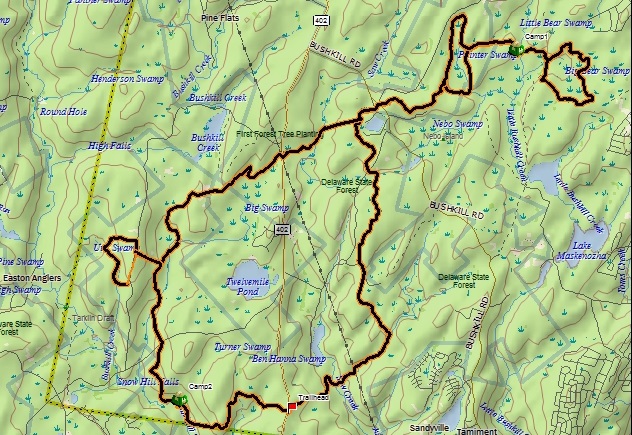 Thunder Swamp Trail Loop, Painter Swamp Trail, Fennel Run Trail = 36.75 miles
Note: Click on picture to see high resolution photograph in separate window: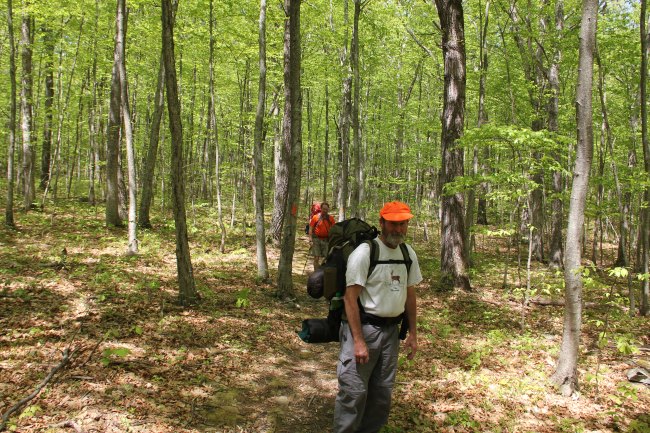 Day 1: 16.5 miles
Rt. 402 trailhead and Big Bear Swamp loop to Bushkill Creek
There is something to be said for the peace that comes with solo backpacking and hiking, but the shared experience of the trail--both the good and the bad--can be a great way to bond with friends and family. This trip certainly had a lot of negatives, but it was made much more enjoyable by my companions: Greg, who invited us along to begin with, Dad, and Hunter my dog.
We got off to a late start, due to a crowded Midway Diner where we enjoyed a hefty breakfast prior to hitting the trail. It was 11:20am by the time we left the trailhead from Rt. 402, taking the Thunder Swamp Trail counterclockwise.
We passed a hunter and pair of hikers within the first mile, and then we were alone for the rest of the day.
Most of the day's highlights came early on: crossing the scenic Saw Creek and walking along some scenic cascades of Red Rock Run. The woods were brilliant bright green with May growth, and some prevalent wildflowers included lady slippers, azalia and violets.
After turning away from Red Rock Run, it would be evening before we would encounter fresh water again. We made quick time on the grassy Luke Road and the forgettable, fairly rocky miles of trail leading around Lake Minisink (which the trail does not actually visit, by the way).
After passing the junction of the western loop, we crossed Bushkill Falls Road and continued for a few miles on pretty nice trail with gentle ups and downs. Again this was fairly forgettable, but not as rocky. We saw a porcupine sitting in a tree shortly before we headed into the southern ramparts of Painter Swamp and crossed the minor creek.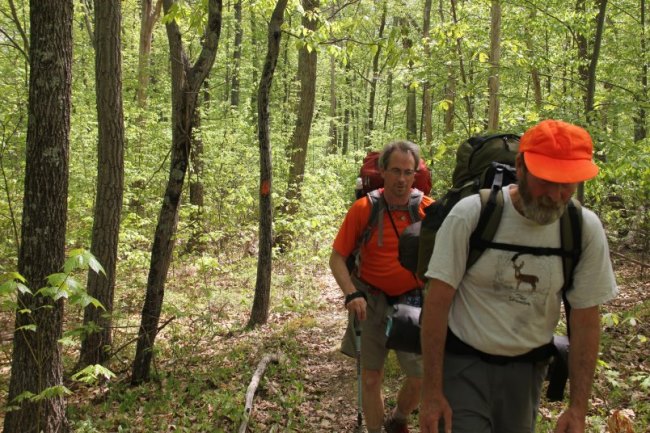 We made good time, but because of our late start it was already 5:30pm by the time we reached Little Bushkill Creek. Greg and I both wanted to try to knock out the Big Bear Swamp loop today, and Dad was ready to settle in for the night, so he offered to watch our packs and start scouting out camping spots.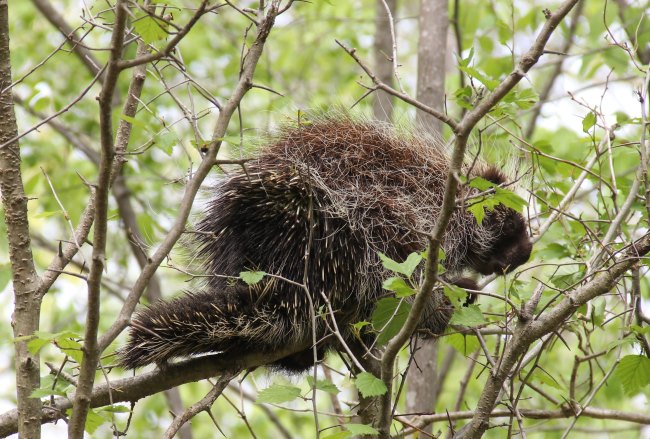 It was nice to hike without the pack, but I was already getting tired as Greg and I headed the additional 0.8 mile to the beginning of the 3.2 mile loop. We intended to hike the loop counterclockwise, but because of some confusion with two alternative paths to begin the loop, we ended up hiking it clockwise instead. This was an interesting place, very remote feeling, and most of the trail was pretty good. There was one exceptional camping spot complete with fire ring, but it was not near any good water.
This was supposedly a place young men hid to avoid conscription in the Civil War, and after visiting this area I can see how it would make a good hiding spot. I noticed a lot of sign of wildlife, including a stretch of deep bear prints along the trail. I guess this place has its name for a reason.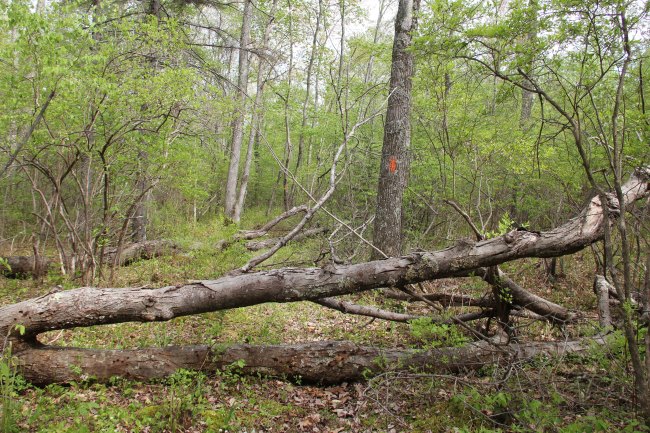 Trail Maintenance Required
Ticks were the bane of the entire hike, but they were specifically bad around Big Bear Swamp. By the end of the day we have easily lost count of the amount of ticks we've pulled off of ourselves and Hunter. Also I felt several blisters forming on my feet by the time we were done with this evening's loop.
We were both tired and ready to collapse for the day when we returned to join Dad at our camp along Little Bushkill Creek. We found enough room to set up each of our tents individually, then we got to cooking Mountain House meals for dinner. Bugs were bad here, but our bug spray did a good job on them. Overall it was a good day on the trail, and this evening's camping spot was nice enough, and next to a good water source.
Day 2: 17.4 miles
Painter Lake, Pennell Run, Bushkill Creek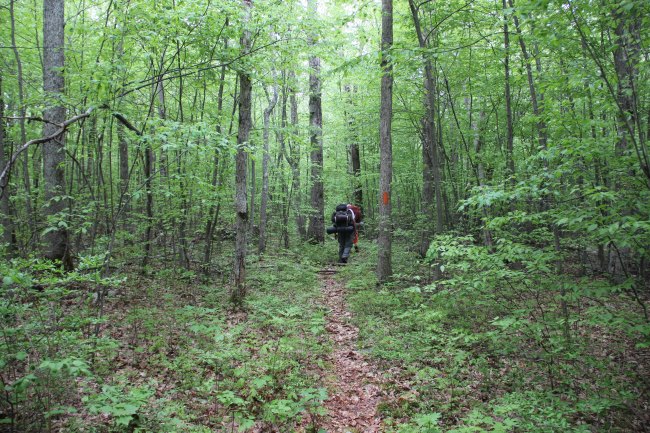 I was slow getting everything packed and ready this morning, but even on blistered feet, the first mile of trail went quickly and before we knew it we were at the junction with the Painter Swamp Trail.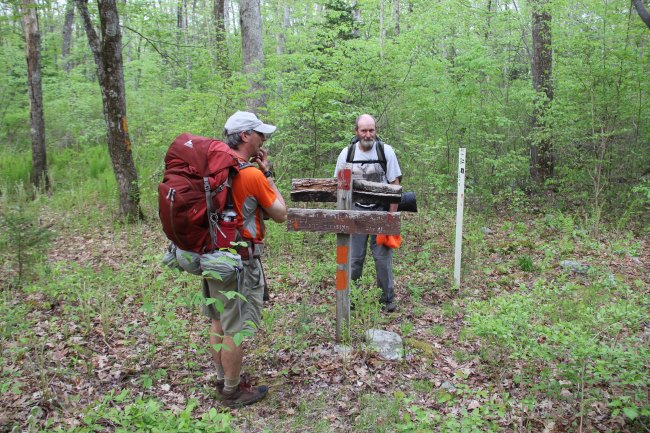 It was more or less a bushwhack for the short 0.2-mile hike to the southeast corner of Painter Swamp/Lake, but the detour was well worth it. The water was completely still and reflective, offering the best scenery of our trip so far. After a short break we decided to go ahead and complete the one mile loop around the swamp, and in doing so we gained some extra vantage points along the way, including good views of a beaver dam.
We continued on the not-well-maintained Painter Swamp West Trail all the way south to its terminus where we rejoined the section of Thunder Swamp Trail that we had already done yesterday. The two miles of this connector piece of trail back to the west loop junction went smoothly, the only highlight being another porcupine running across the trail. Thankfully my dog took interest in it only from a distance.
A clear-cut plateau was followed by big woods leading down to the crossing of Saw Creek. This place turned out to be one of the highlights of the day for me. The trail crossed the swampy creek by way of an old dam, constructed of large stones. The thing was so narrow in places it looked as if it could break free at any moment. But of course it's been there for a long time, and huge trees have grown out of it. The still water added to the allure of the place by offering perfect reflections of all the giant trees.
After crossing the creek, the trail stayed along it for a while, eventually passing by the namesake Thunder Swamp (not in sight) before crossing Rt. 402.
After more walking through dense vegetation of another recent clear-cut, we then passed by Big Swamp and some interesting hemlock / pine forest. Then the trail climbed out of the bottom and onto some higher fern-filled slopes, crossing the Spruce Run Trail and eventually coming within sight of Spruce Run.
Passing a swampy area to our west, we were about to cross the next rivulet when we were surprised to see humans! Two other hikers were going the other way, having started from the main trailhead this morning. We exchanged trail notes and they were kind enough to take some group photos of us before we continued on our separate ways. Shortly after this, we finally crossed Spruce Run and came to the juncture with the Pennel Trail connector.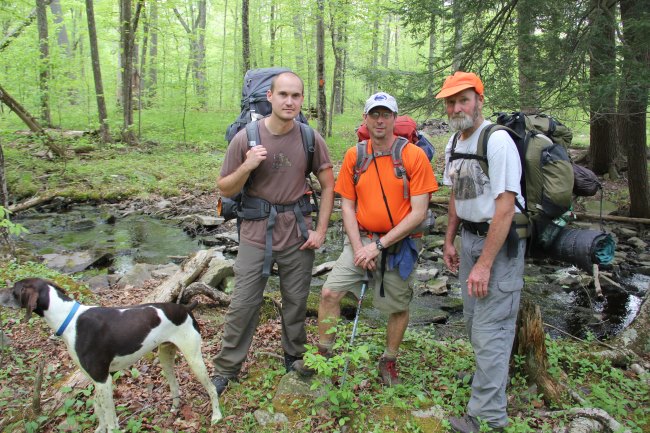 We all hiked the fairly steep half mile to the juncture of the Hay Road / Pennel Trail loop. Here Dad would rest and watch our packs as Greg and I (and Hunter) went to see what this 2.8-mile loop had to offer.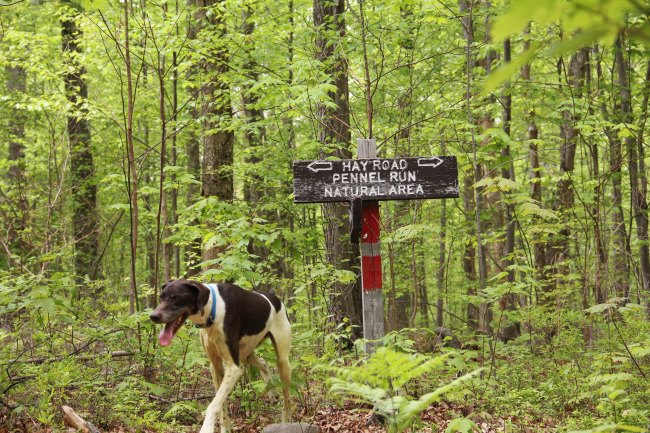 In a word: nothing.
We spent most of our time trying to find blazes, and even when there were red blazes to follow, there was no trail. In fact the blazes were usually in the ugliest area, full of dead-falls and thick saplings, while the surrounding woods were often relatively open. It was a bushwhack for no reason, and the Pennel "Trail" should simply be taken off the map. We kept hoping the trail would get better, but instead it got worse. Nearing the end of the loop section, we finally lost the blazes entirely, and entered into a thicket of blackberry briers. Greg was in shorts, so he had it worse than me, but neither of us were having a good time at this point. We detoured then, crossed Pennel Run (very anticlimactic, I might add) and returned to the Hay Road. The three-quarters of a mile of "road" were also littered with dead-falls, all making for a rather annoying experience during the heat of the day.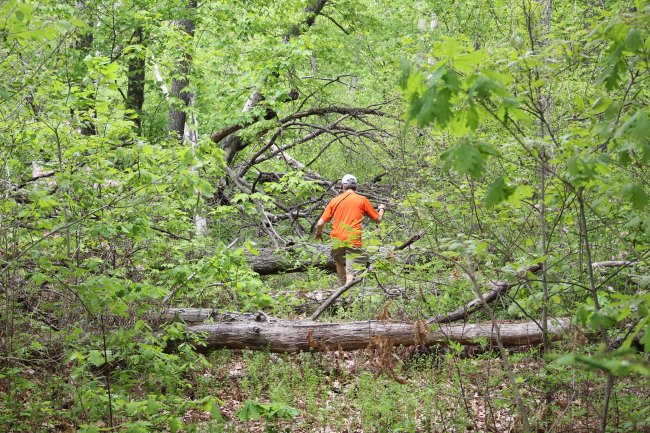 Back on the TST, we did not get much of a break as the section of trail leading to our remaining road crossing would be the rockiest of the day. My feet were screaming at me with blisters by the time we crossed Snow Hill Road. The trail was nicer from here, but my feet were in constant pain. Greg also retwisted his ankle which he had first agitated yesterday, so it is an understatement that we were all looking forward to the fabled camping spots at Bushkill Creek.
It took longer than we expected to get there, but at last we arrived at the idyllic camping spot we had been looking forward to all weekend. Unfortunately, there was no time to enjoy the moment as thunderstorms were upon us. I threw out my tarp and we gathered under it, except for Dad who enjoyed standing in the rain with his poncho on. At least we were done walking for the day.
Finally the rain cleared and the sun even came out briefly. We got to work setting up camp and drying out what we could. Hunter got in the tent as soon as I opened the hatch to lay out my sleeping bag: he was done for the day. Fair enough: he had probably done three times the mileage of the rest of us.
We did enjoy a good meal then, another round of Mountain House around the fire ring, and we also briefly were able to enjoy the scenery of the wide Bushkill Creek, right next to us. However our evening in camp was cut short when raindrops began to fall again. We all retreated to our respective tents to spend the night.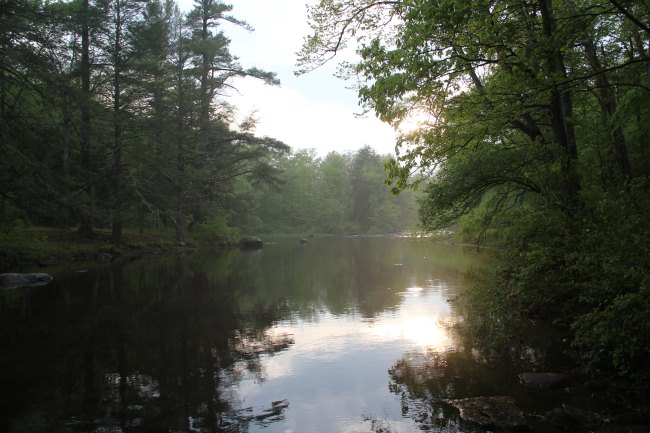 Bushkill Creek
Day 3: 2.85 miles
Bushkill Creek to Rt. 402 trailhead
You never know what craziness you will encounter on a trail seemingly in the middle of nowhere. We certainly did not expect a gang of loud obnoxious motorcyclists to disturb our night in the wild, much less so in the middle of a steady rain after 9pm. But, that's exactly what happened last night. They were on the other side of the creek, thankfully, but they were still loud and seemed to enjoy shining their headlights toward our tents from across the water. They hung out for quite a while before moving upstream, only to return again briefly after 11pm. So much for a refreshing night's sleep for us.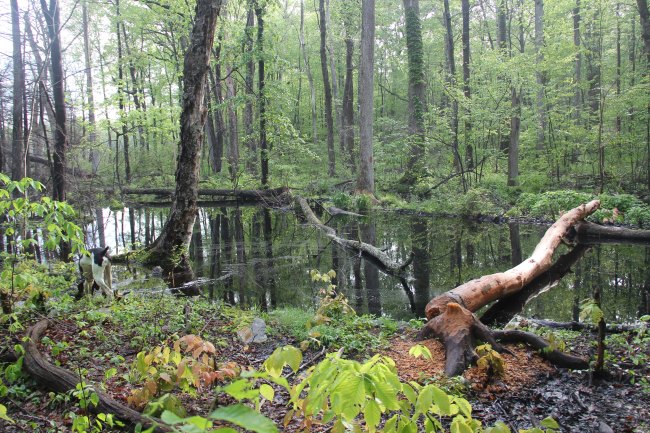 Ben Hanna Swamp
Without pausing for breakfast, camp tear-down went quickly this morning. The remaining couple miles of trail we had led us up from the creek and along a fern-covered slope leading... right into a swamp. The Ben Hanna Swamp has now literally overtaken the trail, probably thanks to a large beaver population changing the landscape. There were some fresh beaver-downed trees, where the trail entered the still water. One bark-free tree lying across the expanse of the water looked like a joke of a bridge, and its surface was as slick as ice. After some searching, we were able to find a muddy rock-hopping detour to the other side, but this was just one of the many examples of poor trail maintenance we encountered over the past three days. Due to lack of funding, I would imagine.
We emerged victorious and mostly unscathed at the trailhead at 9am, just over 45 1/2 hours from when we had begun.
Summary:
Too many ticks (250+ probably, not that we could keep count), too many rocks, and too many motorcycles. Highlights: Painter Swamp, Saw Creek, wildflowers, Bushkill Creek camping (again--minus the motorcycles).