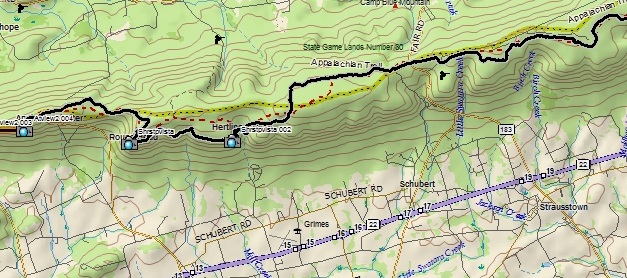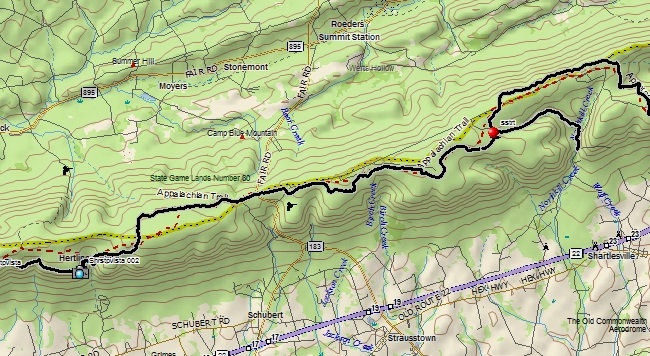 Point-to-point distance: 16.5 miles (14.4 along the A. T.)
Note: Click on picture to see high resolution photograph in separate window: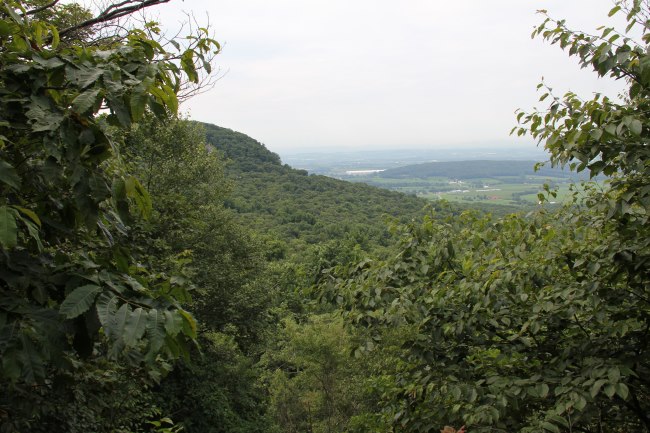 Continuing our trek along the miles of Appalachian Trail in Pennsylvania, we started this morning where we left off in April--at Route 501 atop Blue Mountain. Northward travel was boring for a while, along a relatively level but rocky trail leading us along the ridge-top, and eventually around to Shower Step Vista at the summit of Round Head. An overlook with a more sweeping view, and just off the trail, came a couple miles later.
Switchbacks led us down to __ Shelter and an apparent nearby watering hole. We stopped for lunch at the bottom, then worked our way up the moderate slope on the other side until the A. T. leveled out again.
We passed a large stone commemorating "1755 Site of Fort Dietrich Snyder" shortly before arriving at the one major road crossing of the day--Rt. 183. To this point we had encountered more hikers than we've ever seen during a day hike along the A. T., culminating with a party of through-hikers just before the road. Although rocky in places, the trail also had had more nice-looking camping spots along it to this point than we'd seen on one section of trail.
Both of those things changed however as soon as we crossed Rt. 183. The remaining 4.2 miles along the A. T. were ours in complete solitude, and with the continual rockiness and understory there were very few camping spots--though there were a couple nice remote ones. The trail zigzagged eastward atop the plateau, until finally arriving at the juncture of our destination trail--the Sand Spring Trail.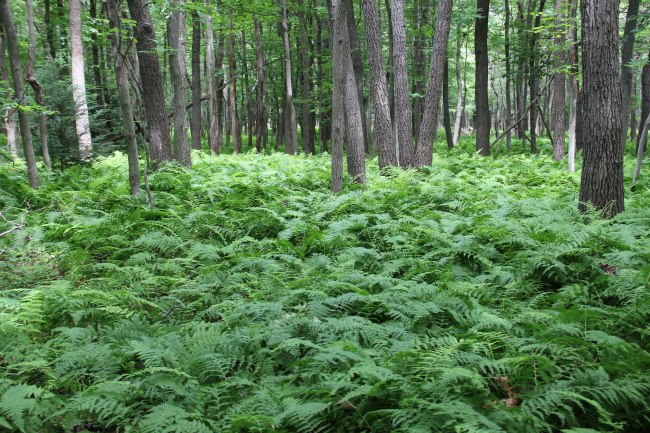 I had done very little research on this trail, and it turned out to be a rocky mess from the spring for another mile or so down into the hollow. The remaining mile however evened out onto some nicer walking trail through hemlocks. We arrived at the gravel road for a short walk out to our car around 4:45pm.
Despite the rockiness of the trail, there were pleasant sections as well, and with all the rain this year there was plenty of greenery to see: a nice mix of ferns, huckleberries, laurel, and some rhododendrons dotted the forest.