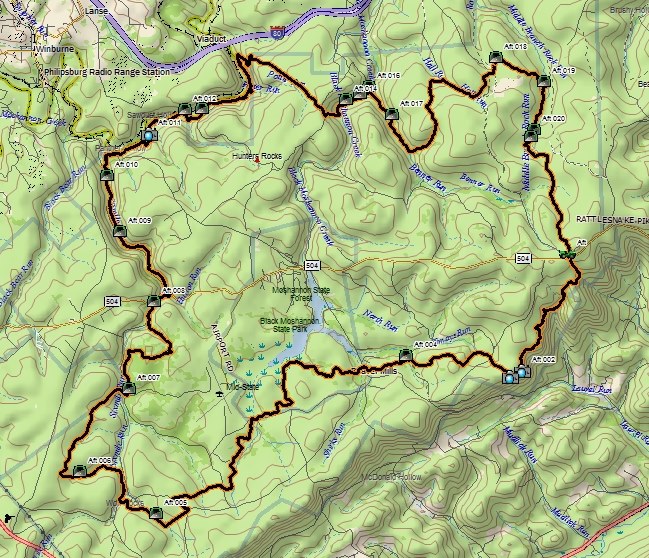 Note: tents represent camping spots, camera represents vista
"Aft" = parking spot
"Aft006" = camp, night 1
"Aft018" = camp, night 2
Allegheny Front Trail Loop = 41.56 miles
Note: Click on picture to see high resolution photograph in separate window: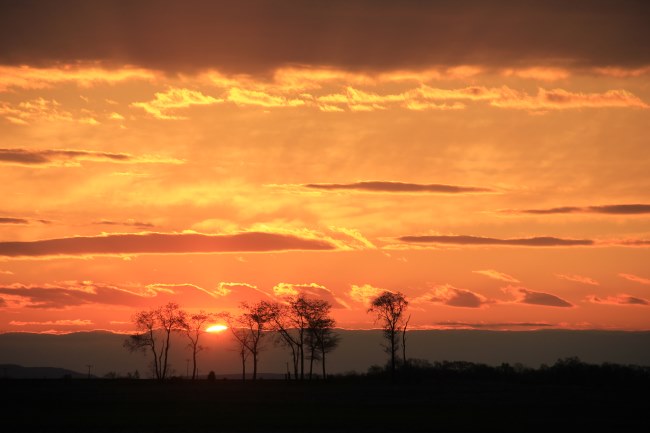 Day 1: 15.7 miles
A beautiful sunrise near Fort Loudon started our day as Uncle John and I (and my dog Hunter) were on our way to pick up Greg. After breakfast in Huntingdon, we started our hike along the Allegheny Front from Rt. 504 at 9:20 am.
After being surrounded in solitude for the first couple of miles, we were somewhat surprised to run into two hikers near one of the overlooks. We talked for several minutes with Dave and Bill, a father-son duo hiking the trail counterclockwise. Then we continued hiking to photo ops at "Ralph's Pretty Good View" and "Ralph's Majestic View." The former was more impressive to us.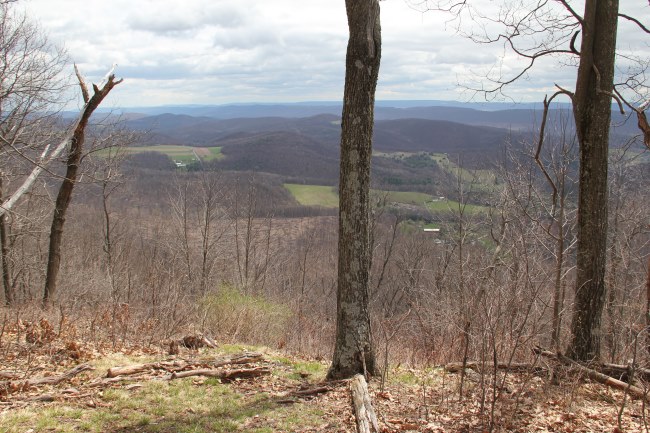 We continued snaring limited views of the valley as we meandered through a thicket along the Front, then we ascended a short rocky step--suddenly to be done with the rocks, essentially for the rest of the day. Smooth trail ahead!
Leaving the Front, we walked atop a large plateau through a fresh clear-cut area. After crossing a gravel road, we entered a scenic hemlock grove consisting of a great camping spot and footbridge at Smays Run (mile 5.6).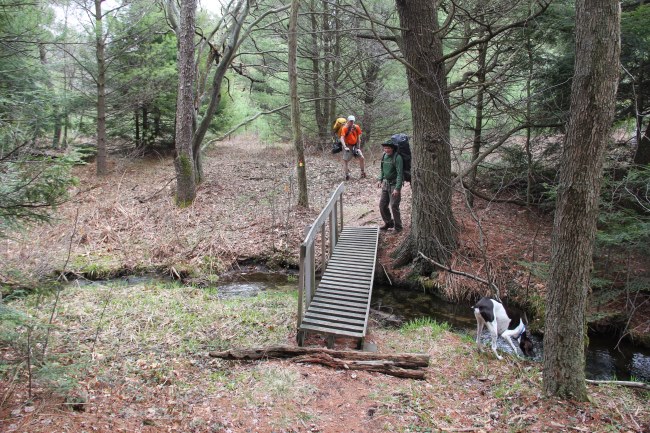 Smays Run
We crossed Julian Pike (mile 6.5) into one of the neatest sections of the trail: Now in conjunction with the Moss-Hanne Trail and entering Black Moshannon State Park, a small boardwalk led us through several quickly changing forest scenes: marshland, rhododendrons, a tall red pine plantation, then deciduous forest.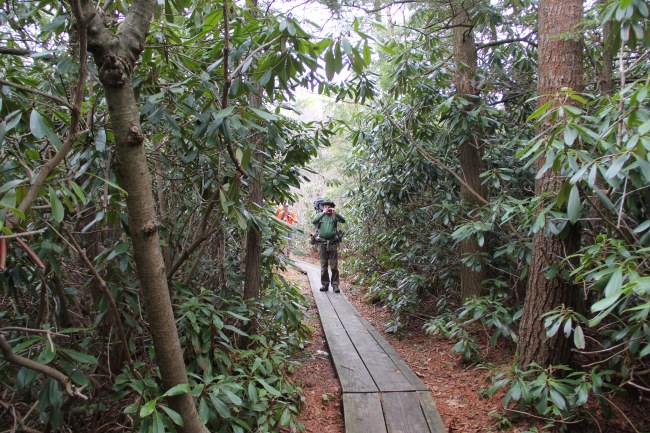 Black Moshannon State Park
Next we went through a marshy area around the south end of Black Moshannon Lake with a lot of pretty understory, before entering a thicket around the south end of Mid-State airport (the airport was not visible but we could hear the planes landing and taking off occasionally). This was followed by a long area of walking through deciduous forests, and eventually past a calm pond where I took some pictures of the reflections.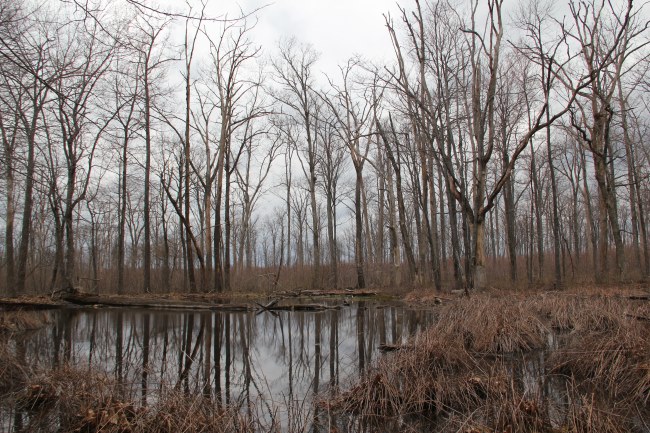 The trail then followed a grassy pipeline downhill to the southernmost point in the trail, where an abrupt right turn led us into a low-land area including some remote camping possibilities in hemlock groves along the creek.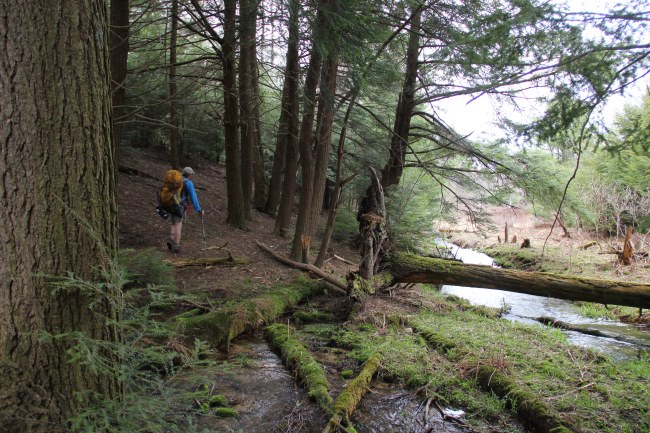 At mile 14.5, Wolf Rocks was made up of interesting overhanging boulders with a plethora of porcupine droppings. We crossed Horse Hollow Road, passed a hunting camp, then reentered the woods in search of our camping area for the evening.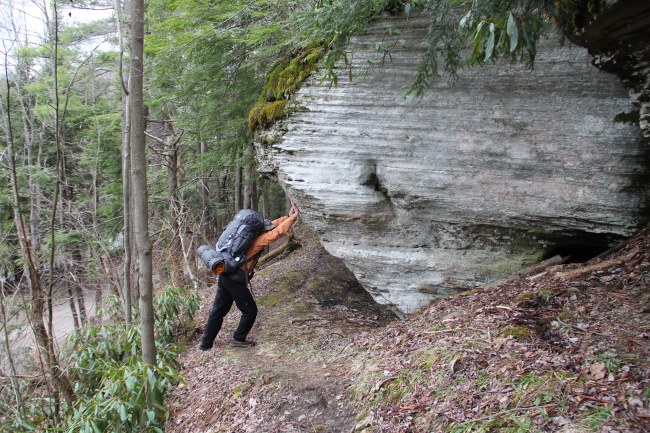 Wolf Rock
The area in hemlocks we were looking to use as a camp happened to be right across from Six Mile Run Road, so we decided to continue on the trail as it turned away from the road and entered Slide Hollow.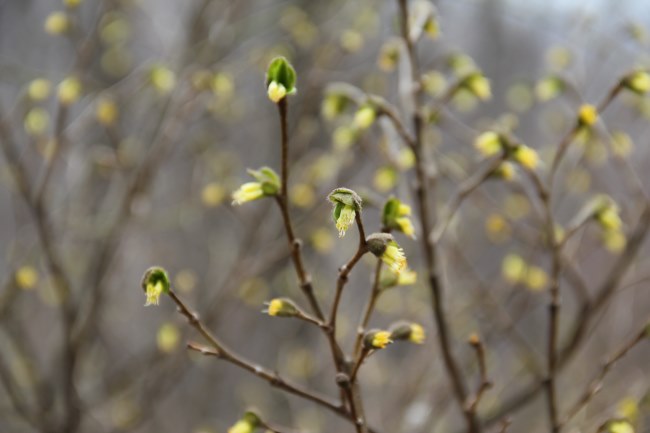 Ultimately we stopped at mile 15.7 for the day, finding just enough open, flat area to set up our three tents amidst a sea of what was otherwise thick understory. As we were getting dinner ready, two hikers surprised us by walking by--the only other people we had seen along the trail besides Bill and Dave. They too were walking the trail counterclockwise. There was plenty of daylight left to set up camp and cook Mountain House meals for dinner, and lots of dry wood for a campfire. It turned out to be a very enjoyable evening.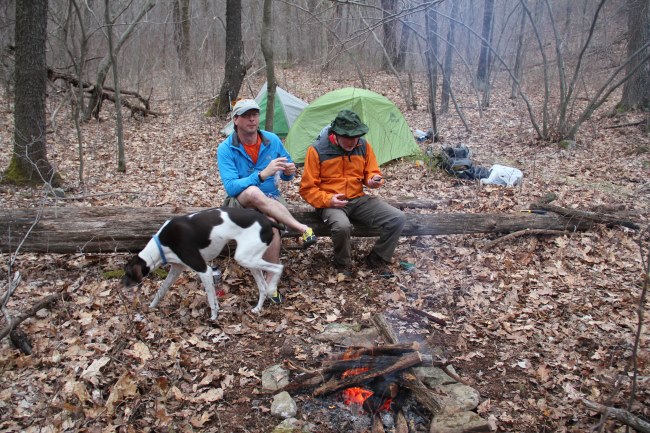 Day 2: 21 miles
Day 2 began by ascending out of Slide Hollow and into a broad, relatively flat clear-cut, filled with millions of 10-foot tall sassafras saplings. It was an ugly but unique area.
Then we descended through some open woods to cross Six Mile Run Road. The red pine plantation that we entered was almost surreal and at the same time beautiful:
"After crossing a small run, turn left onto a well-defined logging road. This road ascends gently through a very extensive red pine plantation, containing thousands of trees (mostly red pine and a few Norway spruce) and covering several square miles. The evergreens were planted by the Civilian Conservation Corps and the Bureau of Forestry over a multi-year period. The workers are to be commended for their efforts in reforesting Central Pennsylvania after the logging era, though some outdoor lovers may feel disconcerted by the unnatural order and sameness of this planted forest. The monotonous plantation to the right of the trail contrasts sharply with the more varied, and less managed, forest to the left that leads down to Six Mile Run. [GBS, 99]"
Eventually the trail left the logging road and climbed up onto the top of the plateau. The next section of trail is described in the guidebook as a "scenic side hollow of Six Mile Run" and "a pleasant little canyon with many and varied evergreens" that is a good area for nature photography. We all agreed this was one of the prettiest places along the trail, and indeed, we took some pictures:
The next four miles consisted of ups and downs along Six Mile Run. This was all very scenic with a mix of rhododendrons, hemlocks, and the ever-increasing flow of the creek beside us. There were numerous good camping spots along this section of trail, but our day was just beginning.
At mile 24.5 (overall), we were intrigued by what is described as "mysterious remains of a small stone building, possibly a stable for draft animals used during the logging era. This hut is now swamped by small trees and giant rhododendron bushes. [GBS, 96-97]"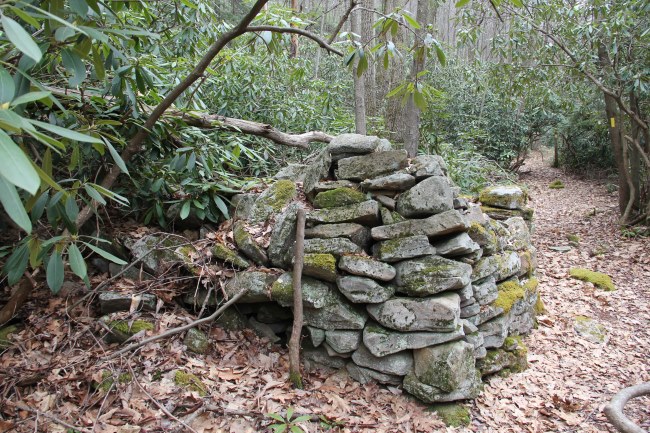 As we ascended the slopes away from Six Mile Run, we once again met up with Bill and Dave, talked a while and took pictures.
After crossing Munson Road we descended toward the acidic "Red Moshannon River," which is deep orange in color. The next four miles follow the slopes along and above the red-orange river. There is a climb up a ravine, eventually leading to the impressive "Red Mo" Overlook. We stopped for a moment here to take pictures, but it was windy and chilly so we quickly moved on, descending next into Sawdust Hollow, where we stopped for a lunch break. Shortly beyond this we passed what is named a "double waterfall" in the literature; it is really just a small double cascade, but it was definitely in a gorgeous, remote setting.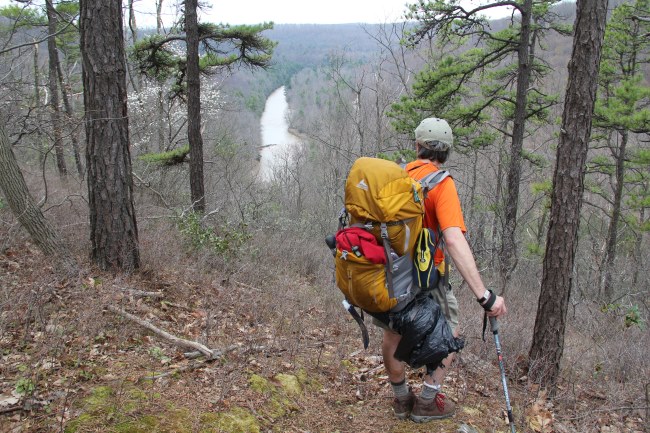 As we continued hiking through some rhododendrons and past some nice, remote camping spots, the sun emerged for a short time. As the trail became rockier we passed three hikers and talked briefly with them--the last people we would see along the trail today.
What followed was a rather boring stretch on an old railroad grade along Red Mo, while the I-80 traffic ahead of us grew increasingly loud and visible. Then we ascended a grassy woods road surrounded by briers, still with plenty of visibility of the I-80 bridge and traffic. This was easily my least favorite section of the entire trail, though the road walking was a nice break. We stopped to call our wives at the top of the hill where several grassy roads met; this would be our only cell phone reception along the trail.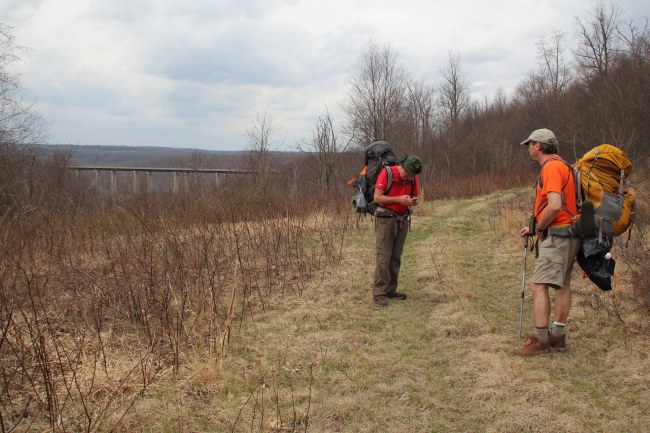 The grass road turned to gravel road as we slowly ascended through yet another clearcut. With the sky growing darker and the wind picking up, we made our way toward the end of the road. We were next to the hunting camp when the rain hit, but we were ready for it. Hunter was the only one who got soaked, but he would dry off quickly thanks to his short hair.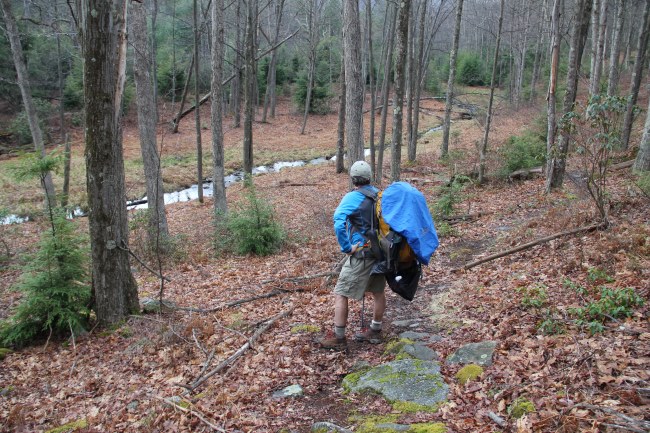 After the hunting camp, we crossed our final road of the trip: Meyers Run Road. The following section, from the open woods below Meyers Run Road to the rhododendron thicket along Benner Run, was my favorite section of the trail. It was remote and quiet, with beautiful scenery. The sun even came out for a short time as we made our way between the rhodos and hemlocks along Benner Run. Around mile 33.8, we walked into a perfect camping spot: the canopy of hemlock branches kept the ground completely dry, the flat ground was coated in a bed of hemlock needles, the water was rushing by, and there was even a stone fire ring complete with dry wood!
We should have stopped here, but decided instead to keep moving to lessen the miles for tomorrow.
Perhaps our biggest mistake was in believing the rain was over. As we started uphill away from Benner Run, nearby thunder brought more rain clouds to our attention.
After topping out on the ridge between Benner and Hall Runs, we found a small camping spot, but as soon as we stopped to consider it, the rain hit. My dog Hunter was completely soaked and cold, and we were surrounded by thick huckleberries, plus we were still near the ridge-top with no good cover. A steady rain seemed to be setting in, and to me the best option was to hike the remaining six or seven miles of trail to the truck. Of course that was not ideal, as we'd already hiked about 18 miles today, and it would be dark in another hour. Plus we did not want to split up.
We compromised and continued hiking in search of a better camping spot, hopefully with some cover. At one point I looked ahead to see Hunter closely following a porcupine. I yelled and thankfully he listened and quickly got away from the animal--the third porky of the day. We also saw some deer, a blue heron and a yesterday a couple of turkeys and grouse. But right now all that was on our mind was finding a good camping spot.
The rain stopped as we started walking, but the clouds remained. As things go, there were no good camping spots until we arrived a couple miles later at the one "dry camping spot" (an ironic name this evening) mentioned in the guide. And as soon as we stopped to take out our tents, another rain shower began. Thankfully, this one was short-lived.
We were beat, but we went through the necessary motions of setting up our makeshift homes and throwing everything inside to keep things as dry as possible. We had done 21 miles for the day, and darkness was setting in as I worked on getting my stove to cooperate. Uncle John was able to get a fire going, which was wonderful to stand by, warm up and eat our Mountain House meals.
As soon as we got in our tents, rain set in again. So much for the forecast "scattered shower."
Day 3: 4.85 miles
It rained off and on through the night, and we could hear strong winds overhead. We were happy to have made it off the ridge top, and none of us got any more wet during the night, so everything worked out.
The rain stopped around 6:30, so we quickly tore down camp and hit the trail. We expected the last 4.85 miles of trail to be rather mundane, but as with the rest of the trail there turned out to be plenty of variety.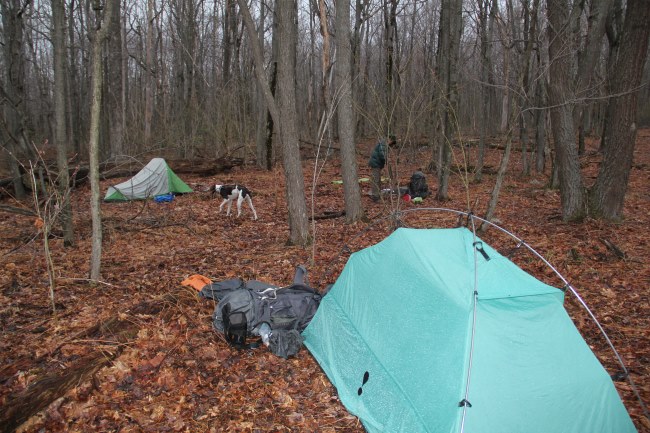 We joined the Rock Run Trail and explored a little around the wooden bridge over the run--a serene area with a nice camping spot. Then we went through a patch of thick mountain laurel above the run, passing by several more nice camping spots along the way.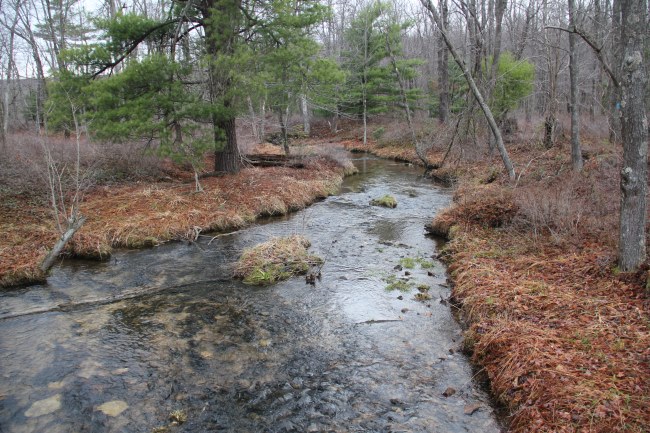 Most of the rest of the woods consisted of wide open deciduous forest, with the exception of a nice spruce plantation we passed through near the end of the hike.
We completed our hike at Rt. 504 just after 9:20a.m.--48 hours from when we left the truck. We took a timed picture at the trail sign and got back in the truck, just as some more raindrops started to fall.