Round-trip Distance: 19.75 miles
Elevation Gain: 4,000 feet
Note: Click on picture to see high resolution photograph in separate window:
Time for the Super Bowl of hikes: the one we've been planning and training for, for.... how long exactly? Uncle John first did this hike solo in 2002, back when he had to worry about how much film he had and how expensive it would be to develop the pictures. He has been raving about the experience ever since. His only regret, he said, was that he had no one to share that day with. He wanted us to return with him some day to do the hike, and because life happens it took nine years for the trip to finally become reality. Since spring we had been hiking every weekend near our home in the Northeast, steadily upping our mileage until we were over 23 miles per day. Meanwhile, 2011 happened to be an epic snow year in much of the West, Tetons included, so although July was almost over, we carried with us ice axes and crampons. We were glad we did, too; turns out the snow reports had not been exaggerated.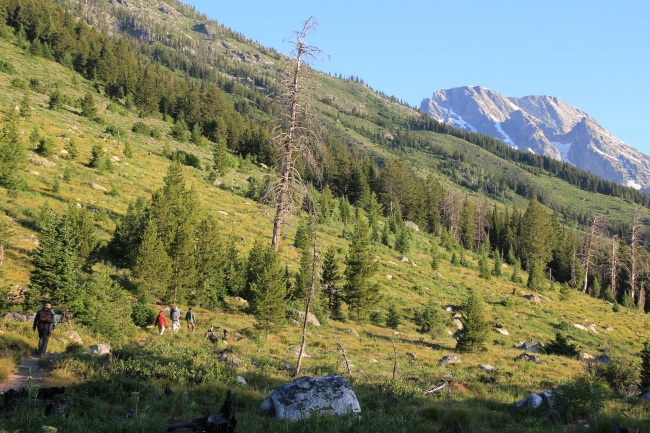 Starting Out
It was chilly at the String Lake Trailhead first thing this morning, but it was also completely calm--resulting in a beautiful display of mountain reflections on the lakes. It was 6:30a.m. when my Dad, Uncle John, cousin Ross, Aunt Debbie and I started up the trail to Paintbrush Canyon. Aunt Debbie walked with us for the first couple of miles before turning around to join the women for horseback riding and a gondola ride back in Teton Village. Meanwhile the rest of us began the slow ascent into Paintbrush Canyon.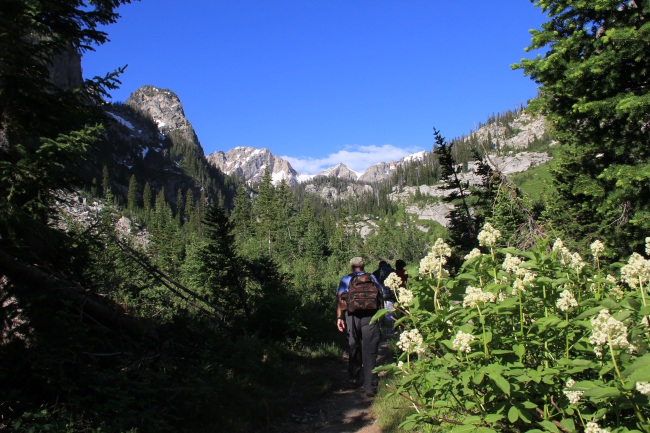 Paintbrush Canyon begins opening up
A rushing torrent of water and waterfalls surrounded us at the lower elevations of the canyon. Before we reached 9,000 feet, wildflowers were replaced by snow fields. We stopped at the unnamed lake at 9,200' and Holly Lake, both of which were partially ice-covered. Above this, where Uncle John had enjoyed beautiful fields of wildflowers in 2002, we were walking atop a solid snow-pack which led, unbroken, up to Paintbrush Divide.
We passed two groups of climbers--one between the two lakes and one at timberline--and both groups had turned around at what they described as a "long, scary-looking 50-degree snow slope" leading to the divide.
Holly Lake
Just as we climbed above timberline, the slope leading to the divide became visible. Two distant specks--climbers--were just starting up the base of the steep stuff. We watched as they slowly worked their way upward from right to left, carefully kicking steps as they went. The normal summer route leads to the right instead, so Ross and I scouted that out while Uncle John called the ranger station for some advice. Either way would work, but we all came to the conclusion that the steep snow slope to the left was the safer and easier option on this particular day.
So, after affixing crampons we followed the steps of the other two climbers up and across the 500-foot snow slope. It was probably more like 45 degrees, but it was slick and airy, and we were definitely glad to have the snow equipment along. The climbers ahead of us, it turns out, did not have crampons along, which is why they were being very careful with their footing. Once above the slope, we met them where they were resting on one of the few snow-free rock shoulders before the divide. We talked for several minutes before finishing the short climb up to the wind-swept pass.
From there it was an easy walk over to the actual Paintbrush Divide. Uncle John wanted to show us a view of Grizzly Bear Lake, so we hiked up to the high point above the divide, where we stood on a rock with awesome views in every direction. There were pink and white and blue wildflowers clustered tightly to the ground around this rock, and Grizzly Bear Lake looked amazing--a patchwork of deep blue and floating icebergs that from our vantage point made it look like a giant slushy. Above the lake rose the gnarly masses of rock composing Thor Peak, Mount Moran and Mount Woodring. We spent a long time at this special place, photographing our surroundings, and just enjoying this beautiful piece of earth. Before we left, Ross shared some of his food with a marmot, who eagerly ate right out of his hand.
Before leaving the divide, we found a fresh stream of water flowing from under a large patch of snow, so we filled up our water bottles as we enjoyed our first view of the Grand Teton rising above Cascade Canyon. The snow-pack on this side of Paintbrush Divide made our surroundings look like a winter landscape.
The trail was visible again, but as we began our slow descent toward Lake Solitude it did not take long to start running into short snow field crossings. Some of these would end up being steeper than the big one we had crossed earlier, but all of these were short lived. Ross was wearing his water shoes, which had no grip whatsoever. On the first snow slope crossing none of us wore crampons, and Ross ended up losing his footing and taking a slide for nearly 100 feet before he was able to self-arrest. He was all right, but he put his crampons on before climbing back up to the trail, and we all wore them for the rest of the snow crossings. The sun was melting the snow surface enough to help us get some footing, but with the steepness most of the crossings were still pretty slick.
We had no more incidents the rest of the way down to Lake Solitude. This lake provided a beautiful summer scene when my uncle was here in 2002; now it looked like a scene out of the Arctic, but where some sparklingly clear water was just starting to show through from under the thick ice. The ice of the lake had fault lines running through it where it had cracked, yet it was still thick enough we could walk on top of it and jump on it without fear of breaking through. The mountains of snow on and surrounding the lake made it difficult to tell where water ended and land began. Quite a scene for July 29th.
Ross, who loves water (hence the water shoes), had been chomping at the bit to go for a swim somewhere today. He located the one break at the corner of Lake Solitude where a shimmering near-freezing pool of water was showing through, and we videotaped him as he went for a dip. He didn't stay under very long, but he was satisfied to get a frigid water experience unlike anything he can find right now near his home in Arizona. He said he needed to get the 'full visceral experience' while we were out there. To each his own.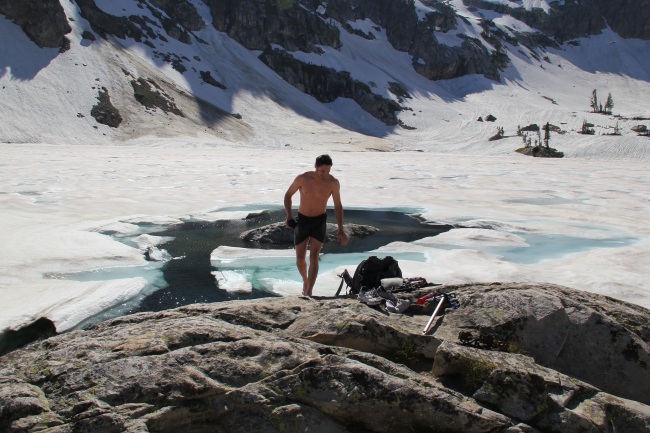 Ross after his cold swim
I loved the descent of Cascade Canyon, with the in-your-face view of the Grand, even more rushing water than we had seen in Paintbrush Canyon, and some fun encounters with wildlife. First we watched a big mule deer buck walking around oblivious to our presence, and further down the trail we had a close-up photo-shoot with a mule deer doe. Later on, a mule deer doe and a bull moose were lying low in a patch of willows just off the trail. Even though they were only about 20 yards apart, the vegetation was so thick they might not have known each other was there.
It was getting near dark when we stopped at Inspiration Point, where we got our first look at the completely calm and still Jenny Lake. Walking the trail along Jenny Lake at this calm time of evening was a fitting end to a great day. The place was silent, and the waning sun was casting beautiful colors on the still water.
We finally arrived at the String Lake Trailhead at 9:15p.m., and Aunt Debbie was waiting there to pick us up. The Super Bowl behind us, it was time for some R&R.