Point-to-point distance: 23.3 miles
Note: Click on picture to see high resolution photograph in separate window: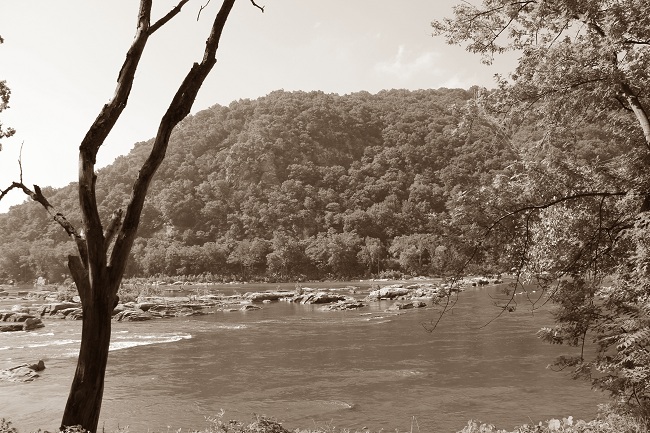 C&O Canal
Starting from Weverton, Maryland, my Uncle John, Dad, I and my dog Hunter followed the Appalachian Trail southward on this hot, muggy summer day. The first couple miles couldn't have been easier, walking along the C&O Canal tow-path, where there were numerous other hikers, bikers, and one giant snapping turtle.
After crossing the bridge over the Potomac River into West Virginia, we followed the white blazes through a small portion of the historic town of Harpers Ferry. This included a staircase carved out of one solid rock, atop which we passed the remains of the town's oldest structures (including the Harper House). The trail continued through a strip of woods until finally turning to cross the Shenandoah River, along with US-340.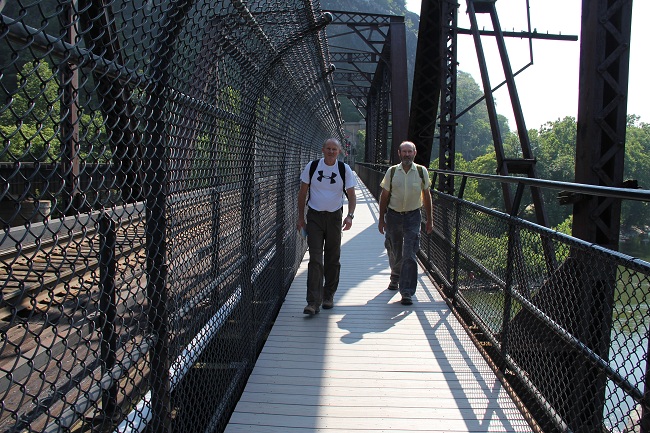 Crossing into West Virginia
Finally in the woods for good, the trail switch-backed steeply until we were on the crest of the Blue Ridge, where we would remain for the rest of the day.
From here south, the miles blended together, one endless ridge-top with little change in scenery, and mostly easy trail. We crossed WV-9 and eventually passed Buzzard Rock, all the while straddling the West Virginia-Virginia state line.
Eventually the A. T. left the ridge crest and switch-backed down to a rock-pile known as "Devil's Racecourse." The trail climbed steeply again before turning to arrive at Raven Rocks (AKA "Crescent Rocks")--a giant cliff formation with impressive views into Virginia.
Then the trail turned steeply downhill again, finally passing into Virginia, only to climb again to another ridge-top, and then descend, and then climb again... The miles of relatively flat walking along the Blue Ridge had spoiled us, making the last three miles to Snickers Gap all the more difficult.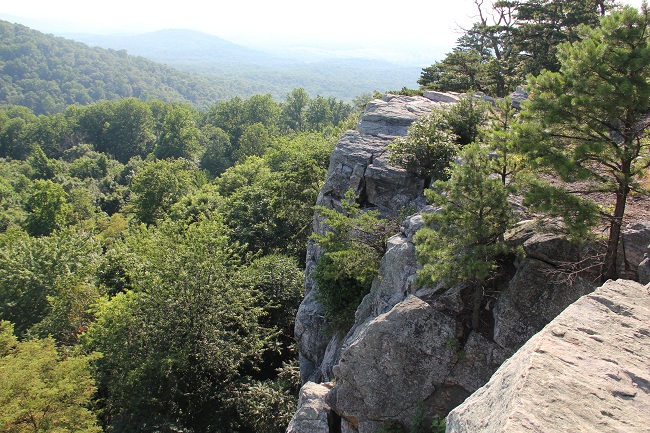 Raven Rocks, West Virginia
The 23.3 miles took us 9 hours 45 minutes, and concluded our training regimen for some upcoming hikes in Wyoming and Montana, none of which will be this long. Much of this section of trail was unmemorable, but Harpers Ferry and Raven Rocks help break the monotony.