Gorge Trail
Round-trip distance: 1.1 mile
The 1.1-mile Gorge Trail loops through the forest of Fall Creek Falls State Park as an alternative to the shorter Woodland Trail. Those on the Woodland Trail don't realize what they are missing; with a little bit of extra effort one can enjoy the vistas of Fall Creek Falls Gulf and Cane Creek Gorge, as well as a jaw-dropping view of the Cane Creek Falls and Rockhouse Creek Falls.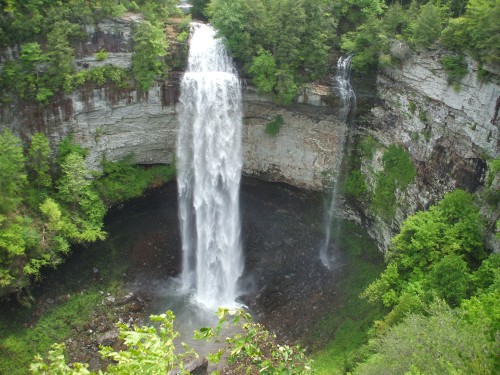 Fall Creek Falls
We began our hike at the Fall Creek Falls overlook, in itself a view worth taking in. This can be reached by car and a short jaunt along a sidewalk. After snapping some pictures there, we began walking the trail, which led us first around the waterfall before splitting into the Woodland and Gorge Trails. We took the left fork (Gorge Trail), which led to several successive side trails. These allowed us the aforementioned views of the gorge. The second stop, Rocky Point, even had some optional scrambling on solid rock, bringing us out to the point atop a jutting cliff, easily seen from our starting point at the Fall Creek Falls overlook. Holly lay down on the rock with her head hanging out over the edge of the cliff, enjoying the dizzying view straight down to the bottom of the gorge. I videotaped her, while Shannon felt safer remaining at a distance.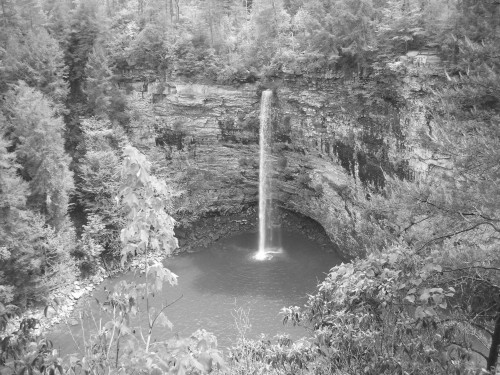 Rockhouse Falls
The highlight of the hike was the last overlook. We had seen the Cane Creek Falls and Rockhouse Falls from the nature center earlier, but from this opposite side of the creek, high on the cliffs, we had a much clearer view of them now. Shannon played photographer until Holly and I finally had a picture of us in front of the falls that we were happy with. Then we met up with the end of the Woodland Trail and completed the final descent to the suspended rope bridge crossing Cane Creek to the nature center.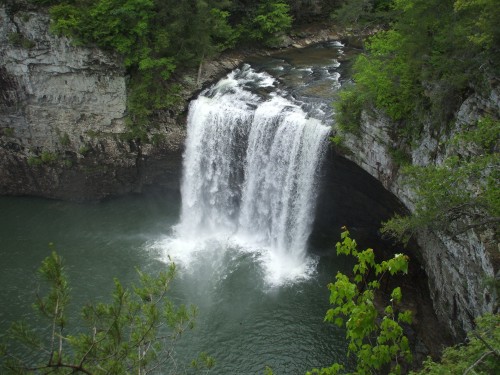 Cane Creek Falls
This easily could have been turned into a loop hike when combined with the Woodland Trail.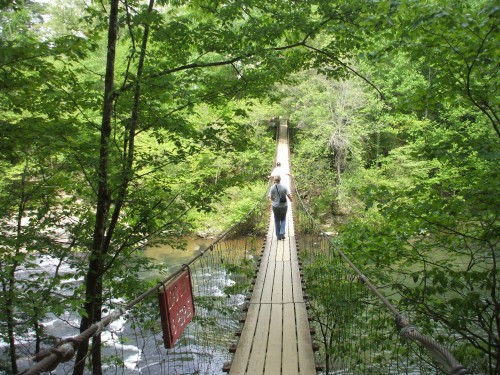 Rope Bridge