Introduction: My friend 'Ched' and I had researched hikes in Rocky Mountain National Park to see what held the most interesting scenery and hiking in a single day's trek. We finally decided on the 9.2-mile round-trip hike to Sky Pond, via the Glacier Gorge Trailhead.
Due to unforeseen circumstances, our hike was delayed by a couple of hours from what we had planned this morning, but even as we would finally begin our hike, things would not go as planned for a while. To begin, we failed to realize we would need to take a shuttle to go any farther than Sprague Lake back the Bear Lake Road. Thus, we ended up at Sprague Lake Trailhead. A slight change in plans. Let's see what happens. . .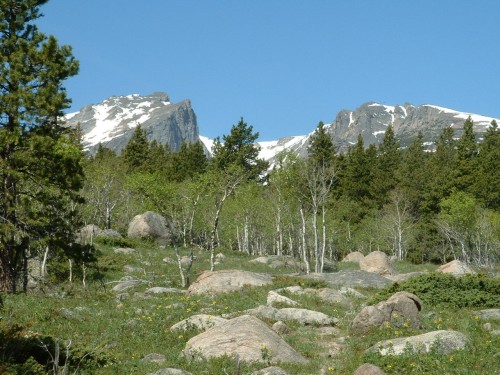 Hallett Peak and Flattop from near Sprague Lake
9:21- Our appointed starting time had been 8 o'clock, and now we were starting from the Sprague Lake Trailhead, 2.8 miles from where our hike was to begin. Oh well, we would just follow this section of trail until we came to Glacier Gorge Trailhead and go from there as planned.
However, mistakenly taking a left at the first (unmarked) intersection we came to, it was a tenth or two of a mile before we came right back to Sprague Lake on a different trail. Now twenty minutes into our hike and right back at the starting point, we sighed, turned around and continued on the correct trail this time.
It was just a few minutes later I realized I had left my video camera at the trailhead, where I had hung it on a fencepost as I was taking pictures. Ched and Logan continued on to the next trail intersection to stop and wait for me as I ran the 1.2 miles round-trip to the trailhead to retrieve my camera, which was fortunately still hanging where I had left it. Thus, I had already walked (and run) a mile and a half extra on top of the 2.8 miles that we were trying to complete just to get to the Glacier Gorge Trailhead!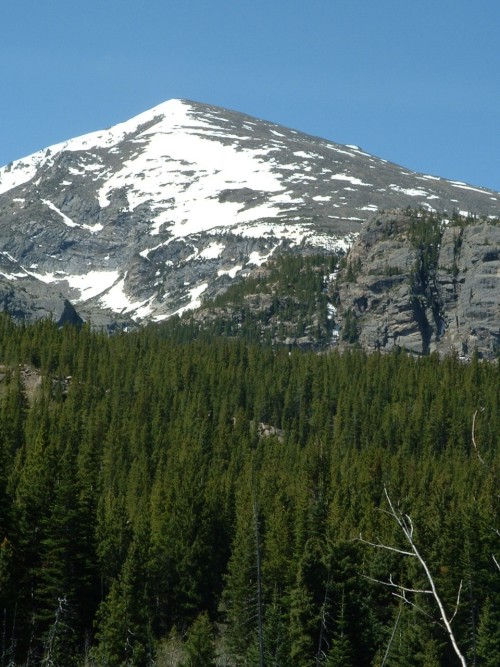 The Thatchtop
With all that now behind us, we continued westward on the fairly straight, flat, and uninteresting trail toward Glacier Gorge. Several places we were greeted with fine views of Hallett Peak and Flattop Mountain, as well as Thatchtop Mountain. Other than that I was mainly relieved to be surrounded by green foliage and a sunny day.
10:49- Officially 2.8 miles into our journey, though slightly more than that because of our misadventures, we finally came to the Glacier Gorge Trailhead, where we were able to see the cranes working on the road below, and the shuttle buses continuing to pour visitors up through the valley. I wonder how many times those buses went back and forth in our hour and a half's journey to reach the same destination. . .
Anyway, this was the beginning of our hike not only because it is where we had planned to start, but also because this is where any sort of uphill slope actually began. The trail was quite well-maintained in this area, and it was plain to see why as we passed multiple people within the first hundred yards or so from the trailhead. Here the aspens were coming into leaf, and the sun shining through their bright green leaves made it seem as if they were glittering.
11:02- It was another 0.6 mile to Alberta Falls, a much-visited spot where the water crashes loudly and impressively over the boulders. This is where we took our first noticeable stop, to drink some water and eat snacks in the shade. This would be the last time we would seek shade today though, as the very hot, sunny weather was about to change dramatically.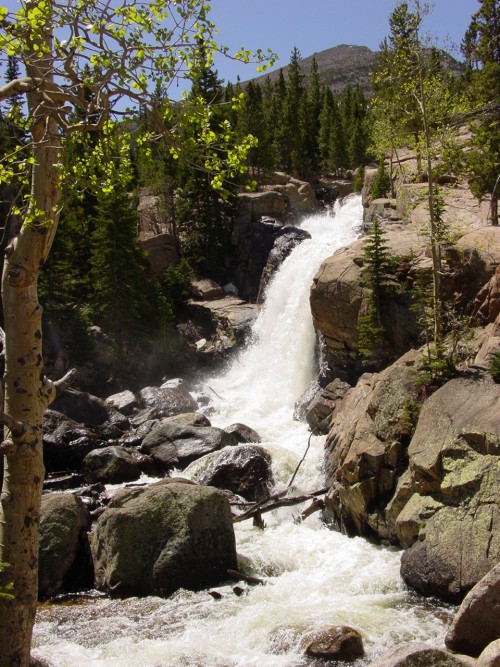 Alberta Falls, photo by "Ched"
Despite dark clouds and thunder starting to fill the skies as we continued, our journey was beginning to take a turn for the better: we were now on track and the farther we pressed on the better the scenery became. It was already turning out to be a neat hike, despite our initial misfortunes.
11:48- Another 0.8 mile up the trail, after having followed some switchbacks quickly to higher ground and being afforded good views of the valley, we came to a split in the trail. Raindrops were beginning to fall and the skies were growing more ominous as we continued on the trail. We turned west-southwest below the Glacier Knobs, all the while having a great view of Half Mountain on our left. At one point we could see Longs Peak and all its smaller peaks below it. Continuing through Glacier Gorge we began to get a better view of Loch Vale and the impressive ridge-line above that, but after a while we found ourselves back in solid forest and unable to see much beyond the trees in front of us.
12:02- The light rain we were encountering had changed to large flakes of snow as we reached a four-way trail intersection half a mile from the previous trail split. We took the trail straight ahead into Loch Vale.
We contoured high on the slope above a creek, and then started uphill fairly steeply with the use of a number of switchbacks. This was a busy area where we encountered a number of people, and we would continue to meet a scattering of hikers the rest of the day. I don't think I will ever do this hike on a weekend, especially later in the summer.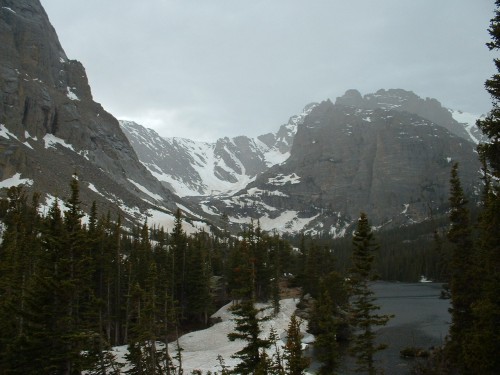 The Loch
12:40- We encountered our first snow on the trail, and just as we crested this first mound of snow we were awed by the scenery before us. We had arrived at The Loch, a beautiful lake at about 10,500 feet. Behind it we could see a much closer view of the mountains we had seen earlier surrounding Loch Vale–namely Taylor Peak, the Sharkstooth, Cathedral Wall and Andrews Glacier in front of us and to our right, and the steep cliffs of The Thatchtop to our left. It is one of the most beautiful places I have ever seen.
However, the weather, which had previously subsided, was beginning to send a second round of storms our way. The thunder was getting louder, the sky was getting darker again, and the lightning was beginning to flash above our heads. Then the storm hit, and it was all snow! They were huge, hard flakes, almost like snowballs falling from the sky and shattering around us. We took some shelter under some pines until the brunt of the quick storm passed.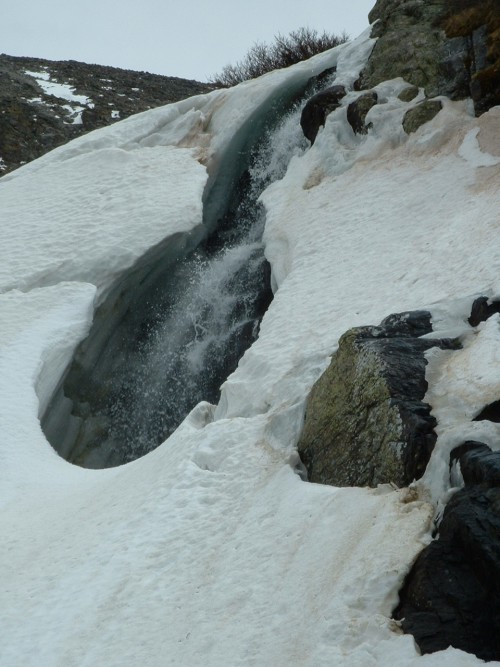 Timberline Falls
We continued uphill on the trail along the creek. This whole section of our hike from The Loch to our destination, Sky Pond, was all snow-covered. Unfortunately, the snow was soft in places due to the earlier sunshine, and we found ourselves often slipping through, sometimes up to our waist. Worse than this, we slipped through a couple times and our feet went right into water, which was flowing underneath the mounds of snow. This was a very wet area, and where there wasn't snow there was water, and often both. With this hike the three of us became well-acquainted with the term "post-holing."
1:35- We reached where the trail split once again. The right branch went up to "The Gash" toward Andrews Glacier. We continued straight, through Loch Vale toward Timberline Falls. This was more of the same kind of trail, heavily forested and heavily snow-covered. We basically followed the footprints of others to stay on the trail.
2:00- Timberline Falls came into view as we came out into a heavily-bouldered area at timberline. Impressive walls of cliffs surrounded us at this point, and I could not stop taking pictures of them. We took a break here, as we could see the trail was about to lead us to some steeper territory. We sat there for half an hour or so, eating and resting. Then we continued up the rather steep snow-covered slope to Timberline Falls.
Glass Lake
These falls were very interesting. They were surrounded by ice and snow, but the water was still crashing down over the cliffs, taking different paths underneath and around the heavy snow cover. They smashed their way down the steep rocks and made their way toward The Loch in an impressive fashion. Now well above where we had just stopped for a break, we had great views of the Loch and the valley below. In a small meadow near Embryo Lake, I saw a cow elk bedded in the grass between mounds of snow cover. Nice place to live!
2:45- The trail continued steeply up beside the falls, and when we crested the ridge we found ourselves immediately at Glass Lake. We were in another world now, above tree-line and circled by the moonscape of the rocky, snowy ridges rising all around us. Another dramatic change was, once again, the weather. The sky remained cloudy with no precipitation, but the wind blasted us as soon as we came to the lake. Looking up at the steep ridges rising 2,000 feet right next to us, I could only imagine what the wind must have been like on top of them. After all, today was a calm day everywhere else, but even near 11,000 feet, this harsh wind was a bit uncomfortable.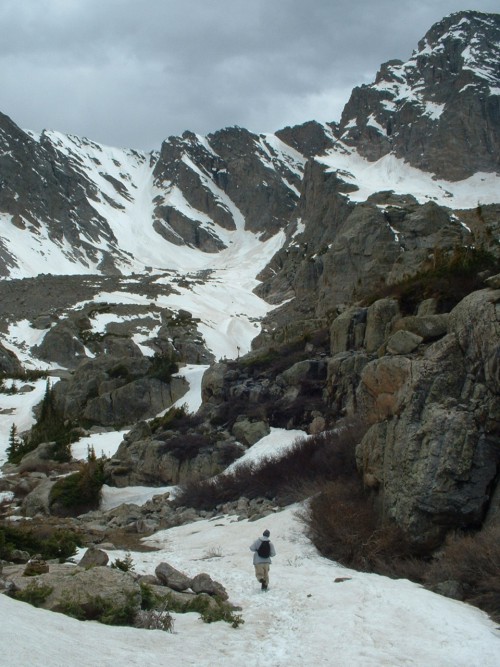 Near Sky Pond, Taylor Peak rises above
Ched said he had had enough, but Sky Pond was just .4 mile from us, so Logan and I decided to scramble on over to it. We followed the snowy, sometimes icy trail over the boulders and through the basin and slightly uphill toward our final destination.
3:10- Finally, after 7.4 trail miles (and an extra mile and a half on top of that), we reached our destination: Sky Pond. It is easy to see how it got its name, and I don't think it really needs any further explanation other than to say it was the only icy lake out of all the lakes we saw today, even though it is more than twice as big as its neighbor, Glass Lake. I did a "hop skip and a jump" over a number of boulders to get to the southwest side of the lake so I could get a good view of the rising cliffs to the north, namely Petit Grepon, the Sharkstooth, and the Sabre. Also I could see a small waterfall in the distance, coming out from a notch in the cliffs. And rising above all this was the imposing mass of Taylor Peak.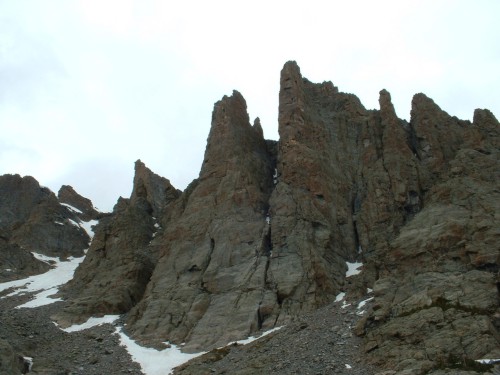 Petit Grepon
The trip down through the snow was much easier and faster than the trip up, but still tricky at places. We passed a number of people once again below the Loch, as we continued down the switchbacks through the woods. After six hours of hiking to get to our destination, we were now just ready to get back to the jeep, but we still had plenty more trail to go.
6:10- At last we arrived back at Glacier Gorge Trailhead, and began our final 2.8 mile stretch through the woods via Sprague Lake Trail. This part of the trail seemed to never end!
7:13- The three of us arrived at our starting point, where we snapped an "After" picture. After more than 15 miles (including our "detours") and nearly 10 hours of hiking, we were ready for the drive home. Now the sun was just peeking through the clouds near the horizon, for the first time since late morning, as if to bid us farewell.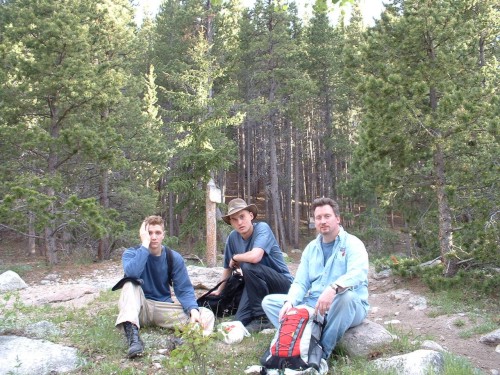 The "After" Pic
Conclusion: This hike had it all. Despite our initial misadventures that caused us to almost wonder if this was going to be worth the effort, it turned out to be a memorable trip! We encountered wildlife, waterfalls, green foliage, wildflowers, sunshine, snow, lightning, lakes, majestic mountains, steep cliffs, and spectacular views, just to name some of what made today's hike so worthwhile. Not to mention, we had fun and we got a good workout that I'm sure we'll feel tomorrow. I would go so far as to label this the most enjoyable hike I've yet been on, and I would recommend it to anyone! Just one side note: if you want to shave five and a half miles off the 15 we hiked, take the free shuttle to the Glacier Gorge Trailhead. I would highly advise it.